A curved screen and 240Hz refresh used to be premium features in a monitor. But what if you could get both of them for less than £350 – and in a screen with a 31.5 diagonal? That's what the AOC C32G2ZE has to offer. In fact, there's more with FreeSync Premium adaptive sync as well. It all sounds too good to be true. Big screen, high refresh, curved panel gaming for a reasonable price. Surely there must be at least some downsides?
The first downside is obvious from the specs – the resolution is just 1,920 x 1,080, which is rather low for a monitor this big. But for some FPS gamers, the high refresh and adaptive sync could be more important, because it's all about responsiveness. Where the latter is concerned, the pixel response is 0.5ms, but this is MPRT not grey-to-grey. As with most curved monitors, a VA panel is used. This provides a fairly low 300cd/m2 brightness rating but high static contrast of 4,000:1.
The FreeSync Premium badge means that the C32G2ZE supports at least 120Hz refresh at Full HD resolution (of course it supports twice that) and low framerate compensation (LFC), over and above the basic needs of FreeSync. LFC is a technology that stops stuttering if the frame rate drops below the monitor's minimum refresh, which is 48Hz. This screen is not currently on NVIDIA's G-Sync compatibility list, so you would have to take your chances if you own an NVIDIA GeForce graphics card.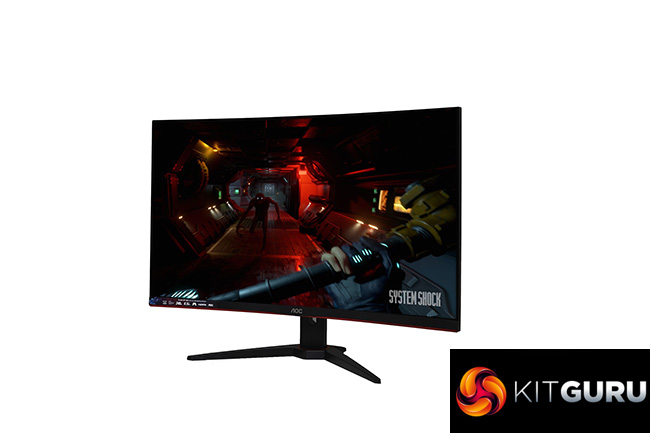 The C32G2ZE has a decent set of video connections, including two HDMI 2.0 and a single DisplayPort 1.2, plus minijack output for headphones. However, there's no USB hub, which is clearly an area where AOC has made economies with this monitor. Another is in the lack of built-in speakers, although these are usually so weedy on most monitors you'd only use them in an emergency. There's no funky joystick or external control puck, like the AOC AGON AG273QZ, either, and ergonomic adjustment is limited to tilting forward and backward. However, with the core 240Hz refresh and curved 31.5in panel, you're getting a lot of monitor for just over £300. Let's find out just how much.
Specification:
Screen size: 31.5-inch, 21:9 aspect
Native resolution: 1,920 x 1,080
Curvature: 1500R
Refresh rate: 240Hz, AMD FreeSync Premium
Panel type: VA
Contrast ratio: 4,000:1 (typical)
Brightness: 300cd/m2
Response time: 0.5ms MPRT
Display inputs: 2 x HDMI 2.0, DisplayPort 1.2
USB hub: No
Tilt: 5 degrees forward, 23 degrees backward
Raise: No
Swivel: No
Portrait: No
Other: Audio output minijack
Retail Price: £319.99 (inc. VAT)
The AOC C32G2ZE's box has plenty of drama, if you like spaceships (which we do).
Inside are the usual power cords for both UK and EU power, as well as HDMI and DisplayPort cabling.
This isn't a bad-looking screen at all, with a red band under the bottom of the bezel to subtly offset the otherwise black frontal appearance. The rear and stand also have red flashes to provide a more interesting appearance than mere matt black, although there is no rear lighting to add bling. The curvature is 1500R, so quite pronounced, although this isn't quite so obvious with a 16:9 screen than the 21:9 curved screens we often see.
The only adjustment you can make is tilting up to 5 degrees forward or 23 degrees backward. There's no swivelling, no height raising, and definitely no portrait mode – although that never makes sense on a curved screen anyway.
With no USB hub, the arrangement of ports underneath is fairly simple. On one side underneath are the pair of HDMI 2.0 ports plus the DisplayPort 1.2. This may seem outmoded now that 1.4 is available, but you don't need the latter to drive a screen at Full HD, even one running at 240Hz. Likewise, HDMI 2.0 can support this refresh at Full HD.
Next along, in the middle, is the analog audio port. Finally, on the other side is the standard kettle lead socket for power.
A traditional set of five buttons are available for menu settings adjustment. These reside under the monitor bezel on the right, with subtle symbols on the front to show you where they are and their function.

The furthest right-hand button turns the monitor on, but we are going to start from the left to talk about the functions, because the first three buttons from the left enable quick functions.
The first button on the left lets you select between the three video inputs manually.
The next button along lets you choose a Game Mode. The options include FPS, RTS, Racing, and three user-definable slots.
The third button simply toggles a hardware crosshair on and off.
The fourth button calls up the main menu, with Luminance the first option, although this does remember the last section you were on and brings this up the next time you enable the main menu. All four buttons are then used to navigate the menu.
The Luminance menu includes Contrast, Brightness, three Gamma modes, the ability to toggle DCR dynamic contrast and HDR. This is also where you find the Eco Modes, which are AOC's more general-purpose presets. These include the default Standard, plus Text, Internet, Game, Movie, Sports and Reading. As always, although we understand why AOC segregates these from the Gaming Modes, it is a little irritating why these are in two places.
Next along in the main menu is Color Setup. This includes the ability to select between Warm, Normal and Cool colour temperatures, with Warm the default (we'd have expected it to be Normal). You can also choose a User mode, which enables direct adjustment of red, green and blue colour levels. The DCB modes are digital colour enhancements.
The next main menu option is Picture Boost, the strange AOC function where you can choose a rectangle of the screen to apply different brightness and contrast settings to. After many years of seeing this feature on lots of monitors, we still have no idea what it's for.
OSD Setup is the next section, where you can alter the characteristics of the monitor menu itself, including the language used and how long the menu stays on screen. You can also adjust its position and transparency.
Other features in this section include the ability to drop the DisplayPort compatibility down from the 1.2 standard to 1.1 if you are encountering compatibility issues. You can also alter the headphone volume, and set up a break reminder. It is a little odd to find the volume here, however.
The penultimate section of the main menu is for Game Settings, where you can choose the Game Modes and adjust the user-configurable slots. Shadow Control lets you boost detail in dark areas, while Game Color improves hues digitally. You can toggle FreeSync (on by default) and place a hardware frame counter onscreen. Pixel overdrive has Weak, Medium and Strong settings to provide artificially faster pixel response. Annoyingly, the LowBlue modes found here are yet another section of presets, with options for Multmedia, Internet, Office and Reading. It's bad enough to have Game and Eco modes in two places. This is a third place for presets.
Finally, Extra is where all the other settings that didn't fit elsewhere can be found. You can manually change the video input, set up an off timer so the screen doesn't stay on permanently if left unattended, toggle DDC/CI control from the graphics card, and reset to default.
Overall, this is a pretty standard set of controls. The gaming options are good, but not as extensive as more pro-gamer panels, including AOC's own AGON range. For example, although there is shadow control this isn't as finely honed with the C32G2ZE. As we always find with AOC screens, having presets in three different places – for games, general activities (Eco) and LowBlue – is somewhat confusing. But otherwise this is a capable enough OSD with reasonably organised options. Since there's no USB connectivity, you can't use AOC's G-Menu Windows software to adjust things directly from your PC directly, which we rather like.
Our main test involves using a DataColor SpyderX Colorimeter to assess a display's image quality. The device sits on top of the screen while the software generates colour tones and patterns, which it compares against predetermined values to work out how accurate the screen is.
The results show –
A monitor's maximum brightness in candelas or cd/m2 at various levels set in the OSD.
A monitor's contrast ratio at various brightness levels in the OSD.
The brightness deviation across the panel.
The black and white points.
The colour accuracy, expressed as a Delta E ratio, with a result under 3 being fine for normal use, and under 2 being great for colour-accurate design work.
The exact gamma levels, with a comparison against preset settings in the OSD.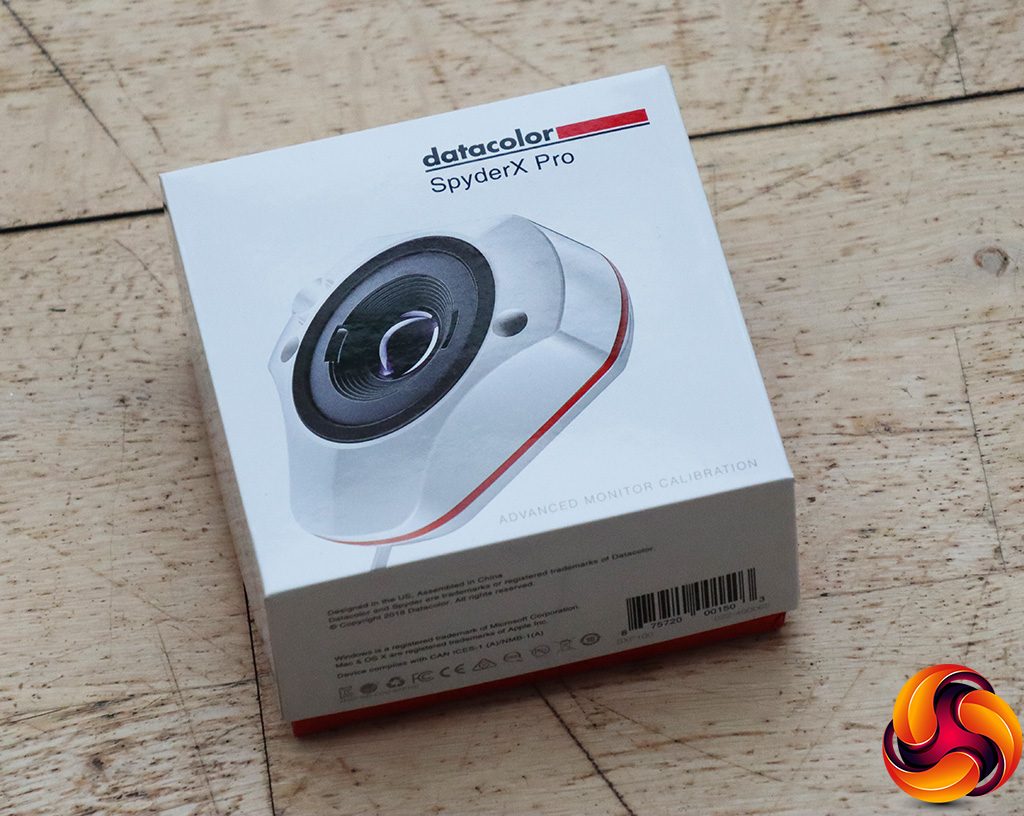 We first run this test with the display in its default, out-of-the-box state, with all settings on default. We then calibrate the screen using the Spyder software and run the test again.
We always test the display subjectively on the Windows desktop, using it for general tasks such as browsing and word processing, and with games as well, even if the display is not intended solely for that purpose.
We pay careful attention to any artefacts, ghosting or motion blur, and enable any gaming-specific features, such as adaptive-sync settings like G-Sync or FreeSync, using a compatible graphics card in our test PC.
We performed the quality tests on the AOC C32G2ZE at its native 1,920 x 1,080 resolution in the default mode, after resetting the OSD, which sets the refresh to 60Hz. Our test system was equipped with an AMD Radeon Vega Frontier Edition graphics card, which supports FreeSync.
The gamut makes for a decent albeit slightly surprising start. On the one hand, it's a surprise that the the sRGB result is 99 per cent rather than 100 per cent, but the AdobeRGB score of 86 per cent is very good, with an even more impressive 92 per cent DCI-P3 gamut.
Brightness uniformity is good for the top two thirds of the screen, but the bottom third hovers a little too much around the 10 per cent deviation mark.
Colour uniformity, however, is great at all brightness levels.
The C32G2ZE is rated at 300cd/m2 brightness, but actually hits that at around an 80 per cent setting. The 100 per cent value is 353.4cd/m2, which is decent enough for a VA panel. The contrast levels are excellent, topping out at 2,940:1 with the 75 per cent brightness setting. Considering that we don't put contrast on maximum for this test, the specified value of 4,000:1 seems realistic. The white point is also in a good range, from 6900K at 0 per cent brightness to 7200K at 100 per cent.
We have combined all the different presets into one list here, starting with the Game Modes. The FPS and RTS modes use near-maximum brightness levels of 357.4cd/m2 and 355.9cd/m2 respectively, and Racing is only a little less bright at 341.6cd/m2. They also use an identical 7100K white point. Where they vary is in contrast, with FPS using a mid-range (for this screen) 1,950:1, but RTS a much lower 1,090:1 and Racing a higher 2,690:1.
Next we move to the Eco Modes, which are essentially the everyday presets. Standard mode is the default, offering a brightness of 298.8cd/m2, 2,650:1 contrast and 7100K white point. In fact, most of these presets have similar white points, with Game and Movie also using 7100K, Text and Internet 7000K, and Sports 7200K. Only Reading uses a warmer 6400K, as you'd expect for an activity that is likely to involve staring at a static screen for long periods.
Text mode, however, uses the lowest brightness of 162.9cd/m2, with a mid-range 1,930:1 contrast. Internet mode is a little brighter at 207.1cd/m2, with a higher 2,460:1 contrast. Game mode is brighter still at 252.5cd/m2, while Movie and Reading have similar brightnesses of 299.4cd/m2 and 298.7cd/m2 respectively, but Sports is the brightest around at 350.8cd/m2. The first three have similar contrasts around the 2,600:1 mark, but Sports has a very high contrast of 2,770:1.
Finally, we get to the LowBlue modes, which are aimed at reducing eye strain. They all use a similar brightness of around 290cd/m2, and contrast in the range of 2,500:1 and 2,600:1. But the white points do vary, with Multimedia on 6800K, Internet on 6,500K, Office on 6100K and Reading on the warmest 5,600K. We might have expected these values to be lower, considering that removing blue from the spectrum makes colour temperature warmer.
As we always have to remark with AOC monitors, the gamma settings are a bit odd. The default Gamma 1 is reassuringly dead on 2.2, which is the usual middle of the gamma range. However, Gamma 2 is lower at 2.1 and Gamma 3 higher at 2.5. Not only are these not sequential, but they are not evenly spaced either.
At its default settings, the C32G2ZE only manages a decent 2.2 average colour accuracy deviation. Go back three or four years, and this would have been terrific, but now it's merely average. We expected more, which of course led us to try calibrating the screen to see what the best it could do was.
After calibration, the gamut has reduced slightly. The sRGB score is the same at 99 per cent, but AdobeRGB has dropped a notch to 85 per cent, and DCI-P3 is down to 91 per cent (a decrease of 1 per cent in both cases).
We only retested Gamma 1, which remains bang on 2.2
Colour accuracy has improved considerably, however, to 0.84, showing that the C32G2ZE has a quality panel capable of excellent fidelity when adjusted properly.
Overall, this is a good showing, particularly for a monitor that isn't that expensive. It's great to see a reasonably priced gaming monitor that doesn't skimp on everyday quality, with only the brightness aberration across the bottom third to mar a solid scorecard.
Of course, gaming is the main focus of this screen. So we called up on our test system's AMD Radeon Vega Frontier Edition graphics and FreeSync with our usual suite of games, including CS:GO for maximum frame rates, Rainbow 6 Siege, and League of Legends. This graphics card can drive CS:GO at the monitor's native resolution with frame rates that get close to the 240Hz refresh on a regular basis. The end result was an extremely smooth experience, with the curve adding immersion. Rainbow 6 was also very fluid, and the huge size worked well for League. Overall, this is a great screen for FPS gaming.
The AOC C32G2ZE is a tempting proposition for FPS gamers, and it's capable enough for everyday activities as well. The low Full HD resolution for its size might be less useful for some activities, and doesn't match the screen size for professional work. But it allows extremely high frame rates when gaming. Allied with FreeSync Premium adaptive synchronisation, you can be assured of making the most out of the 240Hz refresh, with the curvature adding immersion.
This isn't a screen packed with features, however. There's no USB hub built in, a traditional menu system without funky joystick control or external control puck, and not even built-in speakers. However, with Microsoft's Xbox also supporting FreeSync, it would be a reasonably affordable way of enjoying this with your console.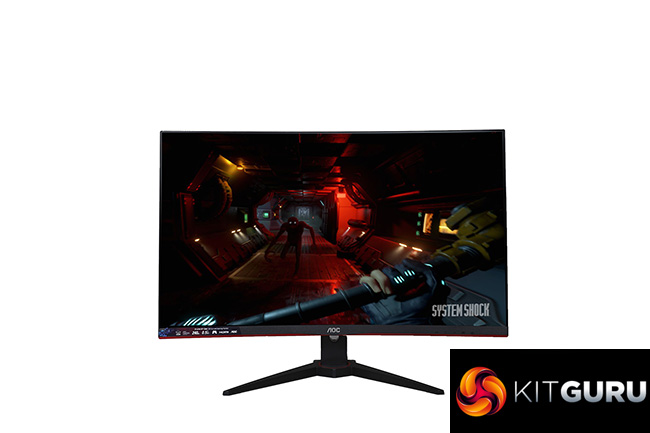 The other main deficit is most ergonomic adjustment, with just tilting available, not swivelling or height adjustment. We also noticed the screen does its best when calibrated, as doing so brought the average Delta E down from 2.2 to 0.84 in our testing, the latter being an excellent result for a monitor of this class.
In sum, as a screen primarily to be used for FPS gaming on PC or Microsoft Xbox, it is decent value at around £320. It may not be packed with features, but it doesn't lose the important core capabilities to make a competent high-refresh monitor for gamers.

You can buy from Overclockers UK over HERE for £319.99 inc VAT.
Discuss on our Facebook page HERE.
Pros:
240Hz refresh.
Curved screen.
AMD FreeSync Premium adaptive sync.
Reasonable level of settings in OSD.
Excellent colour fidelity (when adjusted).
Reasonably priced.
Cons:
Low Full HD resolution for such a large screen.
No USB hub.
No swivel adjustment.
No height adjustment.
KitGuru says: The AOC C32G2ZE offers smooth FPS gameplay with FreeSync Premium adaptive sync in a large-screen curved format for a reasonable amount of money.