The 275P4VYKEB doesn't come with a lot in the box – just the power supply, a USB cable, and two DisplayPort cables. The latter are the most interesting inclusion, because they are permanently attached to each other, and for a reason. Both are required to provide enough bandwidth for 5K. A single DisplayPort cable will only be enough for 4K. According to the screen's manual, the only graphics cards supported are the NVIDIA GeForce GTX980 plus Quadro K2200, K4200 and K5200.
We suspect that any models later than these in the same range position will do too, and there will be some AMD cards that work as well. But you should check with Philips before buying this screen, to avoid wasting your money on just 4K.

The 275P4VYKEB is a rather sober black, with just a little bit of silver on the stand. The arm screws into the base, and then the screen simply slots onto the arm.

The screen provides all the usual adjustment possibilities, with 150mm of height adjustment, 65 degrees of swivel in either direction, tilting 20 degrees backwards or 5 degrees forward, and the ability to pivot 90 degrees into portrait mode.

Apart from the power connection, there are only two DisplayPorts on this screen, and you will need to use both for 5K. This is essentially a screen meant to be attached to just one system at a time. Dell's 5K model also includes a MiniDisplayPort, which would have been a handy utility here.
The upstream USB 3.0 port and three downstream ports are placed reasonably accessibly on the side, although they are recessed quite a bit so you will need to reach around the bezel to get to them. We suspect that the fourth USB downstream is taken for the next feature up for discussion:
Aside from a pair of 2W speakers that are invisibly integrated, there's a 2Mpixel webcam on the top of the bezel, with microphone pinholes either side.
The on-screen display (OSD) menu is operated by a series of innocuous buttons in the bottom right corner of the bezel.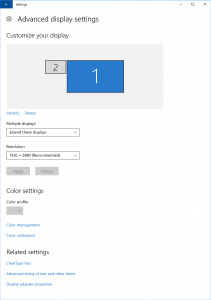 As a taster of just how massive a 5K screen's pixel count is, here it is compared to a Dell 24in screen sporting a not unreasonable 1,920 x 1,200. The 5K screen clearly dwarfs the 2K one. Fortunately, even in a highly disproportionate multi-screen setup like this, Windows 10 handles things pretty well, scaling windows as you move them between displays based on which one they are currently mostly in. So even though the Philips has an unfeasible level of detail, text remains readable and menu elements are small but not ridiculously so.