The four menu operation buttons also offer rapid access to a few often-used functions. The buttons themselves are touch-sensitive. Their location is pretty hard to see in poor room lighting, and they also require a certain knack to operate successfully.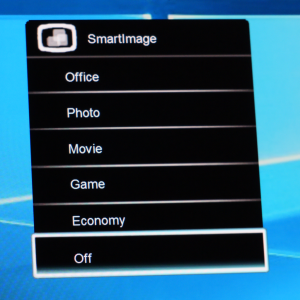 The leftmost button calls up a quick menu where you can choose between the SmartImage presets, which cover a pretty comprehensive range of regular computing activities.


Next along, a volume control for the built-in speakers.

The next button enables a separate brightness control.


The third button along calls up the main menu, which always defaults to the Picture screen. This provides controls over Picture Format – Wide Screen or 1:1 – as well as Brightness and Contrast. There's a Gamma setting with five options, from 1.8 to 2.6. The default is 2.2, right in the middle.

There's not much in the Audio section – just another way to access the volume control and the option to mute all sound.
In the Color section you can choose a Color Temperature preset in Kelvin, or presets for Adobe RGB and sRGB, or use red, green and blue sliders to configure a user-defined colour profile.
You can choose between many options for the OSD language.
There's not much on offer when it comes to OSD settings. You can't, for example, change the location of the OSD on the screen.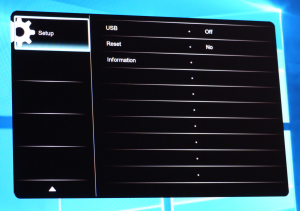 Not much going on in Setup either. You can choose to turn the USB hub off and on, reset everything to default, and call up screen information.
Overall, there's enough in the OSD for the intended market. Since this isn't really a gaming screen, you wouldn't expect any particular features for this kind of user, and indeed there's just the gaming SmartImage preset. But you good have good control over image quality for more serious applications. Overall, the options are good, if not exceptional.