The Corsair Gaming STRAFE Silent is much the same board as we reviewed last time, with different switches. That means that it has the same clean, refined, matt black look – that is at the same time both professional and quite gamer-like. It has a solid build quality, with no creaking or flexing parts and it has a satisfyingly heavy feel.
Now, instead of the Corsair sails being positioned on the right, they are on the far-upper left and there is the name "Corsair," on the right. The former also lights up and can be altered in the back-end preferences.
The key caps on this board feature a traditional dip and translucent lettering to allow the backlighting to shine through.
When the keycaps are pulled off we get our first look at the Silent switches themselves and they look much the same as normal Cherry MX switches.
They feature the same clear-plastic surrounds we saw on the K70 and standard STRAFE boards, though this one does have a white underlay. Presumably this is to help reflect the backlighting and provide more of a uniform glow underneath the keys, which will be interesting to see in darker conditions.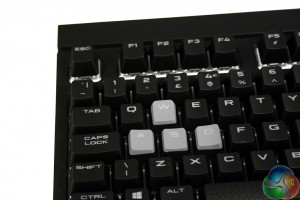 The WASD replacement keys are reasonably comfortable on first press and no way near as angled as they are on the GSkill board we looked at recently.
Media keys are in the same place as the original STRAFE keyboard, and they are within a one-handed stretch of the function key which is good news. Lock indicators are still as refined as ever, with a Windows lock-key and backlighting brightness button next to them at the end.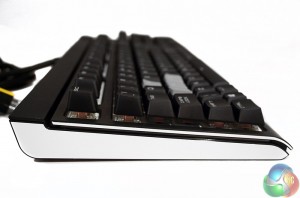 One thing that has changed with this board are the side panels. Along with the key underbelly, they are both white now too.
The underside however is still matt black and features the rubber grips in the same places.
The extender feet are mounted horizontally too as you might remember.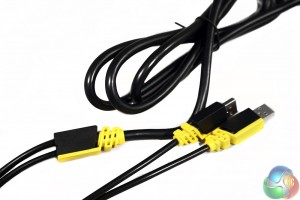 The cable on this board is not braided and features dual USB headers to allow for the pass-through port on the back. However it only splits off at the end and has a double-thick single cable for the rest of the run.