We do like the Corsair Gaming STRAFE Silent RGB mechanical keyboard. Cherry's Silent switches are a welcome addition to the family. Incorporating tappets instead of 'dampening o-rings' is a solid plan as it does not impact the feeling of precision that a mechanical keyboard gives you over a traditional membrane design. That said, that spongy feeling when the key reaches the bottom is not as satisfying as the user experience you get from a traditional mechanical key.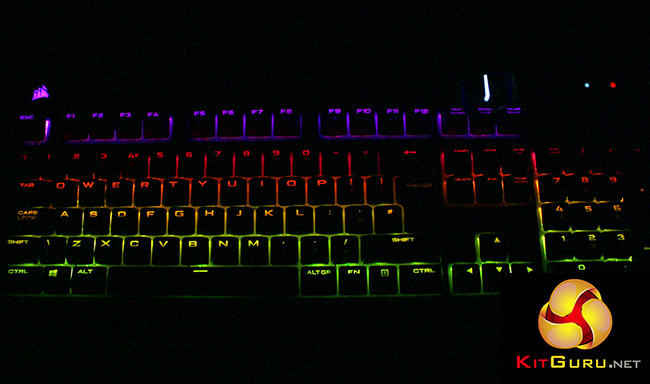 The Silent switches do have a soft touch feel for the fingers, which might be of use to those who find traditional mechanical boards to exacerbate RSI or similar joint related problems.
Typing aside, these switches work just as well as any other mechanical switches for gaming. They are fast and comfortable over long periods, and I did not feel that the dampening impeded gameplay in any sense.

It must also be said that this keyboard incorporates all of the features we loved in the original STRAFE, as well as the adoption of RGB backlighting. Thanks to the clear surrounds on the switches the lighting is very uniform. The expanded options for changing the lighting in the Corsair Utility software are also a welcome addition. While the back-end does feel a little obtuse still, it is some of the most versatile customisation software available for peripherals from any manufacturer.



You can buy the Corsair STRAFE RGB Silent on Overclockers for £140. The RGB Red/Brown switch alternatives can be found there also for £130.
Discuss on our Facebook page, over HERE.
Pros
Same high quality design as standard STRAFE keyboard.
The clicking of the keys is slightly reduced on the down and upstroke.
Great for gaming or typing, though not as satisfying as traditional switches.
Typing can feel a little easier on your fingers than standard mechanical boards.
Corsair Utility RGB backlighting system is one of the best in the world.
Media key placement is excellent.
The clean, refined look is welcome compared to a lot of other keyboards.
Cons
Typing with reasonable force produces an irritating ringing hum.
Spongier feel takes away some of the pleasure of using a mechanical.
More expensive than standard mechanical switches.
Corsair Utility software is still a little hard to get your head around.
KitGuru Says: The Corsair Gaming STRAFE Silent RGB is a solid keyboard and the RGB backlighting is excellent. These new silent switches may not appeal to everyone however – so if you can, try before you buy.