Testing a keyboard such as the Corsair Gaming STRAFE Silent RGB requires a considerable amount of real world time. We underwent comprehensive gaming, typing and usability tests paying particular attention to the new Silent switch design.
The Cherry MX "Silent" switches feel pretty good to use. For gaming, they feel very similar to a standard brown or red switch in terms of actuation pressure required, but there is no real tactile feedback like you would get with a blue or brown switch. You can still bottom these keys out every time.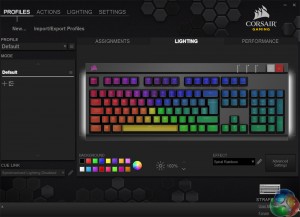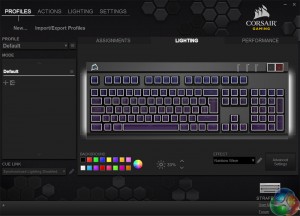 The lighting options have been expanded from the basic STRAFE model, allowing for deep customisation

That does not really come into play with gaming though. So whether we were playing fast paced RTS titles, high-speed MOBA's or first person shooters, the Corsair Gaming STRAFE Silent RGB performed equally well. It has that same 'mechanical-switch' responsiveness  and there was never a moment where I felt like the dampening impeded the switches' ability to actuate.
As before, the grey, additional key-caps did not feel like they added much to the experience or made the gaming any better, but they do look cool and did not in any way hamper the gameplay experience or feel uncomfortable over long periods.
There is obviously a noticeable difference in noise output, especially when repeating keystrokes or tapping out fast commands in quick succession. The new design dampens the clicking noise that can often accompany a mechanical key bottoming out, though that is less prevalent on boards with tactile feedback as you do not need to take the key all the way to the base to guarantee it has been pressed.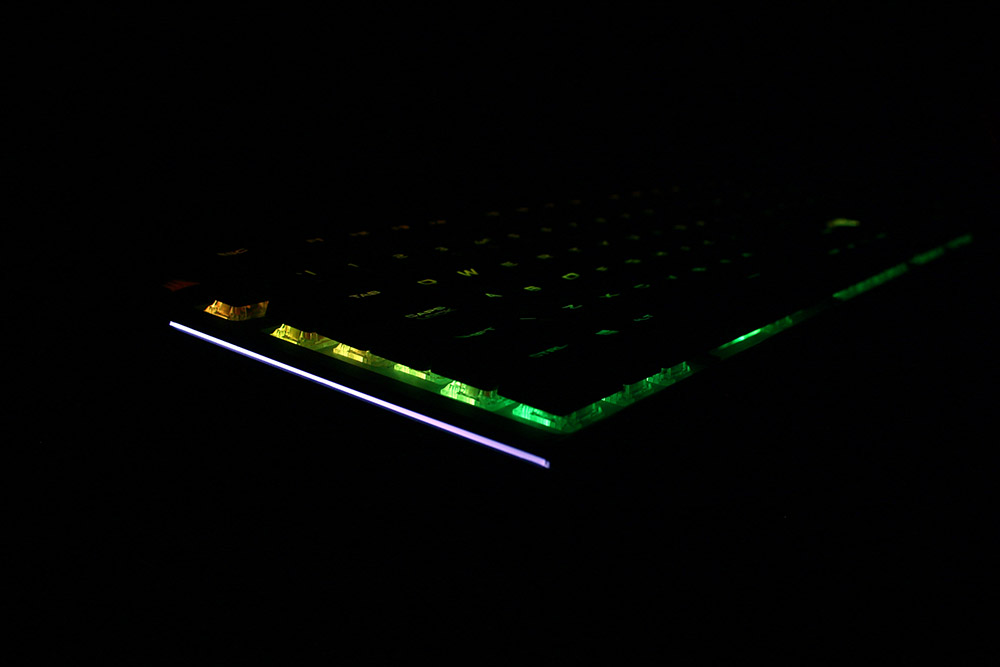 The lighting options on this board are excellent, with a great view from the side
Heavy duty typing demands – such as writing this 2,500 word review were not quite as enjoyable. While the switches are undoubtedly a quality design and are precise in operation, they do suffer from a spongy bottom point. I will try and elaborate.
The feedback you get when typing on mechanical boards is just not present on the Silent to the same level. There is some measure of it, which is why I say it is nicer to type on than any membrane board I have ever used, but those people who rate Cherry MX Blue switches (or similar) will find this a huge step backwards.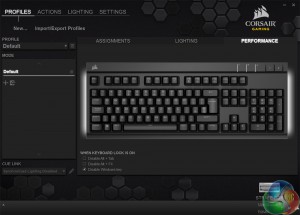 "Performance" options let you expand the lock-down options of the Windows Lock key, and the Settings menu has a number of tweakable settings
Additionally, it seems a real shame that in changing the standard switches and reducing the clicking noise that mechanical boards are known for, Corsair and Cherry have somehow added a new noise to the mix. These switches can ring when hit with a reasonable amount of force.
I presume those are the tappets that have been added to dampen the switches and to their credit, they do do that. One of the issues with typing on a mechanical is that your fingers are not really cushioned against the force applied. While a membrane switch may flex as you hit them, standard Cherry MX switches do not.
These do, which is good, but if you have a problem with sore fingers after typing, using a lighter switch would be a better investment. Using browns or blues, with their tactile feedback for instance, would be a smart choice. Taking the position of Devil's Advocate, perhaps I am an inordinately hard typist.
Other features of the board such as the 100 per cent NKey rollover, media keys, windows-key lock are all welcome additions, especially alongside the updated Corsair Utility software. The lighting options in particular have been expanded from the standard STRAFE model , offering a number of different out of the box lighting modes, or you can make your own, much like we did with the Corsair Gaming Vengeance K70.