For a company that has a lot less experience than others in making peripherals, GSkill's first foray into the market is a solid one. Although the KM780 is based on a very similar design to the Corsair K70, GSkill could not have picked a better starting point. The build quality of this board is excellent, the switch choice is near-perfect and the back-end software is fully featured and intuitive.
Gaming wise, this is a keyboard with Cherry MX Brown switches, so if you like that switch type, you know what you are in for. There are red options too for those who want them. Right now there are no black, blue or more exotic green options, which is a shame.
For everyone else though, you can enjoy a brushed aluminium finish, a comfortable, detachable wrist rest and fully featured media controls, with the lovely little addition of a LED volume slider letting you know exactly how much juice you are putting into your speakers or headset. The media buttons are not of the highest quality, getting stuck on occasion, but they do the job well enough and are hardly commonly pressed.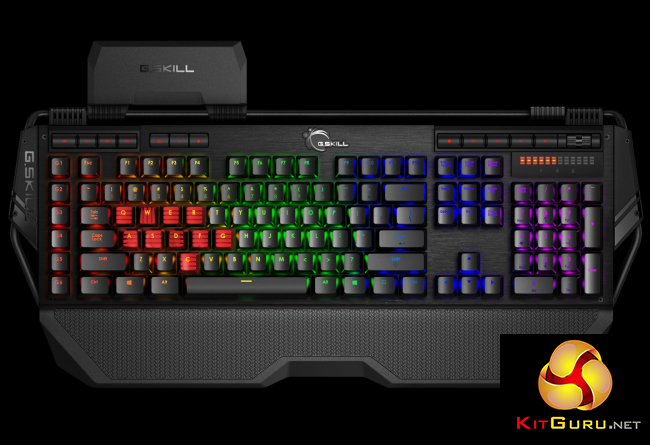 I found the GSkill software very easy to pick up and use, with deep options that let me craft a number of different lighting schemes, each of which is triggered by switching mode. It would have been nice to have had the ability to load a new profile when a certain application is launched though. I also hope G.Skill changes the automated firmware update, as it does make me worry that a new buyer – depending on what they are doing at the time, may end up with a bricked keyboard.
The only part of this keyboard I did not like at all, were the additional keycaps. While I like the idea of including optional extras the slope on the keys, particularly the W and D keycaps were not comfortable to use. I found myself often pressing the very top of the key and being unsure where to rest my finger tips. Typing on them could also be problematic, with the off-centre press on the D key in particular sometimes missing being activated.
That minor issue aside though, the GSkill KM780 is a fantastic keyboard. Its switches are among my favourites ever, it has excellent back lighting, great back-end software, media keys, macro switches, braided cabling and a very useful mouse-cable holder all in one package. It would be a keyboard I would happily use myself daily.
No UK pricing or release information has yet been unveiled, but based on the U.S. price of $170 (reduced currently to $150 in some places) converted and with the usual VAT and import taxes, we can probably expect the sterling price to be around the £140-£150 mark.
Discuss on our Facebook page, over HERE.
Pros

Industry standard Cherry MX brown switches with clear housing.
RGB backlighting is near-perfect thanks to switch housing.
Aluminium finish looks good, along with uniform black theme.
Media keys and volume control are well placed.
Braided cabling, mouse cable holder and extra keycaps are all nice additions.
Fully featured and intuitive back-end software.
Cons
Software automatically updates the firmware without prompt.
Replacement keycaps are not very comfortable.
Brushed aluminium does leave fingerprint marks.
KitGuru Says: Although the price tag puts it at the top end of keyboard pricing, the G.Skill Ripjaws KM780 ticks almost all of the boxes with a permanent marker. It games well, types well and has enough additional features that you can customise it to your heart's content.