Testing a mechanical gaming keyboard involves plenty of gaming, as you might expect. We put it through its paces in a variety of games from different genres, as well as typing on it for several hours every day for just over a week, testing its responsiveness, speed, accuracy and comfort over long periods of use. We also investigate its back-end software functionality and any additional abilities it may have.
Since this is a gaming board though that is where we spent the majority of our time testing this keyboard. The results however are likely to be unsurprising to anyone who has ever used a Cherry MX equipped keyboard – we can tell you that it is very good indeed. The brown switches used are light and react well and in some cases, the tactile feedback allows you to leave off extra pressure that might otherwise be applied, as you know when the key has been activated.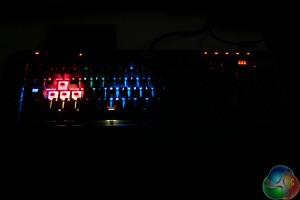 It is fast enough to hang with the Cherry Red switch users in fast paced FPS and RTS titles, such as Unreal Tournament and Age of Empires II, as well as activating abilities more than quick enough in MOBA titles like Heroes of the Storm. As well as providing a lightning fast response in those sorts of titles though, we also found it viable in less speed based games, like The Talos Principle and Tabletop Simulator.

The only part of the of the GSkill KM780 that I was not a huge fan of gaming wise was its optional key caps. I found the WASD ones way too slanted to be comfortable during use.
As much as I liked the switches during gaming though (apart from the custom caps) in actuality, the real stand out plus point of a Brown switch board is how it feels when you type. Unlike Red and Black MX switches, Browns (like blues) have tactile feedback when the switch is engaged, meaning you do not have to bottom out a key to actuate it. That reduces the impact of typing on your fingers and makes it possible to have an even lighter touch than traditionally light red switches.
It also can increase typing speed, since you can remove your finger that bit quicker. For reference, my average typing speed across mechanical boards is 110 words per minute. On a couple of quick tests on TypeRacer.com, I was able to achieve a speed of 120 and 116 word per minute using the G Skill KM780.
Beyond the raw abilities of this keyboard, it has a lot else going for it too. I enjoyed the placement of the media keys a lot, since they were all clustered together and could be adjusted with just one hand. There was no need to stretch my small hands across large areas of the keyboard to press a function key and a volume control: I simply swept the wheel up or down as I saw fit.
While the media buttons are not quite as high quality as the brown-switch keys on the rest of the board and would stick occasionally if pressed hard from a slight angle, they worked well enough for the most part. The volume indicator was also useful to tell how much headroom I had for raising the volume while in-game, without having to tab out to look at the Windows icon.
I liked the subtle touches of using the exterior piping to hold on to the custom key-cap casing – even if I was not a massive fan of the key-caps themselves – and the cable tidy for the mouse was particularly useful.
The software for the G.Skill KM780 is pretty fully featured. Keys can be easily remapped or given different functions and macros can be recorded and tweaked, with set delays between presses, or none at all. There are three modes that can be switched to on the fly and the profiles can even be stored locally on the keyboard itself, so if you switch systems on occasion you will still have all of your custom key presets.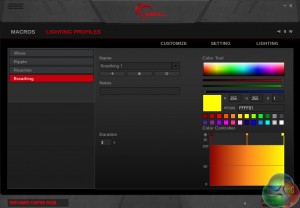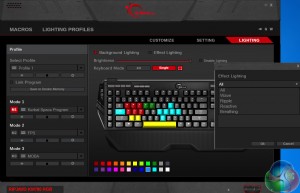 Lighting options are deep and varied, with options for effects – including the always beautiful reactive – and single and multi-key light shows. The colour controller lets you fade from one colour to another, making this keyboard at least as versatile as the much beloved Corsair Gaming K70 which we reviewed this time last year.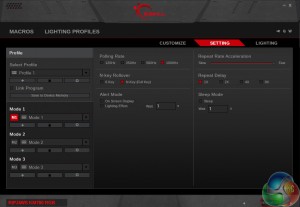 The settings offer a myriad of options, letting you customise the keyboard. It defaults to all of the more advanced options, such as high polling rate and full N-Key rollover, but you can reduce those if you prefer – or your system is not compatible.
I have to say, I did not like how the product automatically updated the firmware the first time I opened up the back-end; without any kind of prompt. If you are not prepared this has the potential to brick the keyboard and make it unusable. Hopefully G.Skill can introduce new code to at least prompt a 'yes/no' response in future.