Philips has made a big push on its line-up of displays this year, embracing its new curved 4K and ultra-wide screens. Now the company is expanding what its monitors are capable of with its USB docking display introducing the ability to hook up all peripherals through a single cable.
The 24-inch display by MMD, the leading technology company and brand license partner for Philips monitors, is built with multi-taskers in mind. It aims to make the connection of numerous digital devices as easy as possible, especially filling in for technology with limited connectivity such as ultrabooks. The SuperSpeed USB cable has the ability to transmit video, audio and connects to the internet or intranet all through a single cable. The Hub has three USB 3.0 ports to allow direct access to all peripherals including keyboard, mouse, HDD and even a camera. Although it allows for the option to connect speakers, it does contain its own integrated stereo speakers.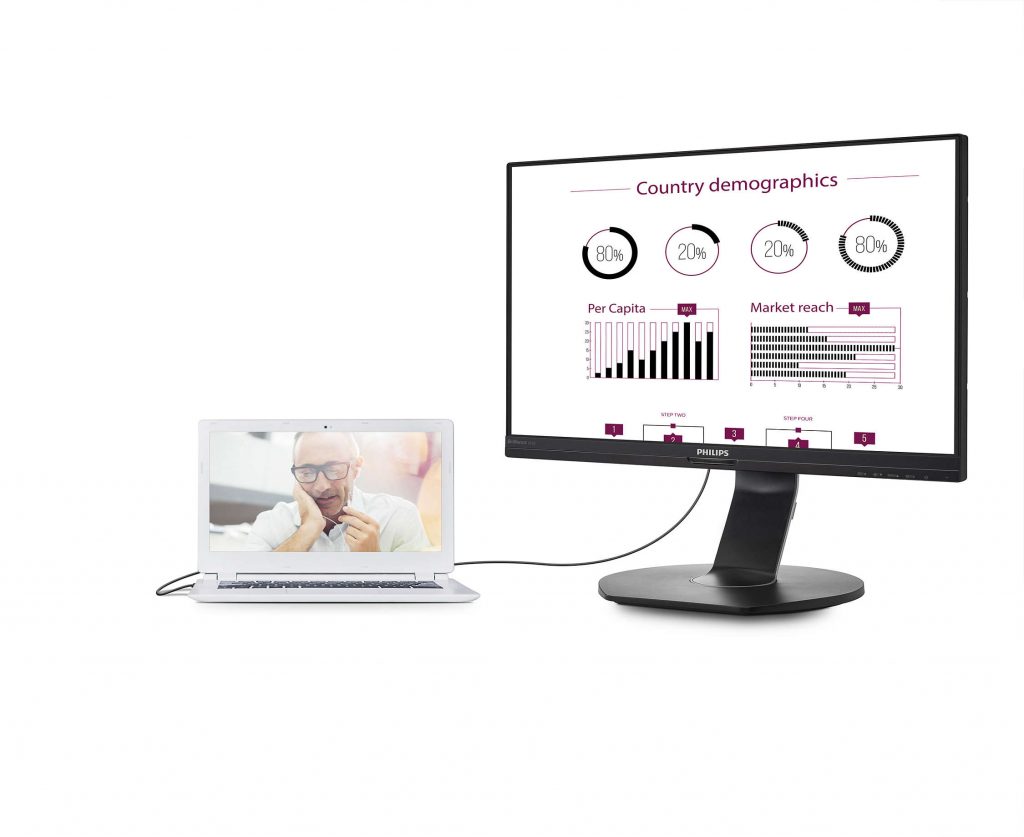 "We are seeing increasing convergence of digital media platforms such as PCs, notebooks, smartphones and tablets, and mobile connectivity is growing in importance," MMD Project Manager Artem Khomenko said about the importance of the tech. "For many business users, the display is a single platform for streaming content from a range of devices. The fantastic connectivity of this new display is the answer to these needs."
While Philips' latest display has a focus on connectivity, it assures great viewing quality with a Full HD IPS panel. The company has also included a few of its own features. Philips LowBlue Mode aims to reduce the damage blue light can do to eyesight over time. The SmartErgoBase enables the height and angle to be adjusted, tilted and swivelled according to its user's own comfort. SmartImage analyses the content on screen and automatically optimises contrast, colour saturation and sharpness settings.
The Philips 241B7QUPEB B-line display will be available in June at a price of £239.00.
KitGuru Says: It will be interesting to see if this kind of tech catches on with other companies. As much as I would like to see this in a gaming monitor, I wouldn't want it to sacrifice other core features we've come to expect. Would you like to see more monitors with this capability?