There is no doubt in my mind that, objectively speaking, the ASUS ROG Swift PG32UQX is the most impressive gaming monitor I have ever used.
It really has everything you could want from a gaming monitor when used on the PC. The HDR is incredible, the refresh rate coupled with the high resolution makes for a smooth but incredibly sharp experience, while a hardware G-Sync module is also there to prevent things getting choppy if you are playing a particularly demanding game.
On that point, it goes without saying you will need one heck of a system to drive 4K resolution at anything close to 144Hz in most AAA games. I've been using this screen with a Ryzen 5800X and RTX 3080, and in games like Assassin's Creed Valhalla and Cyberpunk 2077, my frame rate was typically in the 60-70FPS region. DLSS will certainly help where it is available, but if you can't – or won't – use it, even an RTX 3090 is going to struggle to drive those high frame rates in visually demanding titles.

Then again, for games where you can hit higher frame rates, I found the PG32UQX more than up to the task. As an IPS-type panel (it is technically AHVA from AU Optronics) there is a little bit of ghosting present, but when playing a few rounds of Call of Duty: Modern Warfare, I didn't really notice it and it certainly didn't bother me. Those looking for an ultra-fast panel for competitive gaming probably aren't looking at IPS to begin, but I do feel for the majority of gamers out there, this screen will be fast enough.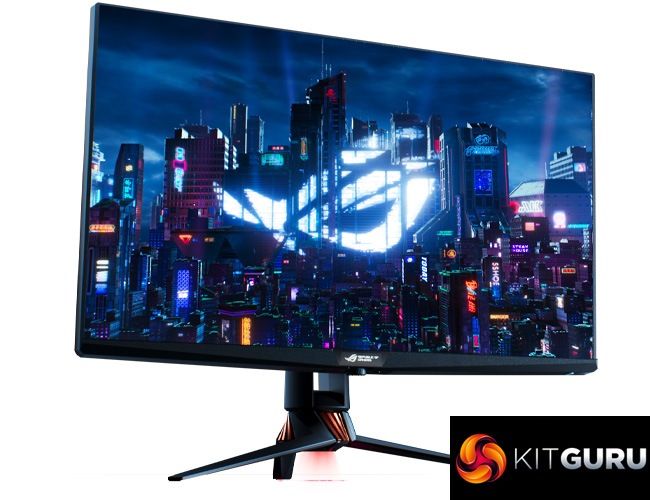 If you want your monitor for more than just gaming, the PG32UQX is a prime contender. It has superb colour accuracy out of the box, with an average deltaE of just 1.02, and we barely managed to improve on this via calibration. I think this could be perfect if you need a colour accurate screen for any photo or video editing by day, but also want to dive in an enjoy a quality gaming experience at night.
From an image quality and all-round gaming perspective, it's really hard to fault the PG32UQX. Its main drawback however, has to be the lack of HDMI 2.1. We understand this is a limitation of the hardware G-Sync module, as these currently don't support the latest HDMI protocol. It is certainly a shame it's not present on a screen that costs $3000.
Whether or not that will affect your view of this screen depends on the planned use case. First of all, you need to be willing to part with thousands of pounds for a monitor, which instantly limits this screen's viability to all but the most cash-rich of enthusiasts. But if that is you, and you want a single screen for both PC and console gaming, then the lack of HDMI 2.1 will certainly be a big factor.
I do believe this screen is mainly targeted at PC gamers however, and over DisplayPort you can get the best the PG32UQX has to offer. Well, almost the best, as even with display stream compression, using HDR at 4K/144z resorts to 8-bit colour plus FRC, so you'd have to drop to 120Hz for true 10-bit HDR. It's certainly a quirk, but not one that would deter those who are dead-set on buying this screen for PC gaming. It is, after all, a superb monitor, but it's not quite perfect.
We don't yet have a UK price or buy-link for the ASUS ROG Swift PG32UQX, but availability is slated for late May. It is listed for pre-order on ASUS' US webstore for $2999.99 HERE.
Discuss on our Facebook page HERE.
Pros
32in makes sense for 4K resolution.
Offers an incredible HDR experience.
Excellent colour accuracy.
Full array local dimming offers significantly better contrast than you'd otherwise get from this panel.
G-Sync keeps thing smooth when you're not hitting close to the 144Hz refresh rate.
Cons
Very expensive.
No HDMI 2.1 is a frustration, both for console and PC users, as 8-bit plus FRC is used at 4K/144Hz over DisplayPort.
Some ghosting is visible.
KitGuru says: As a showcase for what a gaming monitor can do, the PG32UQX excels. It is hugely expensive though, while the lack of HDMI 2.1 is a shame.