Getting right to it, aside from the sheer size of the Philips Momentum 558M1RY – it measures 1232 x 834 x 308 mm with the included stand – I am very keen on how 'simple' this screen looks. I'd even call it elegant – there's no typical 'gamer' flair, red accents or aggressive angles here, it's just a low-key monitor which wouldn't be out of place in your living room.

It also sports a very trim, silver/light grey bezel, while the pre-installed metal stand is a similar colour.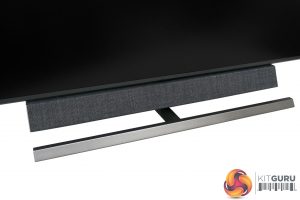 We can't miss that Bowers & Wilkins soundbar, either. First of all, it is covered in a lovely grey 'wool-blend' fabric, which Philips is keen to emphasise has been created by 'high-end manufacturer' Kvadrat. Underneath that, the soundbar boasts a 2.1 configuration, offering 40W RMS output, thanks to the use of two tweeters, two 10W 'mid-high' speakers, and then one 20W woofer.
As for the stand, this comes pre-installed to the monitor, and its only adjustment functionality is tilt, through -5 to 10 degrees. Since this is such a large screen, likely to be seated in your living room, the lack of swivel or height adjustment is hardly a factor. If you do want to replace the stand, there is support for VESA 200mm mounting brackets.
Round the back we can see things are again kept very plain and simple, with the only exception being the gloss panel that takes up most of the top of the screen – and be warned, it is indeed a fingerprint magnet.
We can also note the hefty metal stand, designed to support the 22.7kg weight of the screen, while the rear of the soundbar also has a bass port off to the left. Lastly, while the Momentum does ship with a remote control, there is a small joystick in the bottom right corner (when viewed from the front) which can access the OSD as well.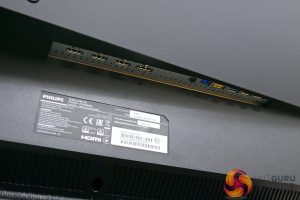 Lastly, we will touch on the ports and connectivity options. These are split into two sections, with the ports on the right consisting of one audio jack, the USB-B upstream connector, and then four USB downstream ports, two of which support BC 1.2 charging. For video inputs, there's a single DisplayPort 1.4 option, and then three HDMI 2.0 ports.
The HDMI allocation is interesting, as these are 2.0 ports, and not HDMI 2.1.This means, in order to run the screen at 4K 120Hz, the DisplayPort is required. Considering the Momentum is aimed at console gamers, it seems a strange move to not equip the screen with HDMI 2.1, which does support 4K/120Hz, when next-gen consoles will have HDMI 2.1 outputs.
We asked Philips about this, and we were told the company sees HDMI 2.1 as 'too unreliable and too expensive since the technology is still so fresh. However, once the new gen of consoles comes with HDMI 2.1, of course the Momentum monitors will be updated accordingly so they're able to provide [the] best gaming experience possible.'
So essentially, if you buy the 558M1RY now, you can get 4K/120Hz from your PC with a DisplayPort, no problem. However, all three HDMI ports are limited to 4K/60Hz, and a new screen will be required to work with HDMI 2.1.