I've spent the last week using the Philips Momentum 558M1RY, and it is certainly not for the faint of heart. Measuring in with a huge 55in panel, this monitor is almost certainly best suited for use in the living room as its sheer size means it is unlikely to be used in a typical office setup or on a desk.
For a gaming panel, this does tick a lot of the boxes. 4K resolution up to 120Hz, alongside the DisplayHDR 1000 certification, means games like Red Dead Redemption 2 and Shadow of the Tomb Raider have never looked better, with the high 3400:1 contrast ratio also lending a real 'punch' to the overall image.
Those used to gaming with a TV's inbuilt speakers will also appreciate the Bowers and Wilkins soundbar that comes as part of this monitor. Compared to my LG B9's speakers, the sound is noticeably fuller and at full whack the soundbar gets loud, as we measured noise levels over 90dB at a distance of two metres.

Clearly, the 558M1RY is designed for console gaming first and foremost, and it even says as much on the front of the box. That does mean this screen can get away with some slight uniformity issues that would be more of a hindrance for a display meant for use on a desk. We noticed a bit of brightness and colour uniformity deviation which is not ideal, but I have to say it wasn't noticeable to my eye when gaming. If this was a screen designed for image or video work, it would be a definite black mark. For a gaming panel, however, the 558M1RY is off the hook.
Speaking of gaming, the Momentum handles motion pretty well for a VA panel. You will want to turn overdrive to the max, using the 'Fastest' setting, but this eliminated most of the visible ghosting artifacts that I could spot. When you consider that most users will be sitting a few feet away from this screen due to its sheer size, I'd say all but the absolute pickiest of gamers will be happy here.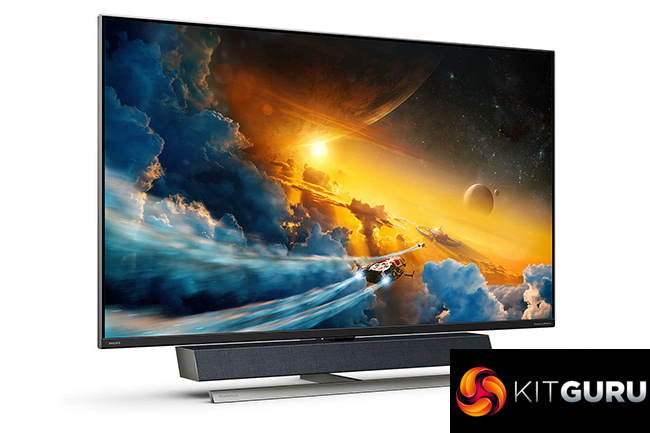 One thing I can't quite wrap my head around, though, and something quite fundamental to the appeal of this screen, is the selection of inputs Philips has opted for. Specifically, it does not support HDMI 2.1 inputs – just HDMI 2.0. This means the only way to get 4K/120Hz is to use DisplayPort, therefore ruling out console users from being able to achieve this panel's maximum resolution and refresh rate.
Considering next-gen consoles will have support for HDMI 2.1, this is a definite blow. Granted, Philips has told us once HDMI 2.1 is out in the wild, it will update the Momentum to support the latest protocol. However, it does mean I am left scratching my head as to why you would buy this panel now. To my mind, it seems prudent to just wait a few more months and get the version with HDMI 2.1 – even if you won't use it straight away, anyone who buys this screen with its HDMI 2.0 ports is going to be missing out should they upgrade to a next-gen console down the line.
Overall then, the Philips Momentum 558M1RY is a very capable screen, with its high resolution, refresh rate and HDR abilities coming together very nicely in a monitor of this size. It's not quite perfect though, and I would imagine most people considering this screen will want to wait for the model equipped with HDMI 2.1, but for those after an all-round impressive display for living room gaming, this will get the job done… and then some.
It doesn't look like the 558M1RY is available to buy just yet, but Philips has told us it has a UK MSRP of £1199.
Discuss on our Facebook page HERE.
Pros
Huge screen.
DisplayHDR 1000.
Impressive colour accuracy out of the box.
Excellent contrast ratio.
4K and 120Hz with DisplayPort.
Impressive soundbar.
Ambiglow adds to the overall experience.
Cons
HDMI 2.0 ports are limited to 4K/60Hz.
Some panel uniformity issues.
Gamma 2.2 reports a value of 2.3.
KitGuru says: It's a beast of a screen, and for gaming in the living room this ticks plenty of boxes. Considering it is aimed at console gamers, however, I do find it odd there is no support for HDMI 2.1, so anyone likely to buy a next-gen console will want to wait for Philips to update the Momentum with support for 4K/120Hz over HDMI.