Recently we looked at the AOC AG352UCG which brought a different spin to the massive ultrawide gaming display by using an MVA LCD panel instead of the IPS panels used on the likes of the Asus PG348Q. Well, just like London buses, two have come along at once. The Acer Predator Z35P is identical to the AG352UCG in terms of raw specs, with the headline feature of both being an MVA LCD panel that has double the contrast of rival IPS models – 2000:1 compared to 1000:1.
This sets these displays up as being particularly good for watching movies, as the deeper black levels make for an more immersive, realistic image. That of course applies double when you consider the ultrawide 21:9 aspect ratio of these screens. It's a perfect match for most modern widescreen movies meaning you get no black bars and no wasted screen space.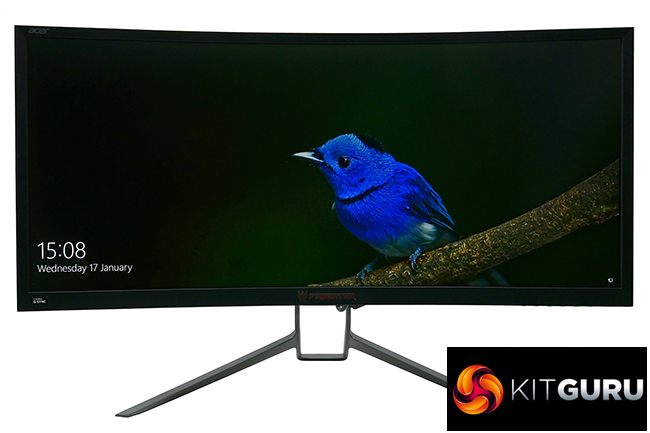 The Acer Z35P isn't just about movies, though. With a 100Hz refresh rate and G-Sync, it's also well set for gaming. What's more, unlike some cheaper ultrawide displays, the resolution here is a plentiful 3,440 x 1,440, so you get a nice large desktop space and a sharp image. Also included is a USB hub, speakers and a height-adjustable stand.
Such a hefty spec list doesn't come cheap, though. The cheapest it's available right now is £915, with most shops listing it for over £950. That's a lot of money, whichever way you look at it, and perhaps more crucially it's noticeably more than the AG352UCG, which is readily available for well under £800.
So the question is, does the Z35P do enough to justify its premium price?
Specification:
Screen size: 35-inch, 21:9 aspect
Native resolution: 3,440 x 1,440
Refresh rate: 100Hz
Panel type: MVA
Contrast ratio: 2,000:1
Brightness: 300cd/m2
Response time: 4ms grey-to-grey
Display inputs: DisplayPort, HDMI
USB hub: USB 3.0, four ports
Tilt: Yes
Raise: Yes
Swivel: No
Pivot: No
Other: Speakers, headphone jack
VESA: Yes
Warranty: 3 years
Retail Price: £915 (inc. VAT)
One area where the Z35P immediately has a lead over the AG352UCG is in design. The Z35P is a much cleaner, smarter-looking affair with a more dainty stand, slimmer bezels and more subdued matt black finish. In particular, the lack of lights on the bottom edge and the choice of matt black for the bezel makes for a far less distracting frame.
Round the back things are a little more jazzy, with two metallic red V-shaped sections brightening things up, plus the bulk of the back panel has a black, brushed plastic finish. It adds just enough flair without crossing over into being gaudy or tacky.
The stand is also particularly nice. The base is solid metal with a lovely dark grey finish, and it's impressively slim yet secure. The stand also offers height adjustment and rotation, the latter of which is particularly smooth and easy to adjust. A handle on its top also makes moving the monitor a breeze.
You don't get the ability to pivot the display into portrait mode, but on a huge curved display like this there seems little reason why you'd ever want to. You can also remove the default stand and fit an alternative one via the 100x100mm VESA mounting points.
Connectivity is somewhat limited by the fact this display uses G-Sync – G-Sync modules only ever accept two inputs – but you do at least get both of these, with one DisplayPort and one HDMI.
Alongside these is a headphone jack, though there's no pass-through for microphone so you'll have to hook your headset's microphone lead directly to your sound card instead.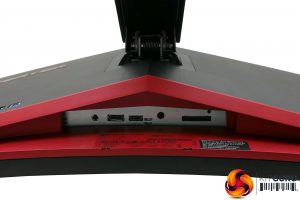 Speakers are also included but, don't be fooled, the sheer size of this screen doesn't translate into a proportionally huge sound. They're certainly a step up from the cheapest monitors, with more depth and detail than most, but even a £20 pair of desktop speakers will be a big upgrade.
The final main physical feature is a USB hub that sits on the rear of the display. Oddly it's entirely kept separate from the rest of the connectivity and sticks straight out, rather than facing down. It's an odd arrangement as it means you get neither the true convenience of ports mounted on the side of a screen, nor the tidy cabling benefits of having them more centrally positioned with the other connectivity. Regardless, you get four USB 3.0 ports, which is plenty.
Finally, we come to the screen, which measures 35-inches from corner to corner and has a resolution of 3,440 x 1,440, for a pixel pitch of 108ppi. This is just about perfect, providing a nice balance between being sharp enough to not look pixelated but still being large enough to be readable.
The screen has a 4ms response time and runs at 100Hz, but can also be overclocked to 120Hz. This puts it firmly into gaming monitor territory, though 144Hz TN screens with 1ms response time are still going to have a clear advantage for fast-paced gaming.
Acer has stuck with a simple input system for its OSD. There are no touch buttons or mini joysticks here but instead just five normal buttons that sit on the underside of the frame, next to the power button.
Simple it may be but it's also effective. For a start, Acer has thought to make the power button slightly larger than the others and illuminate it, so you're less inclined to accidentally press it and turn off your display.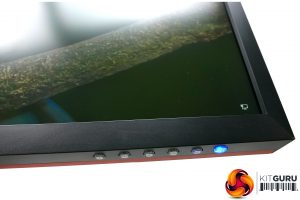 Also, the buttons have a nice positive action so, unlike some OSD controls (touch-buttons in particular), you're always sure when you've hit a button.
But mainly, the system works because the menus are intuitively laid out and the controls line up properly with what's on screen so it's just quick and easy to get where you're going.
As to the menus themselves, tap any of the five buttons and five choices appear. These provide quick access to different display modes, brightness, volume, video input and the main menu.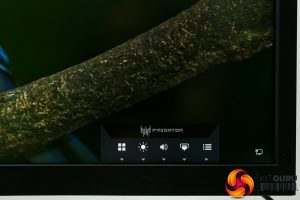 The display modes include three user defined options as well as predefined ones consisting of: Standard, Eco, Graphics, Movie and User. Most of these are likely to be of little use other than the user defined ones. Set the monitor up to your liking for gaming, desktop work and video and you can quickly switch between your preferred modes.
Jump into the main menu and Acer has done a great job of splitting things up into clearly defined and intuitive sections.
Starting with Picture, this is where you adjust basics like brightness and contrast plus it has options for a low blue light mode, dark boost and adaptive contrast.
Move onto the Color tab and here we get options for the gamma curve, the colour temperature, sRGB mode, colour saturation and 6-axis color balance that provides yellow, magenta and cyan colour balance options to go along with the more typical red, green and blue options.
The Audio tab is dedicated solely to adjusting the volume of the speakers, or any attached headphones, while Gaming provides options for overdrive and overclocking the display. The former allows for four levels of overdrive while the overclock option lets you boost the display up to 120Hz.
The OSD tab lets you change the language of the OSD, the timeout for it, as well as the transparency. System has optoins to change the input and aspect ratio as well as change the sleep mode and turn off the LED that illuminates the power button. Finally, the Information tab shows what resolution and refresh rate the display is running at as well as whether G-Sync is on.
All told, it's a comprehensive but not overwhelming selection of options that means you should be able to get this display setup just as you like in no time at all. Perhaps most crucially, there's actually very little reason to change anything other that brightness from the defaults anyway.
The most obvious thing about the Acer Predator Z35P display image is its curve. The way the sides project out towards you helps to create more of a sense of surround vision. Plus, it keeps the viewing angle and distance of the whole panel even, making for a more consistent image. Some dismiss the curve as a gimmick, but it really does work.
Also very obvious is the high contrast of this display. Sat next to a more common TN or IPS display, the deeper black level is plain to see, and certainly if you're watching a movie in a darkened room, this greater sense of true blackness really enhances the immersion.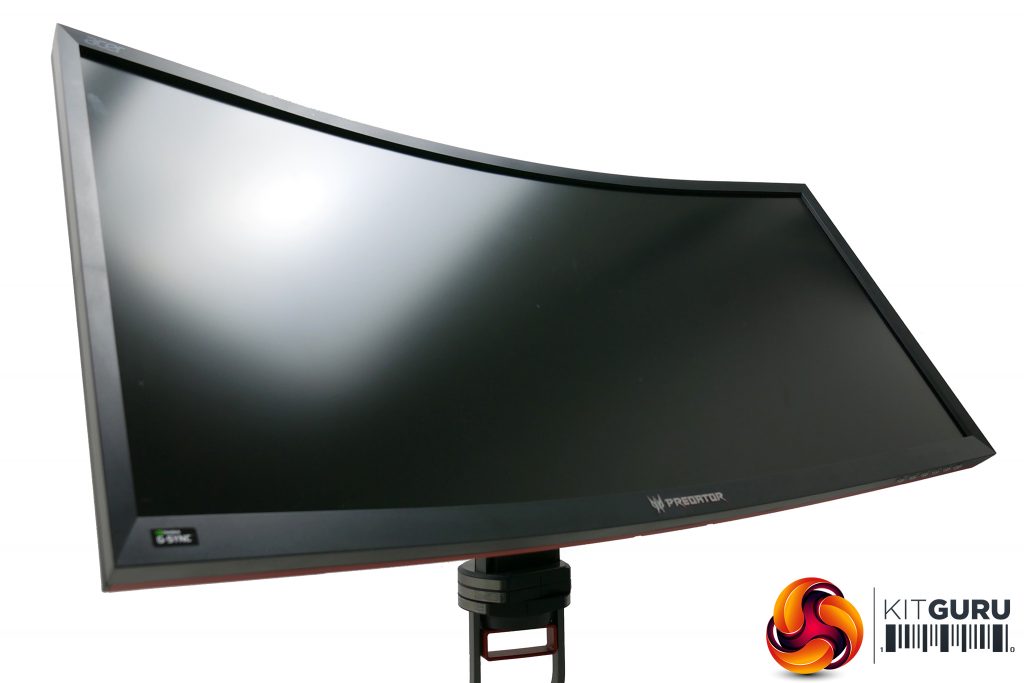 On the other hand, less of an immediate positive is that this display, can sometimes look a touch oversaturated. For already bright and colourful images it's not a problem – especially in isolation. However, in particular it can sometimes make skin tones look a bit a off – faces looking far redder and blotchier than in real life.
Then there's the viewing angles of this display. VA panels tend to sit somewhere between IPS and TN when it comes to viewing angles. They're much better than TN, with none of the obvious colour changes when viewed off dead centre, but there's more of a change in black level compared to IPS.
The upshot is that while colours look consistent, there can be a greyness that creeps in when viewed from more of an angle. Sit in a normal position – about 50cm away with the top of the screen inline with your eyes – and the bottom and edges of the screen can look a touch greyer than the centre. It's a subtle thing but, again, when compared side by side with an IPS display, you can see it clearly.
What helps a great deal here is if you sit back from the screen slightly. At about one metre away the relative viewing angles have tightened up and the whole image looks much more consistent.
All told, it's a fairly typical VA screen with the usual pros and cons that define this LCD panel technology.
With our more subjective observations done, it's time to fire up our colorimeters to see exactly what this display can do when it comes to colour accuracy. Two colorimeters and two programs were used to test the display. The first was an Xrite iDisplay Pro, which was used with the DisplayCal software, and the second is the ColorMunki Spyder5 accompanied by the Spyder5 Pro software. The iDisplayPro gives a more accurate contrast reading while the Spyder 5 is better for most other aspects of our tests.
Starting with the iDisplayPro, Acer's claims about the Z35P's contrast are proven to be true, with a reported figure of 2020:1. This test also puts the default colour temperature at a reasonable 6295K (the ideal is 6500K), while sRGB colour space coverage is 98.9% and gamma is a near perfect 2.19. Those are largely very impressive figures that show this screen is more than capable of producing accurate looking colours.
Moving onto the Spyder5 tests, the first test looks for how much of the standard colour spaces the screen can deliver, and it gets a perfect 100% for the sRGB colour space, along with 81% of the AdobeRGB colour space.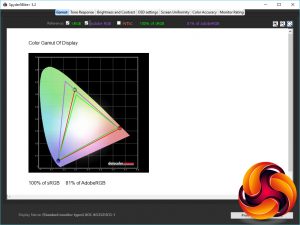 Next up is the tone response, or gamma, test. The gamma value affects how light or dark an image is, with a higher value resulting in dark portions of an image looking darker. The computing standard is 2.2, and although the screen has a setting that reports to be 2.2, it doesn't quite meet that in our tests, instead coming just short at 2.1. This is close enough not to worry us too much, though.
Next up is the brightness and contrast test. It's here where the Spyder5 doesn't correctly report the contrast but otherwise we can see that the maximum brightness is plentiful and the brightness scales nicely as you reduce the monitor's brightness setting – some monitors handle this poorly with brightness dropping too fast or too slow, making it difficult to pick out your preferred level.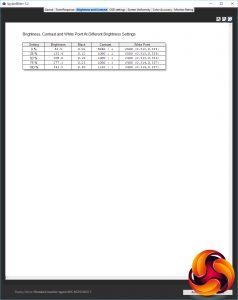 We can also see that the Spyder5 reports the colour temperature as being consistently very close to the ideal of 6500K so the screen doesn't have a strong blue or orange tinge to it, as happens when this figure is too high or too low.
Next up we test the different colour temperature settings according to the OSD. You get the choice of Warm, Blue Light, User, Cool and Normal, with Warm being the default option. Our tests show Acer is right to choose this option for the default as it's the closest to the ideal of 6500K. Switch to the User mode and it's also close. Choose this option and adjust the colour balance manually and colour temperature can be brought perfectly into line.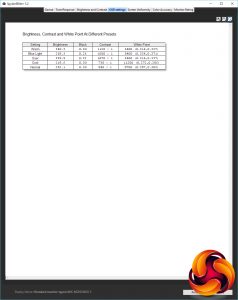 The uniformity test is next and it shows that despite being such a large monitor, the Z35P is surprisingly consistent across its whole surface. Peak variance in brightness of 14% isn't great but on average it wavers by just 8%. That's far from the lowest we've seen but not enough to be a major concern either.
Uniformity of colour is even better, with an average of just 2.16% variance and a peak of only 3.0. That's a very good result.
As for the display's ability to properly represent fine differences in colour, it nailed this too with an average Delta E score of just 2.39. Anything lower than 3 is considered imperceptible to the human eye.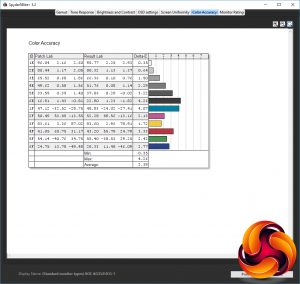 All told, this display has very good image quality right out of the box. In a perfect world its colour temperature would be even better, but unless you're working on colour-critical projects like video and photo editing then it's fine.
However, if you're in the position to calibrate your screen then even better results can had. Switch to the User colour temperature and adjust the RGB values from 50x50x50 to 50x48x50 (your mileage may vary) and colour accuracy bumps up a notch, with more accurate colour temperature and an even better Delta E score.
Gaming
VA LCD panels have two main downsides, which are the slightly worse viewing angles outlined above and a slower response time than IPS. Some gaming displays with VA panels can feel so sluggish that they basically fail at being good for gaming.
However, the Acer Z35P doesn't suffer this problem. Fire up the BlurBusters motion blur test, for instance, and there's less visible ghosting than on some previous VA displays. This can also be reduced further by upping the overdrive setting, though it doesn't fundamentally change the overall feel of the display.
That feeling being that it's definitely a step up from 60Hz  monitors but it's still some way behind the snappy feel of 144Hz TN displays. Perhaps more crucially, it feels just a smidge slower than IPS rivals, the Acer X34 and Asus PG348Q.
The 120Hz overclocking ability also does little to really change this, plus it reduces image quality slightly so there's a trade off to be had there.
As for G-Sync, it works as well as ever. What's more, it's with displays like this where it really shines. The vastness of the screen and the overall image quality combined with the smoothness of G-Sync means you have a thoroughly absorbing gaming experience, even if it isn't the fastest responding.

The Acer Predator Z35P is a great, big monitor. Huge and with a nice high resolution, it makes for an ideal desktop space, while the curve really pulls you into its image.
It also has great overall image quality that is excellent for general desktop work, good for gaming and fantastic for watching video. Its 21:9 aspect ratio and high contrast in particular make it superb for watching movies.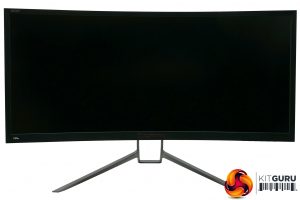 The addition of G-Sync and a 100Hz refresh rate further bump up its gaming credentials while a nice design, practical stand and USB hub further add to its appeal.
However, for all it gets right, the Acer Z35P has two main problems. The first is that, for the same price, the Acer X34 and Asus PG348Q make for slightly more tempting options. Image quality and gaming performance is a touch better and you get even slicker-looking slim bezels. Though, to an extent this does come down to personal preference as some people just prefer the compromises of one LCD panel type to another – some people can't abide IPS glow, for instance.
Meanwhile, the AOC AG352UCG undercuts the Z35P on price just a bit too much to ignore. If it were £50 one way of the other then fair enough, but the AOC is consistently £150 cheaper.
It's also worth remembering that any G-Sync display costs more than Freesync equivalents. There are no direct equivalents of this display but there are a few 75Hz, 34-inch, 3,440 x 1,440, IPS models for under £700.
As such, while the Z35P is definitely still worth considering, it doesn't quite do enough to get our highest score.
Discuss on our Facebook page, over HERE.
Buy from Amazon for around £960 inc vat HERE.
Pros:
Good overall image quality.
Decent 100Hz gaming.
Plenty of features.
2000:1 contrast.
Cons:
Stand doesn't pivot.
Gaming not as good as IPS rivals.
Expensive.
Kiguru Says: A great ultrawide gaming monitor, though there are some more cost effective rivals available.