The AOC AG273QCG makes a good first impression for the most mundane of reasons. Open the box and the polystyrene packing is wrapped in a plastic strap that makes it easy to lift the whole lot out. There's no need to tip the box up or risk breaking the packaging – and potentially the screen – pulling it out. The strap's reusable too.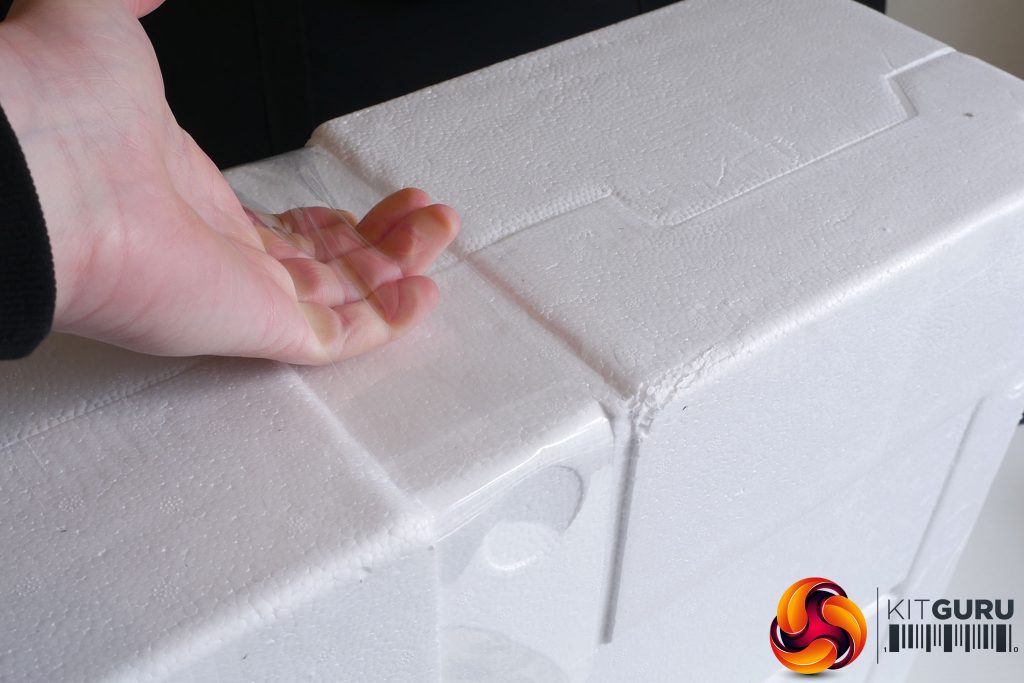 The positivity continues once the display is assembled – a simple case of screwing on the base to the stand and clipping the display on. The display looks very smart, with its gently curved screen, slim, low-profile bezels and slender stand. The red base and AGON logo on the lower bezel aren't entirely to our taste but they're not too outlandish.
It's a similar story round the back, with the majority of it sporting a muted matt black plastic finish. At least until you turn the lights on.
There's a large ring of light on the back along with a couple more LEDs on the underside of the display. Like many such lights we've seen recently these can be set to various static colours (of different brightness) or patterns. However, unlike some we've seen, you can't set the lights to match the colour of what's on the screen. As we'll cover in more detail in the OSD section, the menu system for choosing the effect is clunky too.
Elsewhere the display largely continues to impress. Its sturdy stand offers height, tilt and rotation adjustment and even has a carry handle at the top. It does lack the ability to pivot the display into a portrait mode, though, which makes plugging in cables a but more awkward. The screen attaches via a simple clip system so it's easy to remove if needs be. If you do remove if, underneath where the stand attaches is a standard 100x100mm VESA set of mounting holes for use with an alternative stand or monitor arm.
For connectivity you get one DisplayPort 1.2 and one HDMI 1.4 along with four USB 3.0 ports and both headphone and microphone jacks that are all situated on the back of the display, facing downwards. It would've been nice to have some of the USB ports mounted on the side, where they're easier to reach.
You get a pair of speakers too. Rated to 2W a piece, they're nothing to write home about but do offer ever so slightly more clarity and power than the very worst we've heard.
Some very welcome features are not one but two pop-out stands on each side of the display. We say pop-out, they're more pull-out… awkwardly. You'll need some fingernails to tease them out. Once deployed, though, they offer a convenient place to rest your headphones or hang your keys.
Finally we come to the screen itself which uses an AU Optronics M270DTR01.0 TN LCD panel that offers true 8-bit colour without dithering. Behind it sits a white-LED powered backlight that uses a non-PWM brightness control so doesn't suffer from flickering.
Measuring 27-inch from corner to corner, it packs in 2,560 x 1,440 pixels for a pixel density of 110ppi, which is what we consider ideal. The image is sharp without being too small that you have to use Windows scaling settings.
Being a TN panel its viewing angles are inherently going to be worse than other LCD technologies but AOC has countered this somewhat with the use of a curved screen. The far edges will be that little bit closer to perpendicular to your eyes than with a flat screen.
What's more, the TN technology allows for this display's lightning quick 1ms response time, which in turn means this should be a true high-end gaming display.