The AOC AG273QCG's core gaming credentials mean that it offers an excellent overall gaming experience. A 144Hz or, when overclocked, 165Hz refresh rate along with a 1ms response time makes for a very responsive feel.
Combine it with G-Sync and you also get tear and stutter-free images for a smooth experience regardless of what refresh rate your game runs at. Move up to a 240Hz screen – an alternative premium gaming monitor option – and you do get an even smoother gaming experience but otherwise this display is comparable to any other 144Hz or 165Hz TN screen.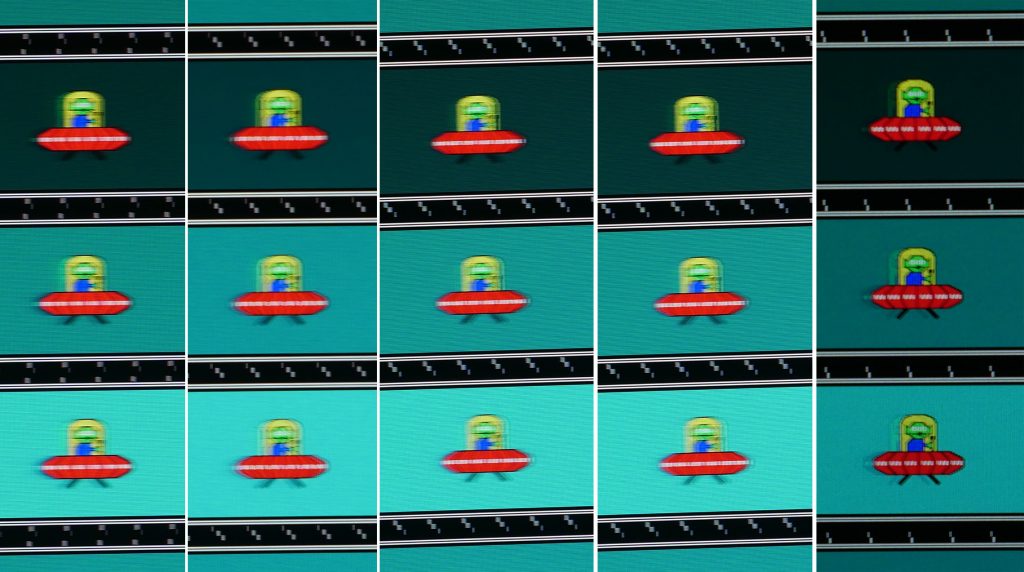 From left to right: Overdrive off/weak/medium/strong and ULMB on
This monitor also offers Nvidia's ULMB backlight-strobing blur reduction mode and it works very well. There's a very clear increase in sharpness of moving objects such as in BlurBusters' moving UFO test (see above). You do actually get an increase in ghosting with this option, such that the UFO appears to have a trailing ghost, but the overall image is clearer.
You're also able to alter the gap in between light pulses such that you can even further reduce motion blur. However, this darkens the image and we didn't notice a huge difference in the performance. Enabling ULMB also required disabling G-Sync and is limited to 120Hz. As such, we tended to leave it turned off most of the time.
When gaming the graininess of the screen isn't so noticeable either so if gaming is you're primary concern then this shouldn't put you off buying this screen.
One oddity we did encounter with this screen, however, is that when overclocked to 165Hz it caused games to crash. In particular, playing Apex Legends, the game consistently died five or ten minutes into a match. Once the screen was turned back down to 144Hz this stopped happening.
We're generally inclined not to bother with the overclocked settings on most gaming screens anyway – just in case it helps to prolong the life of the screen – but this would make us doubly cautious of overclocking this display.