The AOC G2790PX's main appeal over and above more basic 1080p, 144Hz gaming monitors is its design. It has the sort of very narrow bezel on the top and sides that comes from having the front pane of plastic that covers the screen extend out over the bezels.
When the display's off this means there's just a 2mm sliver of plastic that's visible round the edges. It's a technique that works really well, giving the display a real sleekness compared to most cheaper models.
Also helping is the overall styling. While there are "gamer" centric flashes in the red chin bezel and cable routing hole in the stand, the darker metallic tone remains understated. Silver might have been an even better choice but the red adds a touch of interest.
The stand itself is also a tidy affair with a modestly sized round base that has a brushed circle effect on the top. The rest of the monitor is finished in matt black plastic, which is always a good go-to choice.
On a more practical note, the stand also offers all the adjustability you'd hope for. It has 130mm of height adjustment, -3.5 / 19.5 ° of tilt, 360° of rotation and can pivot into a portrait orientation.
Unlike several previous AOC monitors we've seen, the stand also now attaches with a quick release system, which is faster and easier than having to screw it on. However, underneath the quick release fitting there are still screw holes that allow you to use any alternative stand with a 100x100mm VESA mount.
When it comes to connectivity, there's plenty here. A single DisplayPort 1.2 is joined by two HDMI 1.4 and even a D-Sub for VGA connections. The latter won't be much use for most gamers these days but anyone that likes to work with retro or older gear may find it useful.
There's also a four-port USB 3.0 hub, one port of which offers standby power. Unlike some of AOC's more expensive gaming monitors, none of the ports are on the side – you also miss out on the useful flip-down headphone stand that we've seen on other models..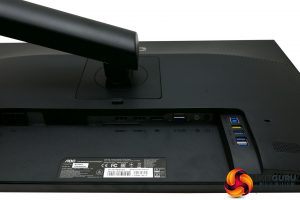 Also included here are speakers, which fire out the back through visible grilles – often it's not clear where the speakers are on monitors. They're nothing to write home about in terms of quality but it's always useful to have them just in case. There's also a headphone jack and microphone input.
As for the screen itself, its 27-inch size and 1080p resolution results in a pixel density of just 80ppi, which is quite low. As a result the image is simply larger than it would otherwise be on a 24- or 25-inch display, but no more detailed. If you've weaker eyesight or sit a bit further back from your screen then this may suit you. Or of course, you may just prefer this large style. For many, though, you can save money by opting for a smaller screen and lose none of the performance.
Meanwhile, the display uses TN technology so will suffer from poor viewing angles but it has that all essential 1ms response time that is so prized for gaming. Combined with a 144Hz refresh rate, this should be a top-notch gaming screen.