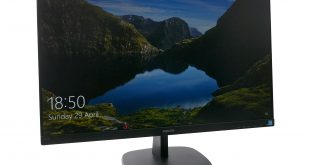 The Philips 273V7QDAB is a no-nonsense business and productivity monitor that aims to provide decent image quality and smart design without breaking the bank. It costs just £150 yet still provides a 27-inch screen size, 1080p resolution and an attractive low-profile bezel, while also utilising an IPS LCD panel for good viewing angles and generally good image quality.
Beyond that it offers very little in the way of extra features. There's no USB hub, the stand doesn't offer any form of adjustment other than a bit of tilt, and the screen runs at a standard 60Hz so competitive gamers will probably want to look elsewhere.
Instead, the sort of extras you can expect here include a low blue light mode for reduced eye strain and the reassurance of a flicker-free backlight. It's not a star-studded list but if you're simply after a basic monitor for everyday use, it could be worth a look.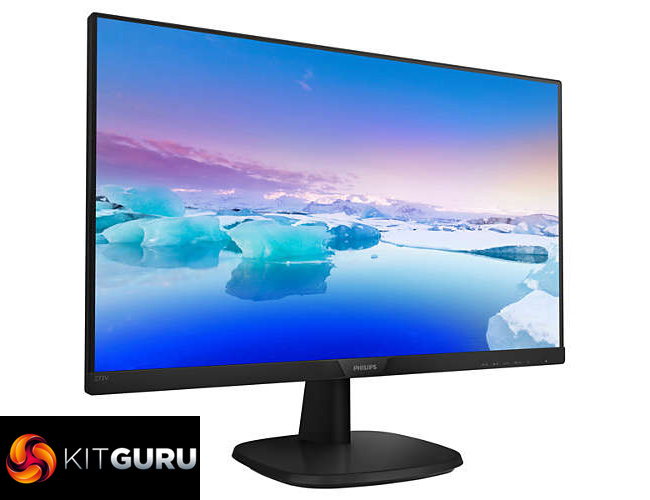 Specification:
Screen size: 27-inch, 16:9 aspect
Native resolution: 1,920 x 1,080
Refresh rate: 60Hz
Panel type: IPS
Contrast ratio: 1,000:1
Brightness: 250cd/m2
Response time: 5ms grey-to-grey
Display inputs: 1 x HDMI 2.0, 1 x DVI, 1 x D-Sub
USB hub: No
Tilt: Yes
Raise: No
Swivel: No
Pivot: No
Other: 2 x 2W Speakers, headphone jack, audio input
VESA: Yes
Warranty: 2 years
Retail Price: £151 (inc. VAT)
The first of this display's two main features that put it above the cheapest options out there is its narrow border design. The front pane of plastic that covers the screen extends out over the edges of the surround, creating the illusion that the edges are just 2mm or so wide. That is, when the screen is off. Turn it on and you can clearly see the wider black surround underneath the plastic, but the effect still works well to create a slimmer, smarter-looking display.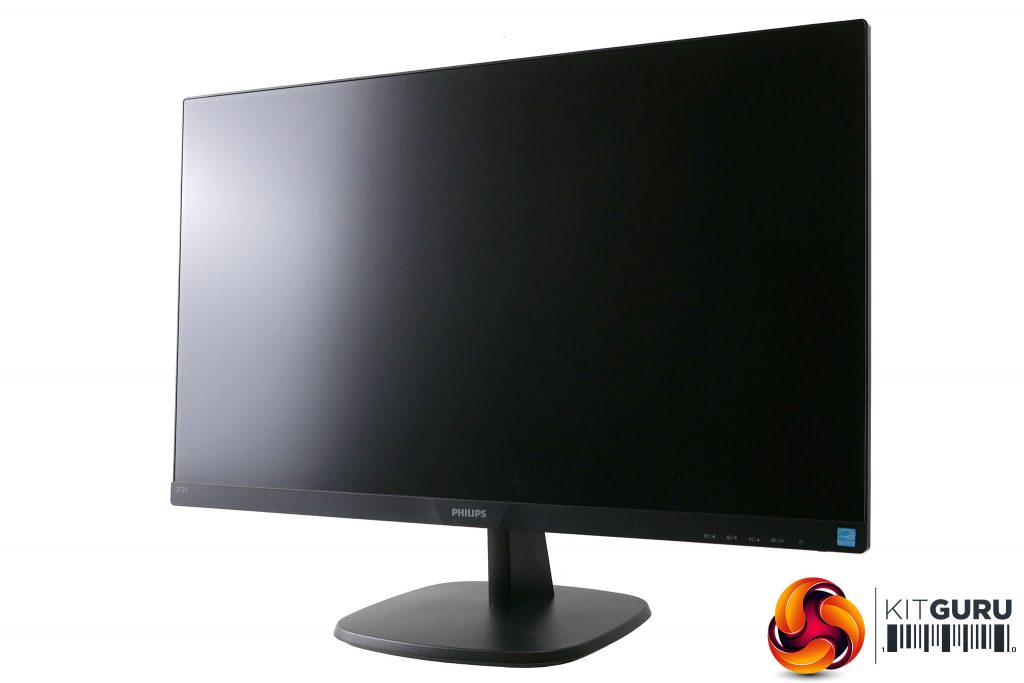 Elsewhere, the 273V7QDAB has a simple but attractive design with a grey Philips logo on the lower bezel, a matt black plastic rear and a plain black plastic stand. The latter simply clips onto the bottom of the display and offers no adjustment other than the ability to tilt the display forward and back by -5/+20 degrees.
If you'd rather be able to adjust the height of the display – other than by stacking it on a pile of books or such like – the 273V7QDAB offers the ability to attach an alternative stand or monitor arm via a set of 100x100mm VESA mounting points on the rear.
Build quality, meanwhile, is entirely adequate with the only thing of note being that the base and stand are all plastic with no metal reinforcement, so you'll need to be a little careful with how you adjust the tilt and place the monitor down.
Connectivity
Connectivity is very basic with just one HDMI provided for modern connections. This is joined by DVI and VGA sockets for use with older systems while there's also a headphone jack and audio input. The power supply is internal, though, so there's no annoying power brick.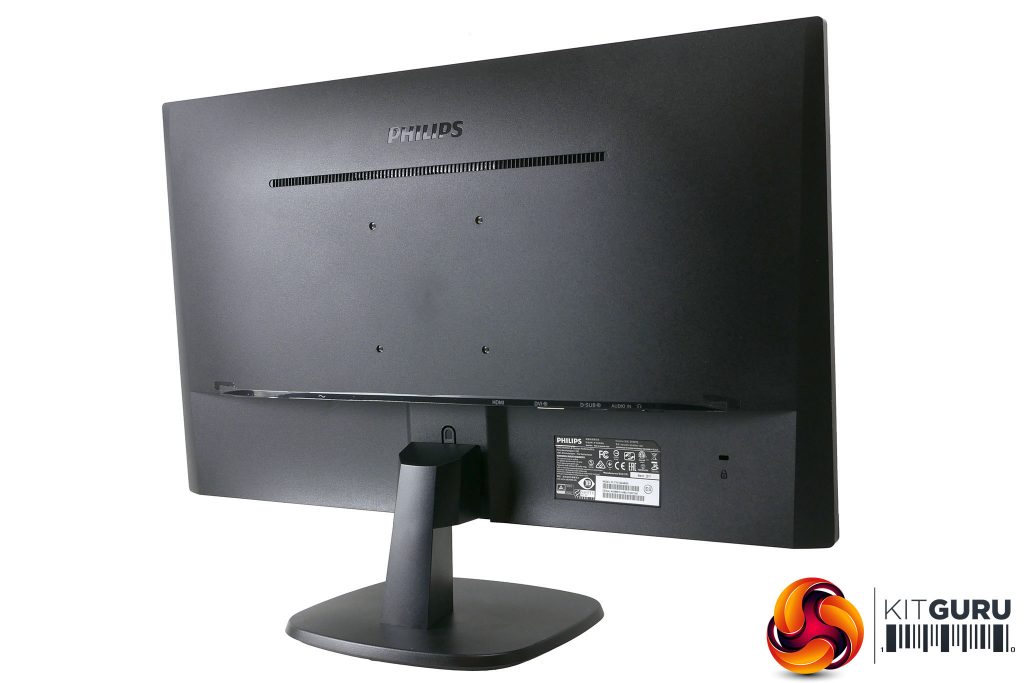 The audio jacks work alongside the built-in 2x2W speakers, with the headphone jack taking over audio duties when headphones are plugged in, providing the ability to add audio to the DVI and VGA signals.
All told, if you're after a display that can cope with a couple of modern day computers being connected to it at the same time and be a convenient USB hub for all your other peripherals, you'll have to look elsewhere.
If it's a prerequisite that your next monitor has masses of language options in its menu system then the Philips 273V7QDAB has you covered. English, Dutch, French, German, Polish, Portuguese: they're all in there.
Elsewhere the OSD offers a reasonably comprehensive selection of options and an intuitive system for navigating them.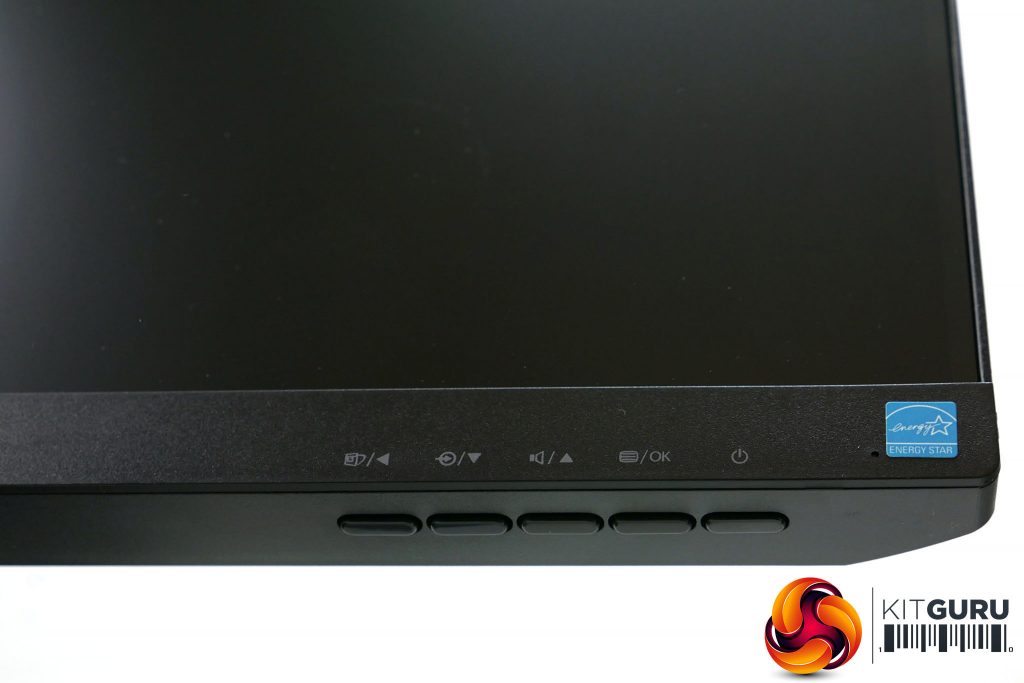 Next to the power button on the underside of the frame are four buttons that, from left to right are: back/close the menu, move down, move up and open the menu/select an item. They also double for quickly changing input and adjusting the volume.
Once you've opened the menu it's easy enough to move down through the list on the left and select the item you need from the submenu.
Showcasing the business-oriented status of this monitor, the first option in the menu is the low blue light mode. This reduces the amount of blue light emitted by the backlight, which helps reduce eye strain late at night.
Next up is the input selection, which is fairly self explanatory.
The Picture menu is where you can adjust brightness, contrast and gamma along with other more esoteric image settings such as the automatic contrast and pixel response modes.
Audio provides the volume control as well as an option to totally mute the display, select which source is playing and turn on stand-alone mode, which enables audio output when there's no video feed.
In the Colour menu there are just three options. The first lets you choose the display's colour temperature, the second enables an sRGB mode and the third provides user-adjustable colour balance.
Next up is that comprehensive language menu, then it's the OSD Settings that allow you to change the position and transparency of the menus.
Finally, the Setup menu lets you fine tune the position of the display when using analogue inputs.
The second key feature of this display other than its narrow-border design is its IPS display. This type of LCD technology has the best viewing angles and is generally the best choice for good colour accuracy, and sure enough this display looks good right out of the box.
The good viewing angles are plain to see with the image appearing consistent as you move the display – or yourself – around.
One thing you don't get here, though is a particularly sharp display. It's a 27inch model with a 1,920 x 1,080 pixel resolution, which makes for a relatively low pixel density of 82ppi.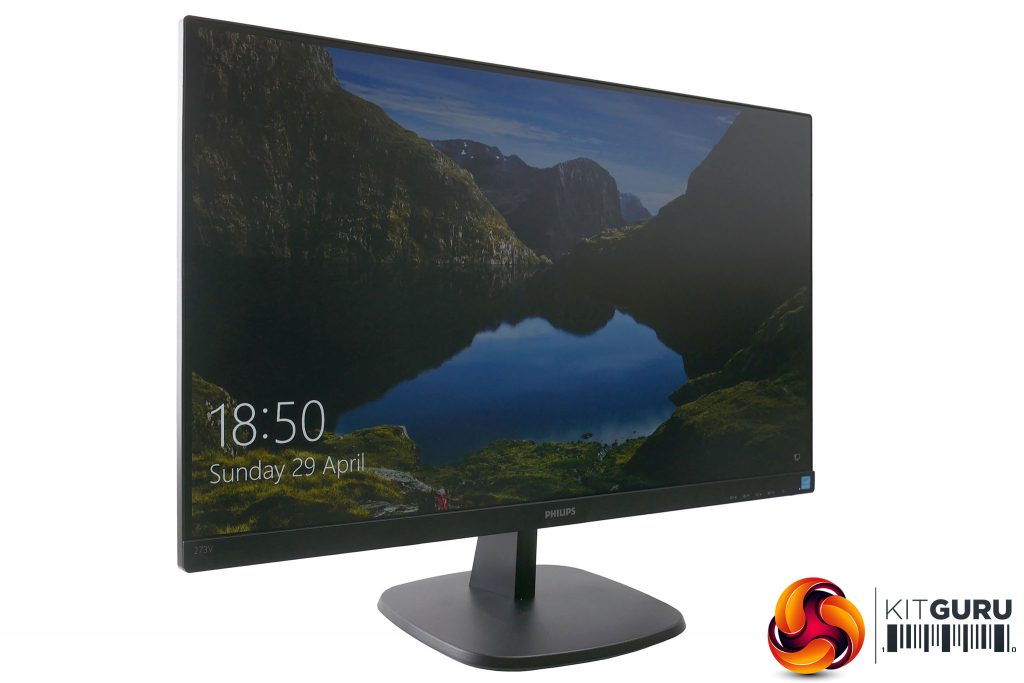 This is still absolutely fine for most day to day use, and indeed some users prefer the slightly larger text and icons that using a lower resolution on a larger display provides, but if you prefer a sharper image then you'll want to seek out a 27inch display with a 2,560 x 1,440 resolution or higher. Not that you'll get one for the same price, mind.
Elsewhere this display presents a generally satisfying image with a deep contrast between the brightest and darkest parts of the image and colours that look rich and accurate.
With our initial impressions out the way we fired up our Xrite iDisplay Pro and Datacolor Spyder 5 Elite colorimeters to test all other aspects of the display's performance.
The display overall impressive, though one thing to note is its surprisingly low maximum brightness. The Xrite iDisplay Pro registered a level of just 232nits, which is well below the 300 we'd normally expect to see. It's still enough for use in most home environments but if your office is in a particularly bright, sunny room the display could struggle to compete.
Otherwise, with an impressively low black level of 0.2078nits, this display produces a healthy 1097:1 contrast, which is comfortably above the 1000:1 we'd hope for.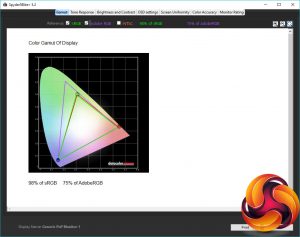 Moving on to our tests with the Syper5 Elite, it starts off by testing how much of the standard colour spaces the monitor can cover, with top quality displays ideally achieving 100% sRGB. The G2790PX's score of 93.9% is entirely adequate for most use. Only those requiring professional-quality image accuracy for image and video editing will need more.
Next is the display uniformity test that checks the output of the display at various points on its surface to check if it's consistent. Here we find the 273V7QDAB is less than stellar with a whopping maximum brightness variance of 20%. Its average is a more palatable 8.4% variance across the whole panel, but that bottom third is clearly darker than the rest of the display.
As for colour variance, this is far less problematic with a maximum variance of just 3% and an average of 1.27%.
The Spyder5's brightness and contrast test again shows the same low maximum brightness as the Xrite colorimeter, but does also show a nicely consistent white point colour temperature at various brightness levels. In other words, if you change the brightness the colour balance of the image doesn't change. We ignore the contrast ratios in this test as the Spyder5 under-reports these.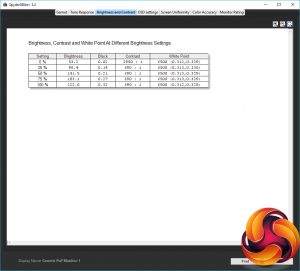 Next up is the Spyder5 tests for contrast and white point at the various different colour settings available through the display's OSD. Here we can see that the default 6500K setting provides a white point that is very close to what's required, while the 7300K and 9300K settings are also reasonably close to what they should be – the higher the colour temperature the more blue the image appears.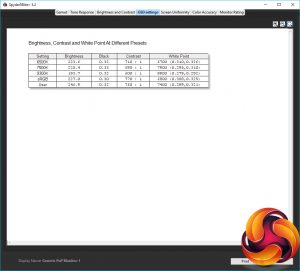 The sRGB mode is a little further from the ideal colour temperature of 6500K but is still close enough for general use. Meanwhile, the User colour option would require quite a bit of fine tuning to get the colour balance to where it should be (6500K).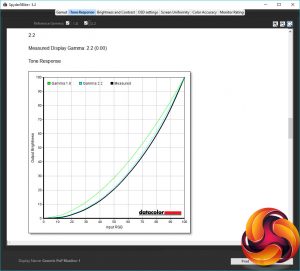 There are five different gamma settings available through the OSD and our Spyder5 shows the display does a fine job of matching its claimed numbers. The default of 2.2 is spot on while the other options are all close enough to get by. We'd stick with the default gamma, but if you want the image to appear darker you can turn this up, or turn it down for a lighter looking image – great for seeing enemies hiding in the dark while gaming.
The final test checks for the display's ability to pick out fine differences in colour as represented by a number called the Delta E. Anything below 3.0 is good while below 1.0 is excellent.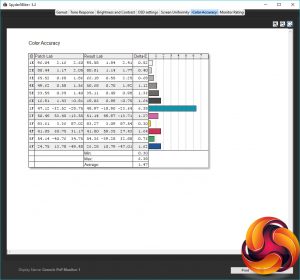 With an average Delta E of 1.47 and a maximum of 6.38, this display impresses. There should be no visible colour banding here.
Overall, it's a good all-rounder of a display that has good core contrast and colour accuracy and its default colour profile is well balanced.
To get the very best from the display we ran a software calibration using the Spyder5 and, by and large, it didn't change much. The Delta E maximum dropped to below 4 and the average closer to 1, but neither is enough of a change to make a significant difference – this display is great out of the box, so there's little need to tweak much.
Gaming
When it comes to gaming, this display doesn't make many great claims and sure enough it doesn't deliver particularly stellar performance. Its maximum refresh rate of 60Hz means it feels sluggish compared to 100Hz+ displays and even though its response time is a reasonable 5ms, it can't really make up for that limited refresh rate. It's fine for single-player and other slower-paced games, but for eSports titles you'll want something a bit nippier.
Notably, neither G-Sync nor Freesync is present either, so you'll have to make do with either image-tearing or stuttering (depending on your machine's performance) while you game.
The Philips 273V7QDAB is a simple, no-frills display for those users that just want a smart-looking monitor with decent all-round image quality.
Its use of a narrow-border design gives it a slim, smart look and its IPS LCD panel produces largely good image quality in all regards.
You do miss out on a huge variety of connectivity and any extras like a USB hub, while the stand is very basic, but that's precisely why this display is so cheap.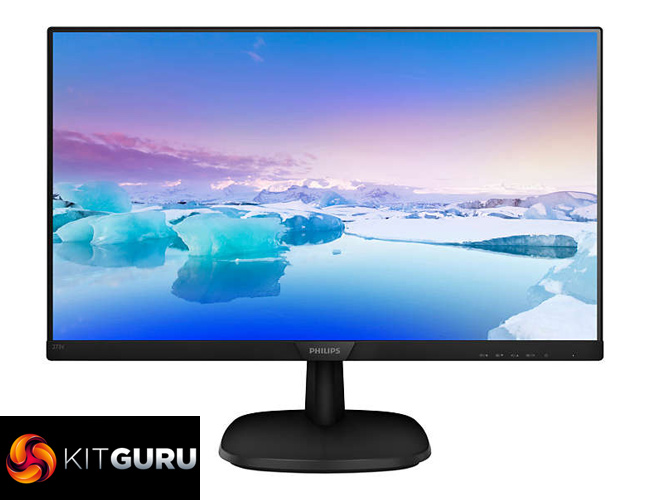 Meanwhile, those that prefer a sharp, higher resolution display will probably balk at the 1080p resolution on this 27inch panel. But, again, it's all you'll get for the money, and for many users the larger image will be preferable.
As for gamers, this isn't the monitor to make a beeline for. Its fine for single-player and other non-competitive games but for anything fast-paced you'll want to step up to a faster refresh rate screen.
For a solid, all-round monitor at a good price, though, the Philips 273V7QDAB is worth buying. You can get one for £151.22 from CCL HERE.
Pros:
Good overall image quality.
High contrast for IPS display.
Stylish design.
Reasonable value.
Cons:
Weak plastic stand.
Brightness uniformity quite poor.
Not great for gaming.
KitGuru says: It's nothing flashy but the Philips 273V7QDAB is a perfectly capable general purpose monitor with good out of the box image quality.