Oculus VR's second devkit might not have been in the wild for long, but it's already gotten a successor in the Oculus VR offices. We're not quite ready for a consumer version yet, but back at HQ, Oculus has been playing around with a new prototype it's called, Crescent Bay.
Revealed at the Oculus Connect event over the weekend where journalists and visitors were given a chance to try out the new virtual reality headset, Crescent Bay improves upon the DK2 in several ways. Firstly, it has a new display, though Oculus hasn't announced what resolution it is (those who've tried it suggest it's at least 1440p and 90Hz), as well as featuring improved positional tracking and full 360 degree head tracking. Perhaps the most dramatic change however, is the inclusion of a built in headset, providing "high-quality, integrated audio," to the user.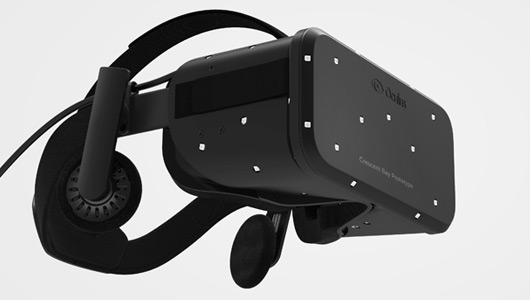 By building in the headphones, Oculus is guaranteeing there's at least one more set of wires that the user doesn't need to worry about. The VR firm has also further reduced the weight of the Rift, making it lighter.
Along with the Crescent Bay headset, Oculus also announced "Oculus Audio," at the conference, which is a licensed audio system from RealSpace3D. Based on over 10 years of development, the software is said to provide accurate auditory feedback in VR experiences, further aiding immersion.
The Rift is also supported in both the free and pro versions of the Unity engine now.
Discuss on our Facebook page, HERE.
KitGuru Says: As great looking as this is, I'm still quite excited for my DK2. It should be here in the next couple of days. Watch out for some fanboy drooling in the next 48 hours.