This week, Dell launched its new U2518D monitor, the first to offer 'Dell HDR', alongside a crisp 2560×1440 IPS panel. It sounds good in theory but don't be fooled by the 'Dell HDR' marketing ploy, as this monitor is far from being able to offer the brightness, bit-depth and color gamut required by industry-wide standards, like HDR 10 or Dolby Vision.
Dell's U2518D monitor does have some good features, it has a 60Hz IPS panel, a 1440p resolution and tiny bezels thanks to the 'InfinityEdge' border. Unfortunately 'Dell HDR' isn't going to give you the experience you would expect from a traditional HDR 10 supported display. This monitor is capable of 99% sRGB coverage but only has a maximum brightness of 350 cd/m², which as Guru3D points out, is very low for a display claiming to offer High-Dynamic Range. Beyond that, the panel itself offers 8-bit colour, whereas most HDR 10 displays will be full 10-bit.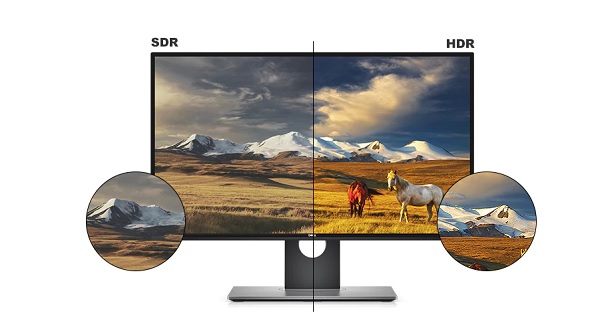 So how does 'Dell HDR' work? Well it is apparently a software simulation that allows this monitor to respond to HDR 10 content. Unfortunately, the screen itself doesn't have the bit-depth, peak luminance or colour gamut required for a true HDR10 experience.
To be fair, we haven't had a chance to check out 'Dell HDR' for ourselves and compare it properly. However, judging by the spec sheet, this monitor won't be able to match HDR 10. Aside from that, it is important to note that this monitor shouldn't be confused with the Dell UltraSharp UP2719Q, which is the company's latest 4K monitor which does in-fact support HDR 10.
KitGuru Says: True HDR has the potential to be a game changer for future monitors in addition to TVs. Unfortunately cheap tactics like this will water things down and could give people the completely wrong impression of the technology. If you are shopping around for a HDR display, then make sure you double check that it is actually HDR 10 certified and not a software trick.