The Acer XB270HU is the first display we have tested with a new colorimeter, the Spyder Elite 5 from DataColor. This new hardware is slightly more accurate, but with greatly improved software over the previous version.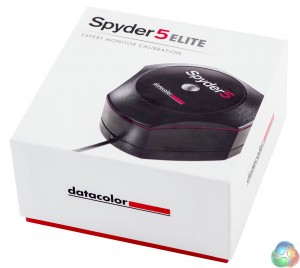 It measures a screen's sRGB and Adobe RGB coverage, colour accuracy, brightness, contrast, panel uniformity, white and black points, and gamma levels. We first run the test on the screen with its default out-of-the-box settings, including testing different presets included in the OSD, then we calibrate the screen to 120 cd/m2 and measure it again.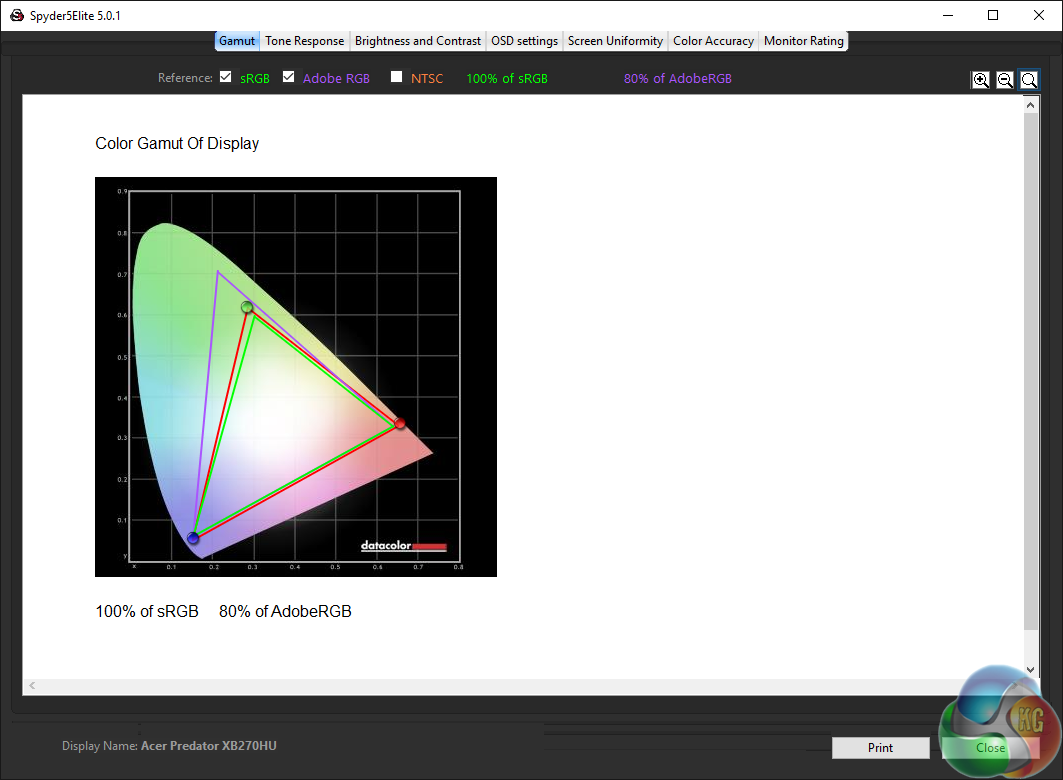 Out of the box, the Acer Predator XB270HU shows excellent gamut coverage, hitting 100 per cent sRGB and 80 per cent Adobe RGB. This matches most modern IPS displays, which manage between 70 and 80 per cent Adobe RGB coverage. It's a good result for a gaming display, where you wouldn't expect a high degree of colour accuracy to be required.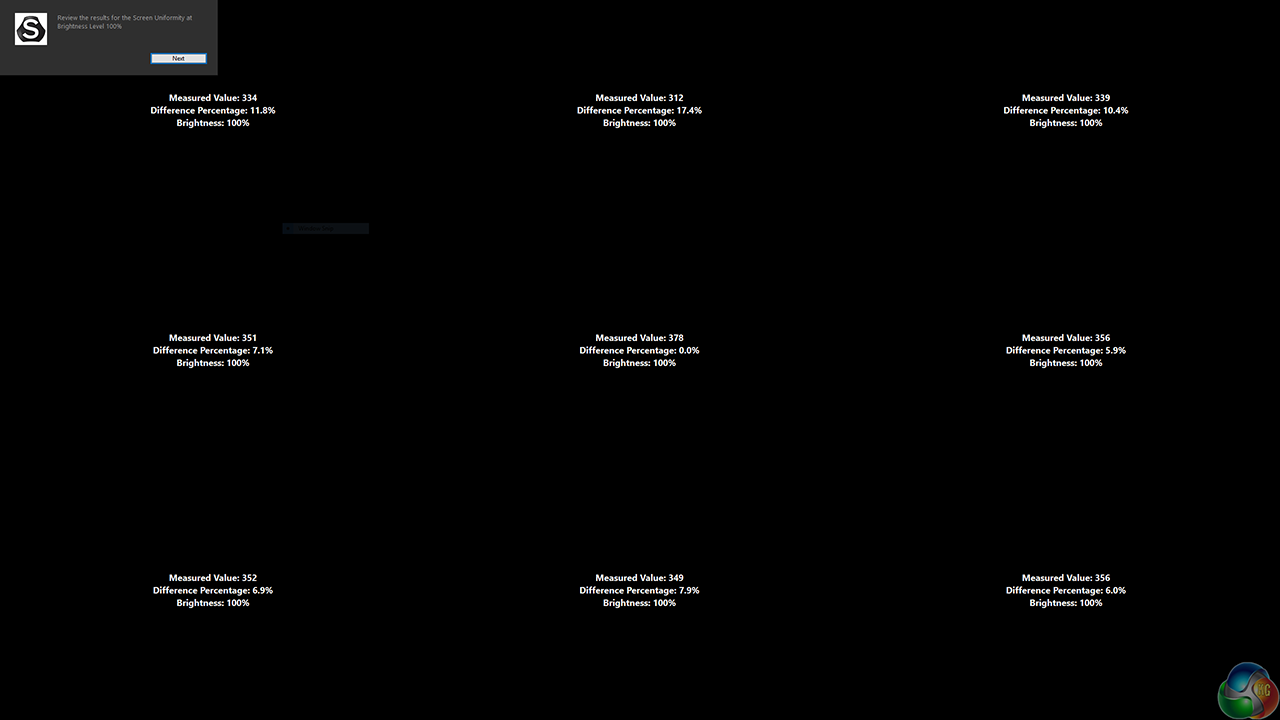 Panel uniformity is not quite as impressive, with a deviation of 17.4 per cent in the top central section and around 10 per cent in the top left and top right.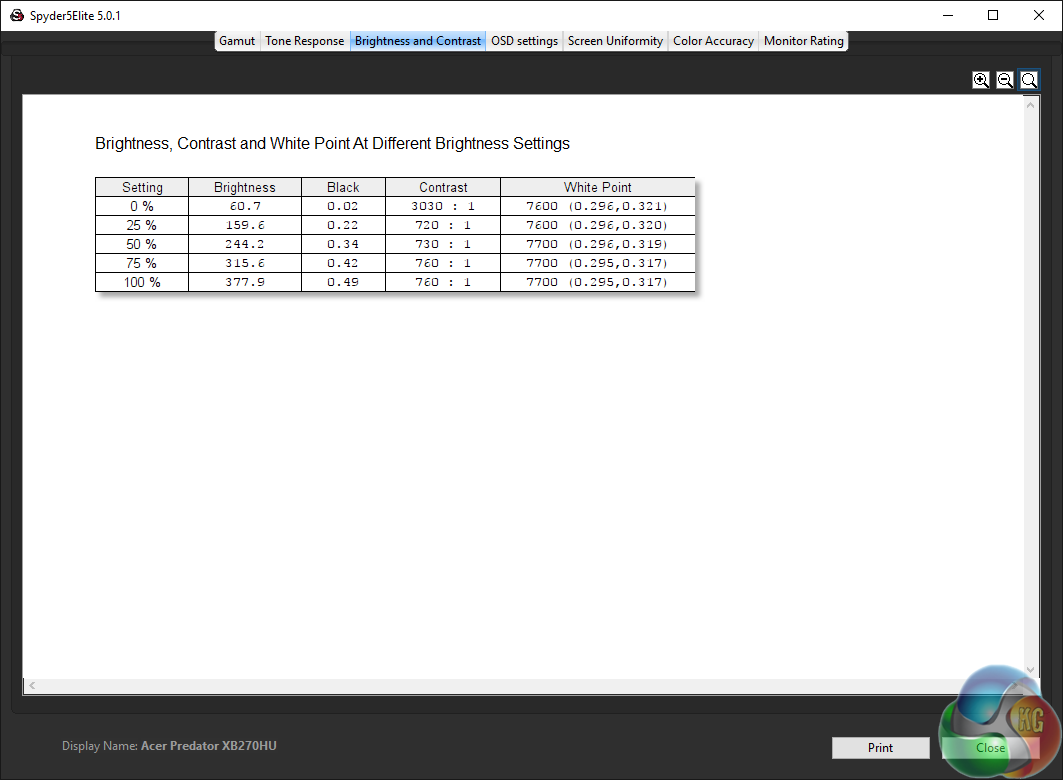 Brightness results at 100 per cent show 377.9 cd/m2, a great result that put the XB270 ahead of rival panels. And it shows in use too, with a notably bright screen in games and the Windows desktop.
Contrast ratios around 750:1 are a similarly excellent result, better than many competing displays.
None of the gamma results are particularly close to their advertised values. There are four settings, 2.2, 1.9, 2.5 and "Gaming". They are all slightly off by a value of 0.1 or 0.2, with the Gaming setting showing a figure of 3.0.
The black point hovers around 0.49, which is average for an IPS display, with the White Point at an unusually high 7700K. By default, this is set to "Warm" in the Acer XB270HU's OSD, while "Normal" brings it more in line with the usual 6500K.
In use we found the Warm setting to be more pleasing to the eye, but this is a subjective viewpoint.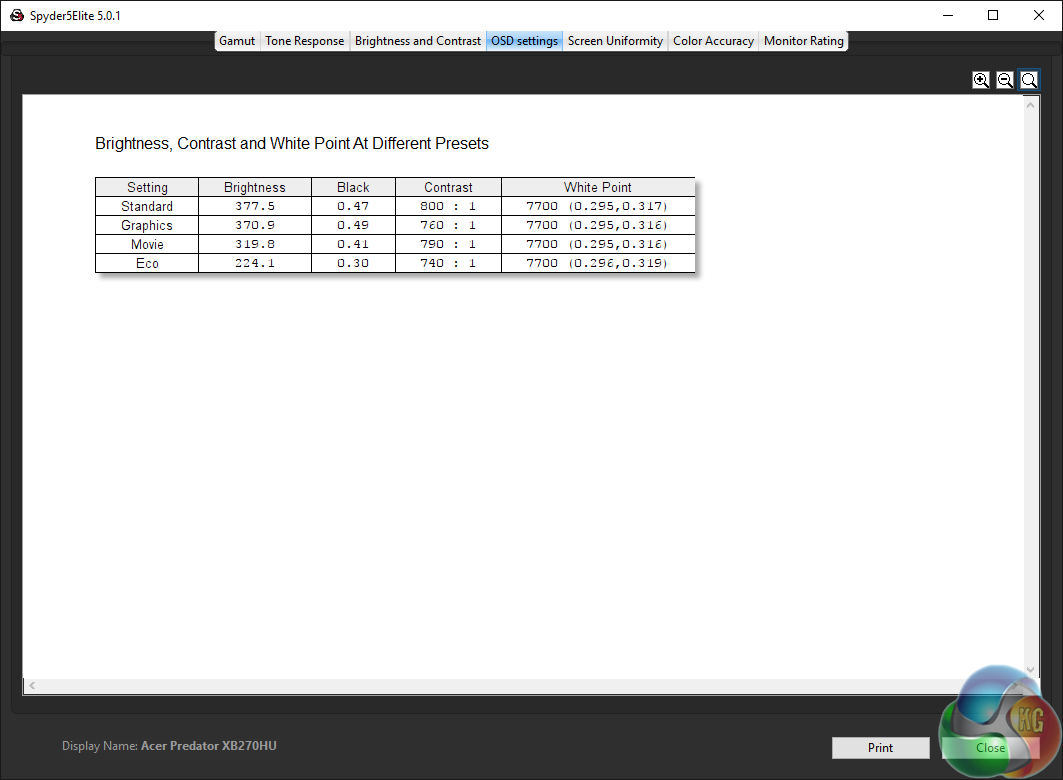 There are four image presets, Standard, Graphics, Movie and Eco. As expected, the Eco setting brings the brightness right down to save power.
The Movie setting has the lowest overall black point, with the best contrast result going to the Standard setting.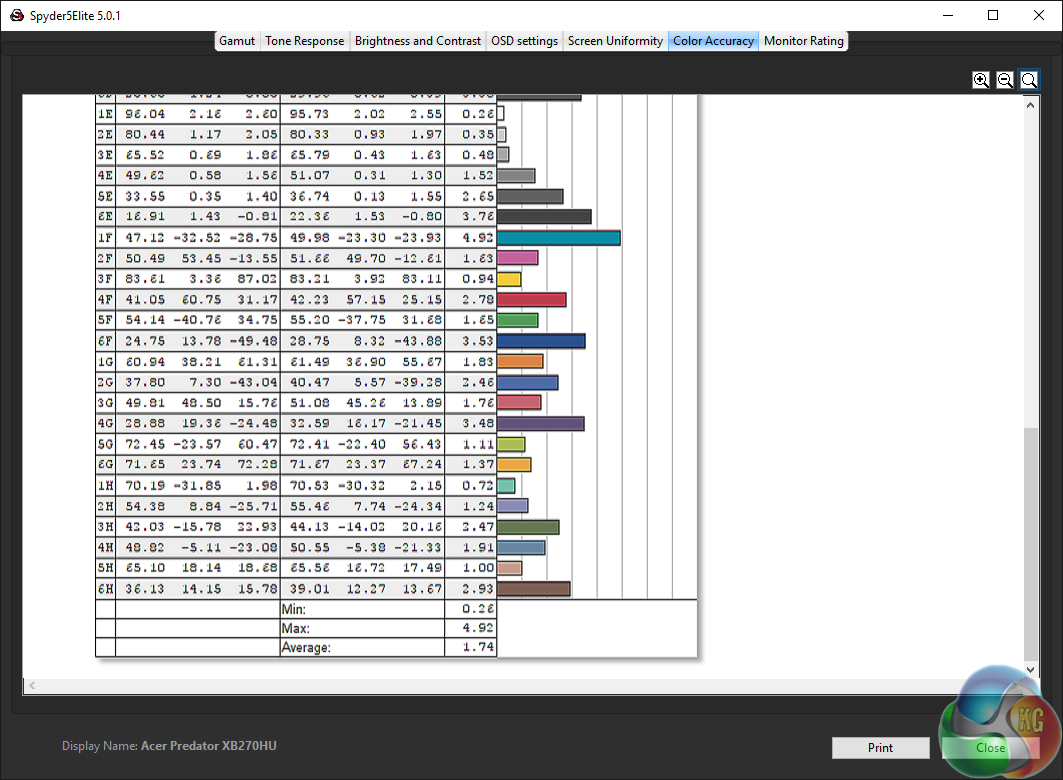 If there's one area that usually separates gaming displays from those aimed at graphic designers, it's colour accuracy, measured as a Delta E score. In recent years, improvements in panel technology has ensured screens have gone from offering a result around 3.0 to under 1.0 in the most accurate displays around.
Generally, for any kind of normal use, a result under 3.0 will be more than adequate, and previously, if you needed a display with better accuracy, you would need to spend a lot more money. In a display aimed at gamers, colour accuracy is usually not seen as particularly important.
In cheaper and older TN gaming screens, results sometimes hover around 4.0 or higher, but with the improvements in modern IPS panel design, even a gaming screen such as the Acer Predator XB270HU offers excellent results, here shown at a Delta E of 1.74.
As evident from our results, modern IPS displays present much better colour accuracy than the TN displays from years ago, even without calibration.
The calibration process with the Spyder Elite 5 is mostly the same as with the previous version, with a result that usually gives a whiter, cleaner appearance.
We reset the Acer Predator XB270HU to factory settings before calibration.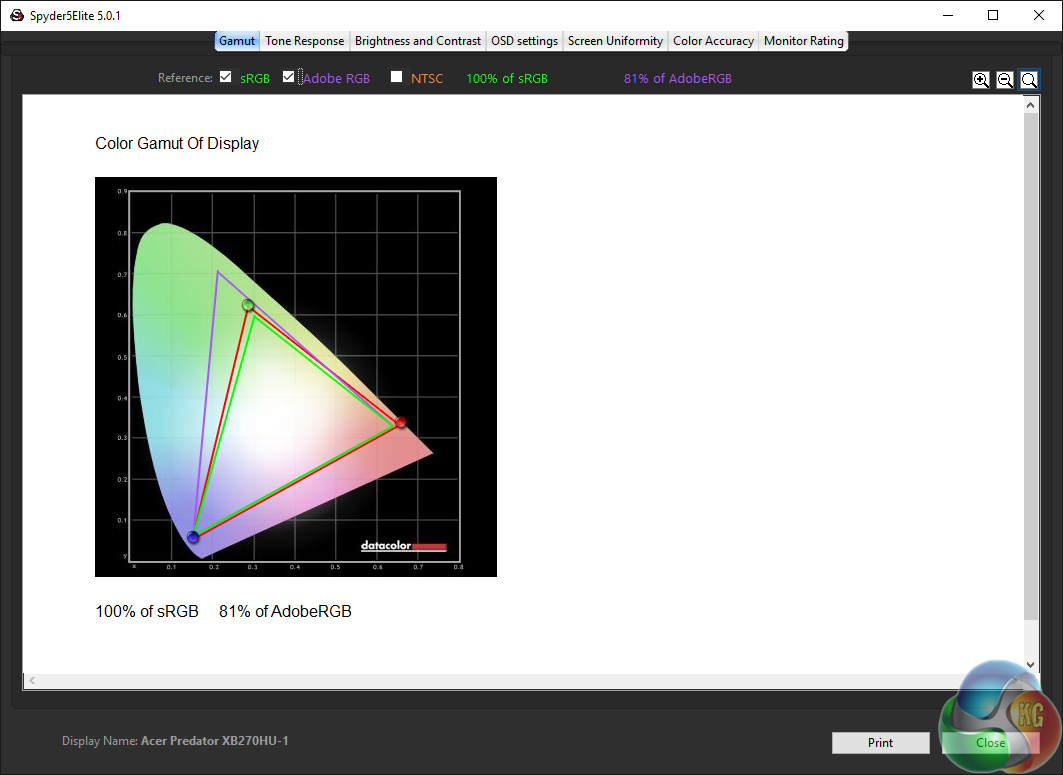 The Adobe RGB coverage saw a jump form 80 per cent to 81 per cent.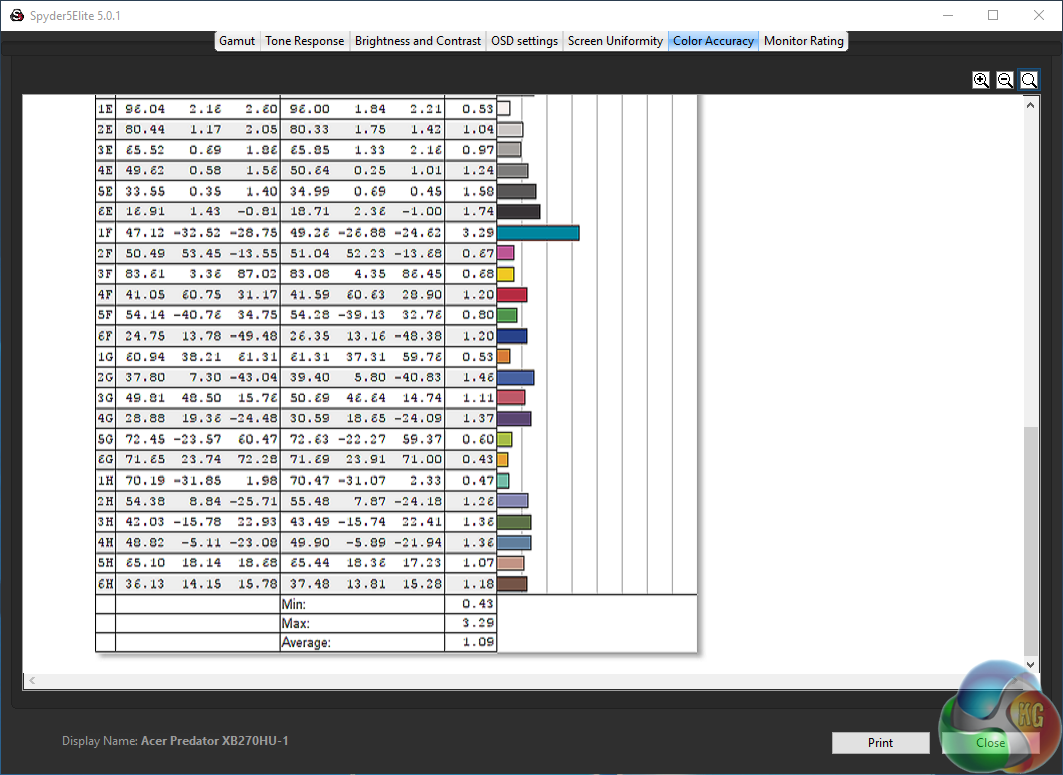 And the colour accuracy improved dramatically, from a result of around 1.7 to around 1.0, really showing off the quality of the panel in the Acer Predator XB270HU. Make no mistake, this will be a good display for both colour-accurate design work and gaming on.
Lastly the power measurement at 100 per cent brightness was 43.6 watts, slightly higher than some displays, reflecting the higher brightness of this screen.