The Asus ProArt PA329Q is the company's new flagship professional-grade display for colour-accurate graphic design work. It's a 32-inch screen, sporting a 10-bit IPS panel with a 14-bit look-up table, resulting in an impressive 100% quoted Adobe RGB coverage.
Asus is clearly single minded about capturing a vast chunk of the high-end display market. Although 2016 is still only young, we've already seen a number of very impressive screens from the company this year.
The ROG Swift PG348Q (review HERE) is the best ultra-wide curved gaming display we've seen so far, with an IPS panel and a 100Hz refresh rate, and the ROG Swift PG27AQ (review HERE) is the best 4K gaming display we've reviewed, combining Nvidia's G-Sync technology with an IPS panel for a great 4K gaming experience.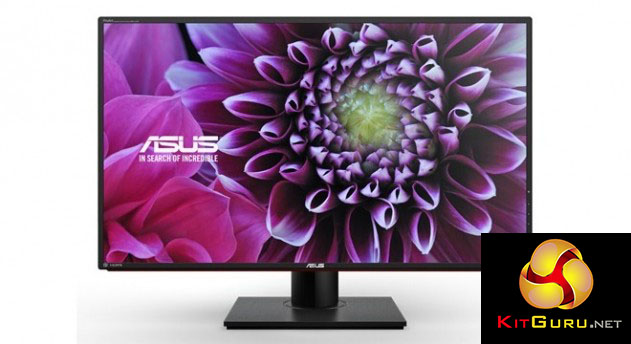 Beyond gaming monitors, there are a few other display categories, such as the usual general-purpose 60Hz displays, which are fairly inexpensive these days, but at the high-end there are also monitors designed for high colour accuracy, aimed at graphic designers and professional digital artists.
Gaming features such as refresh rates beyond 60Hz, low response times and motion blue reduction drop down the priority list, and in their place are high colour accuracy, good brightness levels, even screen uniformity and wide coverage of different colour standards, including sRGB, Adobe RGB and DCI-P3.
This is what the Asus ProArt series sets out to offer, and the latest model, the Asus ProArt PA329Q is absolutely chock full of tools and useful additions that will wet the digital paintbrush of any artist.
Unveiled at Computex in 2015, the Asus ProArt PA329Q uses a 10-bit IPS panel with a 14-bit look-up table for superb colour accuracy.
A quoted Adobe RGB gamut of 100% is highly impressive. Then there's a four-way PIP mode to view four inputs on the screen at once, a 6-axis colour control setting and a highly intuitive menu system that makes it easy to flick through settings and customise the image.
They're not alone in this market though. The likes of NEC and Eizo consistently deliver monitors with quite outstanding image quality, and recently, the Dell UP2715K (review HERE) really impressed us with its excellent image quality and 5K screen.
It's a tough market for Asus then, and success ultimately depends on the quality and accuracy of its image. How does the Asus ProArt PA329 fair? Let's find out.
Specification:
Screen size: 32 inch
Native resolution: 3,840 x 2,160
Refresh rate: 60Hz
Response time: 5ms
Panel type: IPS
Display inputs: DisplayPort 1.2, Mini DP, 1x HDMI 2.0, 2x HDMI 1.4
USB hub: 5x USB 3, card reader
Tilt: yes
Raise: yes
Swivel: yes
Other: 99.5% Adobe RGB gamut, 90% DCI-P3 gamut, 4-way PIP mode, 5-axis joystick