With a professional-grade monitor, we're looking for more advanced features and settings than usual. We're not interested in in-game crosshairs or advanced blur-reduction features, but instead, a selection of supported standard colour modes, and plenty of control over white point.
Pressing any of the top four buttons brings up an overlay of default shortcuts next to each button. It's pretty self explanatory. The lower button with the red X closes the menu. The shortcuts can be customised by the user.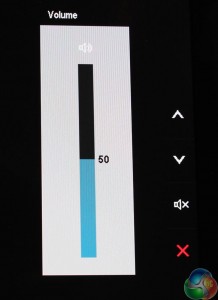 The volume can be adjusted. We suspect many users will replace this shortcut with a different setting.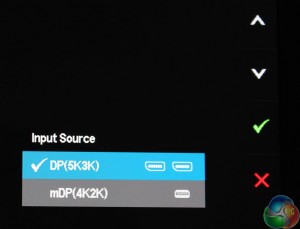 And you can switch between the inputs. Again, users may find another setting that's more useful for their needs.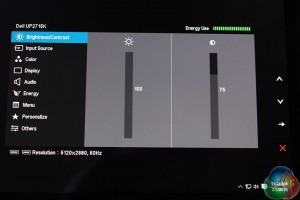 The main menu shows the current resolution of the monitor, the input method in use and the refresh rate in the lower left-hand corner. In the top-right is an estimate for power consumption, based on the current brightness setting.
It defaults to brightness and contrast controls which are raised and lowered using the buttons on the right. You know the drill.

We raised the brightness to 100 per cent to make the OSD screenshots look better but in normal use it is set to 75 per cent.
The next menu has some of the many potential image adjustments.
You can switch colour space between standard RGB and YPbPR (analogue component). Not a feature usually seen on displays.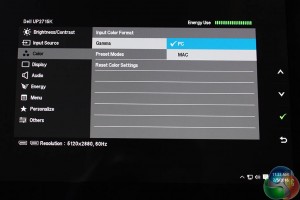 There are two main gamma settings labelled PC and Mac. During testing, we'll find out exactly what they mean.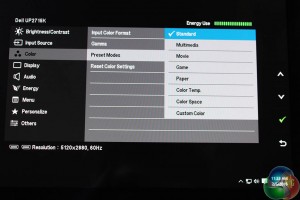 Under the preset modes sub header, there are as expected a number of preset display settings, with the usual labels such as 'Standard' and 'Multimedia'. But at the bottom are two important settings hidden away.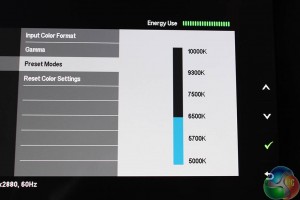 If you press the select button on 'Color Temp' you get a list of six white points ranging from 5000K to 10000K, with the default set at 6500K. We think this really should have been given its own menu option.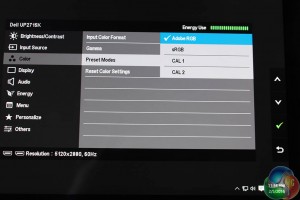 And likewise if you expand the 'Color Space' option you can choose between calibrations, with sRGB and AdobeRGB listed, along with CAL 1 and CAL 2 for user customisation.
A preset for AdobeRGB is a great feature and not one usually found on general-purpose displays.
The display menu gives you access to response time and aspect ratio settings to force widescreen and so on, with another option to reset the display.