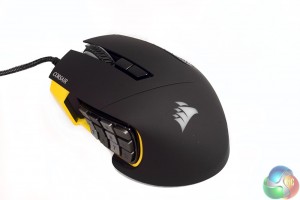 The mouse itself is larger than the average gaming mouse, with a more pronounced palm rest and side ergonomics. It is right-handed only and has a solid construction without any creaking or flexing when pressure is applied.

Although the main body is split up into a few distinct sections, almost all of them are covered in a silicon coating which is nice and soft to the touch.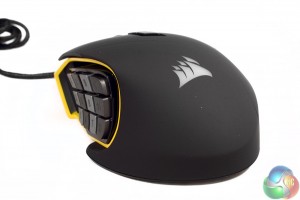 The rear features a translucent Corsair logo – we are glad to see the company returned to its traditional sails, rather than the Corsair Gaming tramp stamp on some of its recent products.
The side panels on this mouse are quite distinct from one another. The left hand side features a big yellow surround for the key-slider, which features a full 12 additional buttons which can all be programmed in back-end software. Notice that along with translucent numbering for lighting, there are also colour coded and textured keycaps to make identification in the heat of the moment that bit easier.
Hidden within the yellow surround is a translucent window for lighting which lets you know which sensitivity the mouse is currently set at when powered on.
Along the right hand side, things are much less exciting. There is merely an extension of the silicon mouse coating and a textured, rubber-coated finger rest.
The slider works with a simple push and allows you to move the key-panel back and forth eight millimeters, thereby catering to users with smaller and larger hands – as well as slightly modified grip types.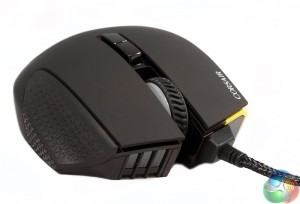 At the front there are left and right mouse buttons, though they are entirely separated by a central division. That gap houses the rubber-coated, and translucent scroll-wheel, behind which are a pair of DPI switches which allow for up and down selections.
Right at the front of the mouse is a trio of translucent panels (left of picture) for additional lighting and you will also notice that the mouse cable is off center. It is however protected to prevent shearing against the frame over time.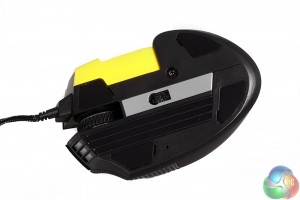 The underside of the mouse features four PDFE (unbranded Teflon) feet, though they are not symmetrical. Running down the centre is a brushed aluminium panel which houses the 12,000 DPI optical sensor and there is a small hex-screw hole which allows for adjustment of how stiff the 12-button key-slider is.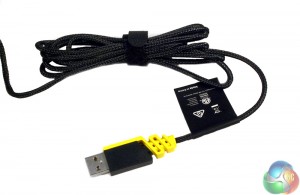 The cable itself is braided, though the material is smooth – almost slippery, which should prevent it catching on anything. The USB header is tipped with yellow to help it stand out, but features just a standard, nickel-plated USB connector.