The Corsair Scimitar is truly an exceptional mouse. It combines high-comfort, with one of the world's best gaming optical sensors and extreme functionality with a suite of available, remappable buttons. You may not have a use for all of them, but the option is there and it provides not only a different playstyle for those that want it, but a new way to play for those with limited mobility.
The giant keypad is perhaps a little too big in some respects and even though it can be moved to make reaching everything a little easier, those with long thumbs may find pressing the back buttons a little difficult. In comparison, those with shorter thumbs may find the front ones a slightly awkward angle – but it will all depend on the user's particular hand shape and their style of grip.

This one is certainly more suited to palm grippers and to an extent those who prefer a finger style. Claw grippers can make use of it, but there are probably better alternatives. Claw grips are also not ideal for pressing side buttons either, as they use the thumb for control rather than the rest of the hand.
The mouse is also a little heavy, so smaller, weaker gamers may find it tiring after a couple of hours heavy use.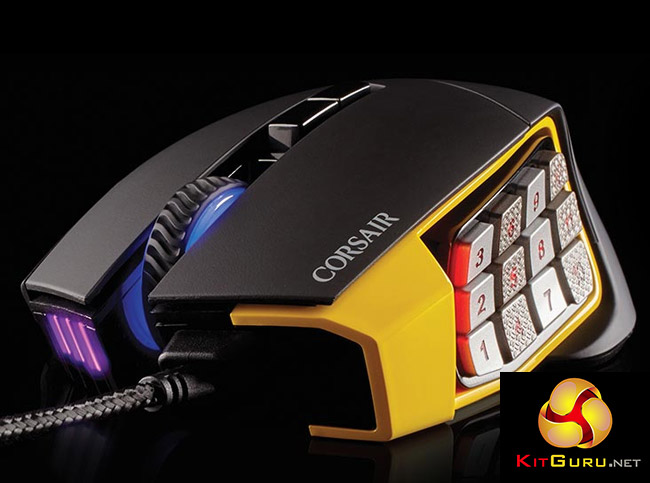 But other than that there is little, if anything to complain about. The smooth PTFE feet let you make big, sweeping movements with this mouse if you prefer, or you can crank up the sensitivity and make minute adjustments for big gains if that is your style. Better yet, do them both mid-game by using the DPI selector switches, which have both up and down functionality.
A lovely little touch too was the lighting strip hidden behind the yellow styling, which lets you know the current DPI setting at all times. It does not drown out the other lights and is only visible to you the player, so will not give anything away to local competitors.
The lighting is very well represented and the back-end software is in-depth and provides just about every option you could want – its a tweaker's delight.
All in all, the Corsair Gaming Scimitar is a fantastic mouse for whatever you are playing, but if you particularly like MMOs and MOBAs, it is surprisingly versatile too. If you have a more relaxed style and would like to game away with one hand, the Scimitar makes it possible.

You can buy a Corsair Scimitar from Overclockers for £70 HERE.
Discuss on our Facebook page, HERE.
Pros
Extremely comfortable over long periods.
World class, 12,000 DPI optical gaming sensor (Pixart ADNS s3988)
Fantastic lighting and great back end software.
Additional buttons provide all the extra function you will ever need.
Mechanical switches and adjustable panel make pressing them easier than most similar mice.
Cable protector and swish braiding keep cable from catching or stressing.
Cons
Thumb drags when pressing lowest buttons.
Big keypad may be difficult for some to press everything.
May be a bit heavy for some.
KitGuru Says: More buttons than most people will need, but if you want to game with one hand or like having extra buttons within easy reach, the Corsair Scimitar offers a near-perfect implementation.