Testing a mouse like this involves using it as our main office mouse for a period of less than one week, as well as trying it out in a number of different games. This being an MMO and MOBA mouse, we focused our testing on those areas, but also took it for a spin in various shooters, strategy games and RPGs. Throughout we look at its accuracy and ease of use, as well as comfort and the usefulness of additional features.
We also factor in exterior extras such as back-end software functionality.
The Pixart ADNS s3988 optical sensor in use in the Corsair Gaming Scimitar is considered by some to be among best gaming sensors in the world and it is hard to fault that assessment. This mouse is a true pleasure to use, with smooth, acceleration-free movement and supreme accuracy that you will find hard to match with other gaming mice.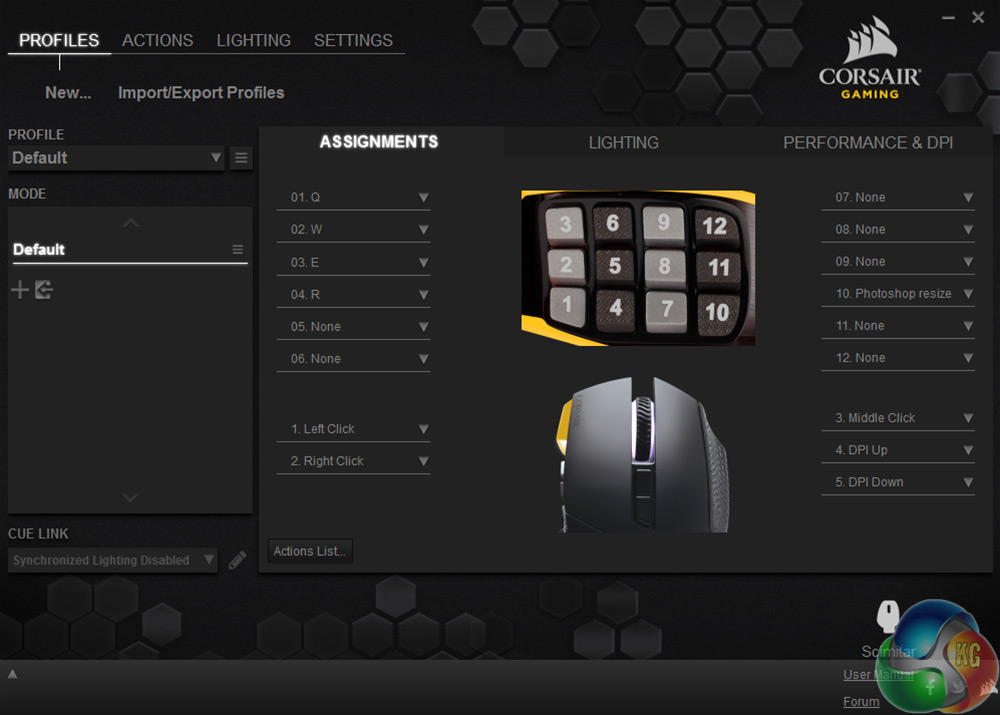 Movement in all directions is smooth and fast when you need it to be, and the breadth of available DPI options means all gamer types are catered for. If you prefer a low sensitivity and large, arm-sweeping movements, you are supported – likewise are those who prefer a twitchy, short move mouse. You can easily switch between the two (or more) options mid-game too, thanks to the DPI selectors, which allow for up/down adjustment without cycling.
Perhaps the only downside for some, will be that this mouse is rather hefty at 147g. It is weighty, but not cumbersome, so if you like an ultra-fast, light mouse for high-speed gaming this may not be for you. That said, we did not notice a huge difference between it and our  lighter favourites.
Different colours are well represented with this mouse
As much as we found the Corsair Scimitar a solid mouse for gaming in all areas, it is of course in the MOBA and MMO genres where it particularly shines. Along with the great movement and gaming ability of the sensor, the remappable side-buttons really set this mouse apart from the competition and not just because they are there, but because they work so well.
Often side-buttons of this number on mice can present several problems. They sometimes mean you cannot hold the mouse as tightly for fear of pressing them and sometimes actuating them on purpose can end up shifting the mouse due to the force required. We can happily report that neither of those problems were present on the Corsair Scimitar. Their tactile feedback prevents over pressing, but they require enough force that you can use them for added grip if needed.
The placement of the keys was not even a problem for this small-handed reviewer, as I was able to adjust the line up to my preferred position without difficulty. I did occasionally find my thumb dragging on the mat a little though, when pressing the bottom row of buttons.
The shape of the mouse means you do not necessarily need to however, as we found that the palm rest provides plenty of added grip and mobility, reducing the amount of pressure your thumb is required to provide on its own.
While you might presume that the slightly more sedate pace of an MMO would lend itself more to mouse controlled abilities, we were impressed immeasurably with the Scimitar's skills in the fast-paced world of MOBAs. While we are far from world class gamers, within our first game we were firing off spells and abilities with relative ease.
There is certainly a new learning curve to controlling your character almost entirely with the mouse, but we can imagine that after a number of games that gap in ability between keyboard use and mouse use will fade. It may not disappear entirely, as we feel that a single hand is unlikely to be as fast as a coordinated pair, but the functionality is there to make it happen if it can be done.
This would be a great mouse for anyone with a disability that restricts their mobility to a single hand too. Special Effect would likely approve.
Of course the functionality afforded by all of those added buttons does not begin and end with gaming. Those keys can be remapped for other types of software too, such as Photoshop. We spend a lot of time editing pictures with that particular piece of software and there are a lot of keyboard shortcuts we resort to help speed up the process.
From adjusting colours to resizing the picture – we were able to remap a lot of those commands to the mouse, making it quicker to perform those oft-repeated functions. It may not always be ideal or you may prefer dual hand functionality, but having the options there is always handy and the fact that there are so many buttons means it will not get in the way, or detract from the overall function of the mouse.
Corsair made a smart choice putting all of the buttons on one side of the mouse too, instead of spreading them across both sides as some manufacturers have done. This lets you focus on holding the mouse with your ring and little finger, rather than trying to click with both sides.
Despite having an unorthodox design though, the Corsair Gaming Scimitar is a very comfortable mouse to hold. The silicon coating and shape go a long way to making your hand and wrist comfortable over long periods. Its buttons are all within easy reach and you can adjust the side ones with the slider, which prevents the need for stretching or bizarre hand positions.
That said, this is a mouse that is more suited to palm/finger grip styles than claw grips, as that jacknifed thumb position is not particularly conducive to reaching all of the buttons.
The RGB lighting on this mouse is excellent, with all colours well represented – something that not every manufacturer has gotten right. Although it is not the easiest to adjust in the back-end software, the customisation is very comprehensive, meaning that as long as you are willing to spend a bit of time tweaking and learning how it all works, you should be able to craft a very personalised lighting experience.
That is the same for the software overall really. Corsair's Utility Engine is one of the more in-depth and all encompassing peripheral software suites available at the moment, catering to all of Corsair's peripherals in one place. While this does make the overall experience more concise in that you do not need multiple installs, it is not the easiest of software to figure out on first glance. Spend some time though and you will have the exact mouse that you want.