Methodology
To test the Corsair Harpoon gaming mouse, I used it for a period of one week as my main office mouse for general web browsing, photo-editing and office tasks. I also put it through its paces with a number of different games from a variety of genres, from FPS, to strategy and puzzlers, all in the aid of seeing how well it performs under certain conditions.
During testing I factored in its accuracy and smoothness, overall comfort and the abilities of its back end software.

Gaming
Although affordable, the Corsair Harpoon is a relatively effective gaming mouse. With a sensitivity as high as 6,000 DPI and a reasonably accurate optical sensor (Pixart PMW3320), it is good for use in shooters, strategies, MOBA's and puzzlers. I found it just as capable of selecting items and menus in Day of the Tentacle, as I did in gunning down zombies in Left 4 Dead 2.
I felt more comfortable using it for faster movements than I did slower, smaller ones – it seemed more accurate with those somehow. Personally I kept it at 4,000 DPI, rather than the maximum of 6,000, as that just feels excessive on a 1080P screen. There is probably an argument for it on 4K displays or when you have multiple high-resolution monitors, but there is plenty of scope with this mouse for whatever environment you are using.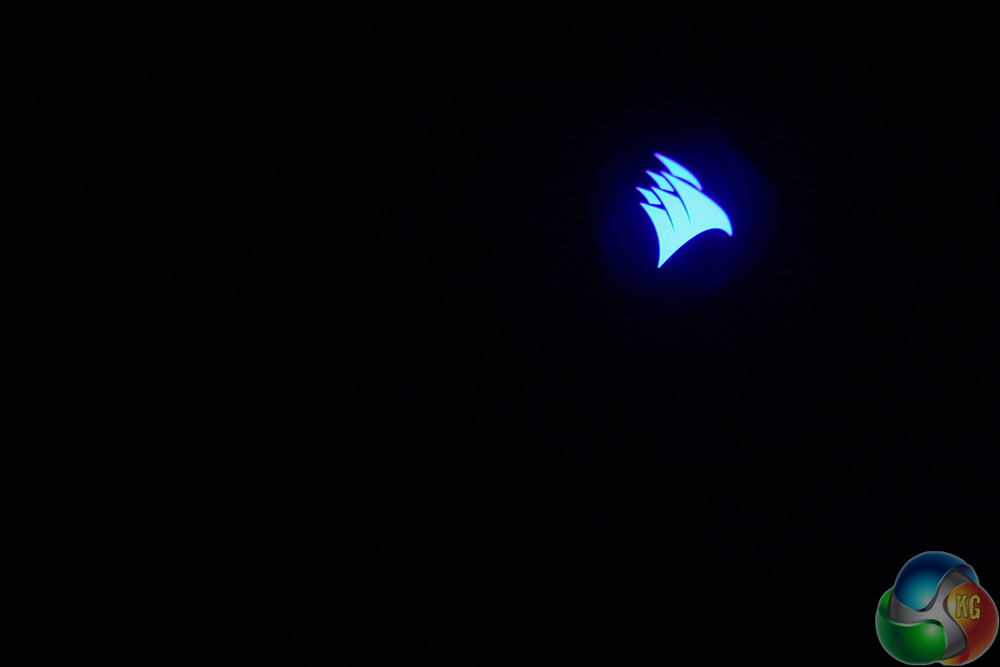 Switching DPI changes the colour of the rear-logo LED lighting. It is a nice touch, but a bit redundant when your palm covers it up entirely. 
Although there is button remapping in the CUE software and a couple of programmable buttons on the side of this mouse, I would not think it best for MMO gamers – unless you have macro-able buttons elsewhere – though it will of course function perfectly well with more general tasks in-game.
Regardless of the game though, the PTFE (unbranded Teflon) feet are smooth across multiple surfaces and surprisingly, the optical sensor works just as well on my desk surface as it does on most pads.
General usage
General web browsing and office tasks – invoice preparation, navigating a CMS etc.  – were perfectly handled by the Corsair Harpoon RGB and due to its low cost, would likely be a good choice of upgrade for an office mouse, for any managers looking to improve worker efficiency through faster mouse movements.
The Corsair Utility Engine software is as professional as ever and the new look is much easier to navigate
That said, I did again find some difficulty with the accuracy of the mouse for very small movements, particularly during photo editing where accuracy is paramount. The problem stems from the sensor seeming to not pick up the smallest of movements very well. Often I would find myself trying to move over a few pixels on an image and finding it not registering until several had been passed, at which point it would overshoot what I was trying to highlight.
It did not seem to take place every time, but did happened irrespective of DPI and before the back-end software was even installed, so seems unlikely to be software related.
That said, we have reached out to Corsair to find out its thoughts on the matter and will update this piece as and when we receive a response.
Comfort
The Corsair Harpoon is a reasonably comfortable mouse, offering a well shaped body for claw, finger and palm grips should you so wish. I liked the use of rubber grips on the sides for keeping your digits in touch with the mouse at all times and that helps prevent issues with perspiration.
Although the Harpoon does not have a tonne of options, the ones that are there are well presented and simple to use
The overall weighting of the mouse is good too. I did however feel that I would have liked a deeper/wide shelf for my fingers to rest on. Although there is a small one with this mouse, there was not really anywhere for my little finger to go. Considering I have quite small hands too, my concern is that those with larger digits would see even more of an issue.