Gaming mice are a very personal choice and with the myriad of options available to prospective buyers, choosing one can be very difficult. G.Skill are hoping that by offering a heavily customisable product it may just secure your interest, as its Ripjaws MX780 offers a number of tweakable options that help it stand out from the crowd. 
RGB lighting options? Check. Adjustable weights? Check. Swappable finger and thumb grips? Check. Combine those with a barebones design, high-quality Avago A9800 sensor, unbranded Teflon feet and a number of other useful features and it seems like quite the little package.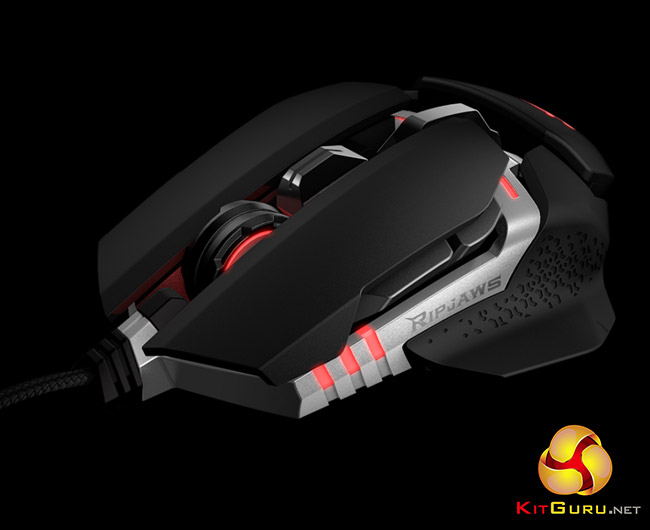 Although it does feature gamer-like styling, the number of features G.Skill has packed into this mouse is quite impressive. It has made a real point of catering to lots of different types of gamers, meaning its audience should be bigger than most.
Specifications
Sensor: Avago A9800 Laser Sensor
Micro Switch: Omron
DPI: 100-8200
Polling Rate: 125Hz/250Hz/500Hz/1000Hz
Mouse Backlighting: 4-Zone RGB
On-Board Profile: 5
Programmable Keys: 8
On-Board Memory: 512kb
Braided USB Cable: 1.8m
Mouse Adapter: USB
Mouse Feet: PTFE Glide Pads
Weight System: 4.5g Weights (x2)
Weight (mouse only): 111g
Weight (w/ weights): 120g
Dimensions: 130mm x 70mm x 38mm (5.12in x 2.76in x 1.50in)
Dimensions: (w/ large side grips) 130mm x 93mm x 38mm (5.12in x 3.66in x 1.50in)
Warranty: 2-Year Limited Warranty