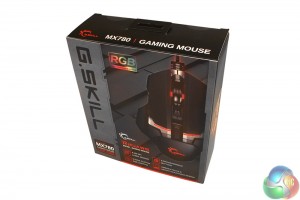 The packaging for the G.Skill MX780 is compact, but informative, giving you a great shot of the mouse itself on the front, as well as highlighting some of its more important features. RGB lighting being the technology focus point, it is no surprise that it features prominently.
Always a nice touch for those buying in person, the box pops open to give you a look at the mouse itself, as well as showing the different options for side-grips that you can pick from. The back highlights even more of the mouse's abilities, including the fact that you can customise the height of the palm rest.
There are a few additional pieces, including a quick-start manual, warranty guide, additional weights, palm-rest screw for adjustments and a pair of alternative finger and thumb rests.