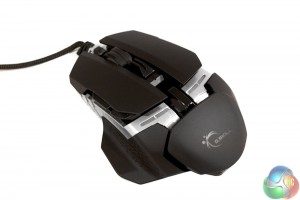 The G.Skill MX780 is an interesting looking mouse. It uses the exploded-diagram approach, with palm rest, side grips and buttons all separated from one another and attached to a silver plastic frame. Of course there is a reason for this beyond aesthetics: most of those components can be adjusted or swapped out.
All of those parts in particular have a matt, black paint job with a soft plastic coating.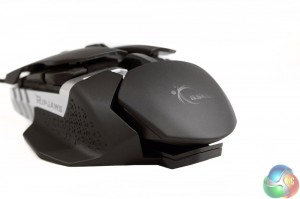 The adjustable palm rest features a transparent G.Skill logo which lights up when the mouse is turned on.
The left and right hand sides of the Ripjaws mouse are almost identical, featuring the same lighting strips, logo, pair of side-buttons and plastic grips. However in the default configuration the left hand side has a larger one.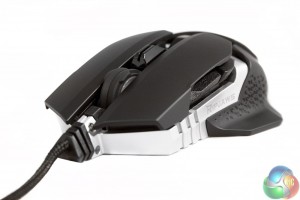 At the front end there are the usual left/right-click mouse buttons and scroll wheel, which has a few grooves in its sides for added grip and styling. Behind that is an uncharacteristically large DPI switch which allows cycling through various sensitivities – though not two-way.
It is also worth noting that G.Skill has used a cable guard near the base to prevent it shearing off against the frame of the mouse after long-term use.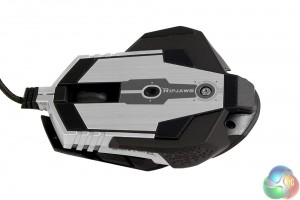 The underside of the G.Skill MX780 is finished in brushed aluminium, which gives it a very smooth underside – though it may be vulnerable to scratching if you do not use a decent quality mouse pad that is clear of dust and debris.
The Avago laser sensor is centrally located and there are a number of PTFE (unbranded Teflon) feet to ease smooth movements. At the back of the mouse however is a small screw slot, which when used with the bundled hex key allows you to adjust the height of the palm rest.
Doing that lets you make the mouse more comfortable for your preferred style and grip – be it palm, finger, claw or some amalgamation of the three.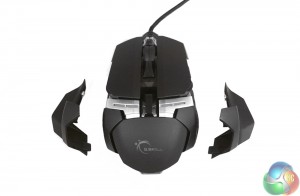 Likewise G.Skill has made this mouse compatible with those that prefer an ergonomic design, or an ambidextrous one, which also means that with a bit of button remapping, the MX780 will work just fine with left-handed gamers as it will with right handers.
With the smaller, ambidextrous grips in place, the above mouse is formed, though you can see also what the larger grips would do if slotted in place.
Doing so is incredibly easy too, as the grips are held in place by powerful magnets. A quick tug is enough to move them though and snapping a new one in place is equally as easy.
Behind those side panels you will also find space for the additional 9g of weights that G.Skill included with the bundle. They fit into little (magnetically held) pockets and are hidden away behind the panels when they are in place.