The packaging for the Zowie FK1 is pretty simple, like the mouse itself. There is a clear plastic section to help those few people that might buy this in-store.
The back and front both list its big selling points, which point out that this mouse can go up to 3,200 DPI and there there is a colour code for each step.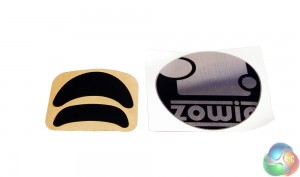 The only 'accessories' with the Zowie FK1 are a sticker and a pair of teflon mouse feet replacements, for when you wear through the stock ones with all of your frantic gaming.