The Zowie FK1 is a very streamlined looking mouse. If you were feeling unkind, you might say it looks basic. Based around Zowie's marketing though, that is clearly the look and feel it was going for.
This is an ambidextrous mouse, with thumb buttons (mapped to forward and back) on both the left and right hand side. The shell is made from a hard plastic and is not particularly soft, but it is comfortable to the touch.

The only styling that breaks up the uniform black is a yellow Zowie logo at the rear and a bright yellow scroll wheel at the front.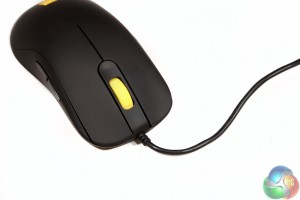 The wheel sits between the usual left and right click buttons, which extend naturally from the main body of the mouse without a break.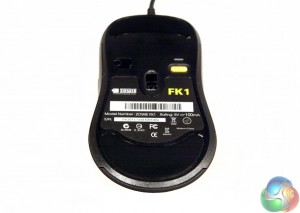 You will find the DPI switch for the FK1 on the underside, as well as an LED indicator to let you know what the sensitivity is currently set at (400, 800, 1600 or 3200). The optical sensor is located in the centre and there are two large, teflon (or the non-branded equivalent) pads, one at the front and one at the rear.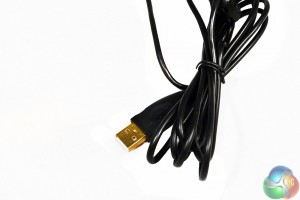 The cable features a gold plated connector, but the cable is just standard rubber, no braiding.