We were quite alarmed when accessing the browser interface that it doesn't actually require a password at all.  Looking through the 'Advanced' settings there is an option to set a password, but those less savvy users may not be aware of this default oversight.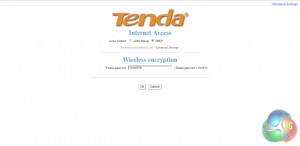 On the first page we are greeted with is a very simple setup screen which lets us configure some of the most basic settings such as the WEP code.

Clicking the advanced tab in the top right hand corner brings up a whole host of other settings.
As you can see from the screenshots above, there are a good deal of configuration options available, which is quite impressive considering the price point of this model.  Sure, the interface isn't pretty but it is certainly functional.  We found it fairly straightforward to access all of the settings we went looking for.