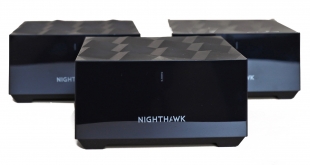 NETGEAR was one of the first networking manufacturers to launch WiFi 6-capable routers with the Nighthawk AX12 over a year ago. More recently, it extended this superfast wireless technology to mesh with the Orbi WiFi 6 AX6000. But the Orbi AX6000 is extremely expensive, costing over £700, so now NETGEAR has brought the price down considerably under the mantle of its Nighthawk brand. You can pick up a two-unit setup of the NETGEAR Nighthawk Mesh WiFi 6 for under £230, but we put the three-unit version through its paces, which is still temptingly priced at £300.
A quick look at the Nighthawk units reveals a much smaller footprint, and this is paralleled by more limited specification. Each unit only has two radios, compared to the Orbi version's three. This means that there is no dedicated backhaul, and the overall throughput rating is a lot lower than the Orbi. Where the latter is rated at AX6000, the Nighthawk only manages AX1800. This is made up of 600Mbits/sec at 2.4GHz and 1,200Mbits/sec at 5GHz.
The antenna configuration is just 2×2 for each radio, which is two thirds as many per unit in total as ASUS's WiFi 5 ZenWiFi AC, which is similarly priced albeit with just two units. The latter also has a dedicated backhaul that's faster than the Nighthawk's 5GHz radio. But NETGEAR has the advantage of WiFi 6 technology, which has improvements beyond mere speed.
In the three-unit bundle, there is one that is aimed at router duties, with two Ethernet ports. The satellites have just one Ethernet port each. Neither have USB for printer or storage sharing, which is also a feature curiously missing from NETGEAR's Orbi WiFi 6, but included with the ASUS ZenWiFi. In other words, the main thing that the Nighthawk system has in its favour is WiFi 6.
However, if it can deliver decent performance and coverage, particularly for WiFi 6 devices, the sub-£300 price is very keen. Let's see if it can live up to the new technology billing.
Price: £299.99.
Specification:
Wireless protocols: MU-MIMO with 802.11b/g/n/ax 2.4GHz, 802.11a/n/ac/ax 5GHz
Performance: AX1800 (1,200 + 600 Mbits/sec)
Antenna Configuration: 2×2 internal antennas for 2.4GHz; 2×2 for 5GHz only (4 total)
Ports: Router: 1 x Gigabit Ethernet WAN, 1 x Gigabit Ethernet; Satellite: 1 x Gigabit Ethernet
Modem Support: VDSL/ADSL 2+ or cable
Be sure to check out our sponsors store EKWB here