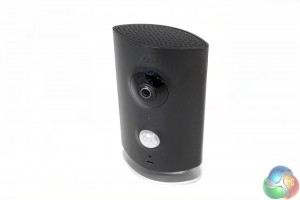 The main camera/control hub is entirely black, which is the only external difference between this "NV" version and the standard edition Both however can come in the alternate colours if a specific preference is noted during the order.

It has an obvious lens two-thirds of the way up, which provides full 180 degree coverage using a fish-eye lens. Beneath it, is the motion and light sensor, so you will be able to receive warnings if someone trips the camera feed, or have it automatically record the potential intruder.
The back of the device has a plug-in stand, which can be easily removed to get at the battery compartment and power port and can be slotted back into place just as simply. It is however reasonably sturdy and has some rubber padding on its base to prevent any sliding around.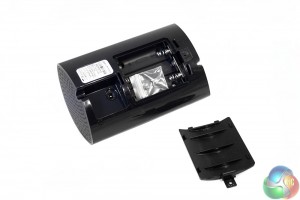 When you remove the silver stand, you can then undo the back panel, which houses the batteries (when installed) that keep the camera running in-case you lose power. It also has a small screw stored in there, for those that want to wall mount their Piper iControl hub.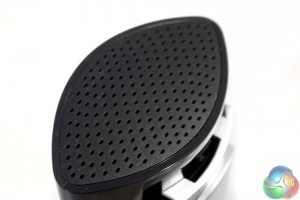 At the top there is a perforated panel, which helps prevent the internal hardware from overheating and provides a good avenue for the blaring alarm to escape from.
Z-Wave Accessories
Along with the camera system, we were also sent a couple of extras that expand the Piper security network's features. They include a pair of plugs, which allow for the remote control of power sources.
They can also be automated, so if you leave the house, electronics can be automatically turned off.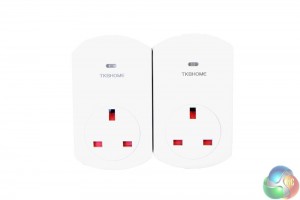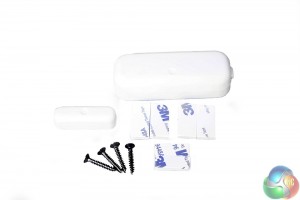 The second device was a window or door sensor, which can trigger an alarm should they be opened. It comes with several screws and sticky pads for ease of installation. While neither of these are included as standard they are available as companion accessories and can expand what you can do with the Piper control system.
So while not part of the main review, we will factor in their usage to the functionality (and cost) of the Piper nv iControl system.