QTS is a graphically-rich OS with the major apps appearing as icons on the main page. Clicking on the 'hamburger' menu icon at the top left-hand side of the screen drops down a very useful side menu. Clicking the icon on the top right of the screen activates the Dashboard page which gives a snapshot of what's happening with the NAS.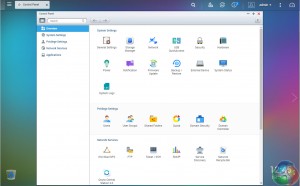 The Control panel overview has all the various functions of the NAS neatly divided into groups; System Settings, Privilege Settings, Network Services etc.
Storage Manager gives you complete control over setting up drives and volumes, in addition to showing how the capacity of the NAS is being used and warnings of potential failures. The Storage/Disks/VJBOD sub-menu displays individual drive information and health with a handy graphical display showing which drive is being interrogated.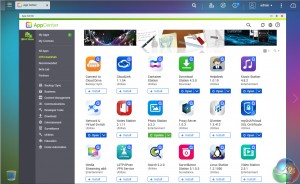 App Center has over 160 apps to choose from covering everything from backups to home automation and pretty much everything in between.
QTS 4.1 Highlights
Backup Station
Photo Station
Video Station
Music Station
File Station
Download Station
App Center
HD Station  –  Use a QNAP NAS as a home theater center
Storage Manager
QNAP Snapshot Agent
QNAP QvPC  – use the NAS as a PC
QUSBCam2  – Surveillance tool
Plex Media Server
Qmedia
myQNAPcloud
QNAP Mobile Apps including
Qremote – Control HD Station with your mobile phone
Vmobile –  Professional mobile surveillance app
Vcam  – Turn your mobile device into an IP cam
Qmanager – Remote management for NAS
Qfile – Remote file access
Qphoto  – Photo sharing
Qget – Remotely manage download tasks
Be sure to check out our sponsors store EKWB here