QNAP's TS-453Be is the 4-bay member of QNAP's latest TS-x53Be family of NAS units which sits under the company's SMB product portfolio. Its features include a quad-core CPU, 4GB of memory and a PCIe slot for adding faster networking or SSD caching to the unit.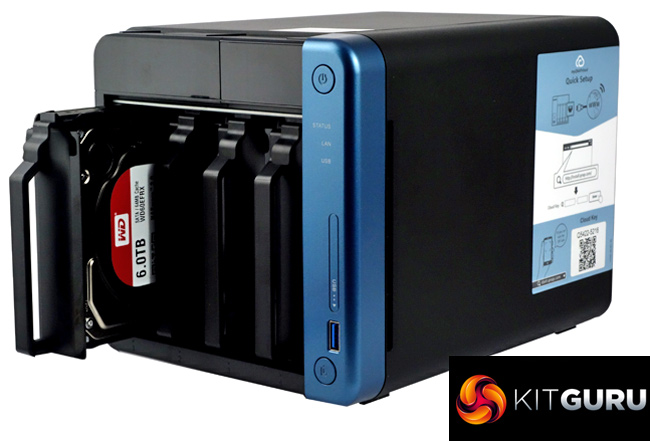 We looked at the TS-453B in June 2017 (HERE), so what does the new TS-453Be bring to the table? Well, the question really should be what it doesn't bring. For a start there are just two models in the family (at the time of writing this review anyway), the two bay TS-253Be and the four bay unit we are looking at here. Gone is the six bay flagship drive of the TS-x53B series.
At a first quick glance the new model looks identical to the previous TS-453B but, as they say, the devil is in the detail.
It uses an Intel Celeron J3455 (Apollo Lake) quad-core J3455 CPU just like the TS-453B, and it has a PCIe 2.0 x2 slot as well. What's missing from the new drive is the USB 3.0 Type C QuickAccess port, the SD Card slot and the OLED panel in the front panel bezel. The only front port retained by the TS-453Be is the USB 3.0 Type A that's part of the One Touch Copy button facility.
The TS-453Be is available in two memory options, 2GB (TS-453Be-2G) and the 4GB TS-453Be-4G. Unlike the TS-453B there's no off the shelf 8GB version. Both options however can support up 8GB of memory via the two DDR3L SODIMM slots.
Physical Specifications
Processor: Intel Celeron J3455 quad core 1.5GHz (Turbo 2.3GHz)
Memory: 4GB DDR3L-1866
Maximum memory supported : 8GB
Gigabit Ethernet Ports: 2
Rear panel connectors: 3 x 3.5mm audio, 2 x HDMI v1.4b, 4 x USB 3.0 Type A
Front panel connectors: 1 x USB 3.0
RAID support: 0,1,5,6,10
Cooling: 1 x 12cm active fan
Drive Bays Supported: 4
Maximum hard drive size supported: 12TB
Maximum Capacity: 48TB
Internal File System support: EXT4
Dimensions (D x W x H): 226 x 170 x 168mm.
Weight: 2.33kg.
Be sure to check out our sponsors store EKWB here