While QNAP's TS-453Be looks identical to the TS-453B, it does lack the latter's QuickConnect USB 3.0 Type-C port, SD Card slot and LED screen – but more importantly, it retains the PCIe slot and expandability options of the TS-453B.
Although it might look a compact, simple and somewhat stylish NAS, the TS-453Be is a powerful tool for the office or home office. The PCIe slot, although it only operates at x2 speeds, gives the unit a good degree of future proofing in the shape of faster networking speeds and/or SSD caching capability.
The NAS's storage capacity can also be increased quite significantly. At the time of writing this review the NAS supports 12TB drives giving it an overall capacity of 48TB, but should more be needed the unit supports a couple of QNAP's disk expansion enclosures. Both the UX-500P (5-bay) and UX-800P (8-bay) enclosures are supported which connect to the TS-453Be via one of the rear USB ports, to give an extra 60TB or 96TB respectively.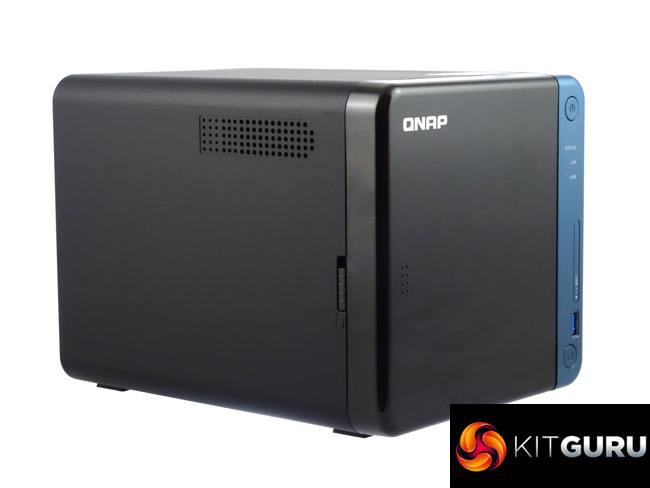 QNAP's QTS is one of the better NAS OS around – it is quick and easy to install, graphically rich and updated on a regular basis. It is particularly good when it comes to walking you through setting up RAID arrays, storage pools and volumes. It also includes some very useful tools for the business environment.
Qtier's technology has been recently re-vamped so that it now learns from NAS usage, and together with system performance and usage times analysis, it determines the best time for auto-tiering for better data efficiency across a range of storage options that a business might employ – including SSD, SAS and NL-SAS/SATA drives.
Network and Virtual Switch, a network management tool which allows virtual machines, containers and other NAS devices to share the same LAN port has also been enhanced to add support for data transfers between virtual machines and containers. Also new is support for both T2E (Thunderbolt To Ethernet) converters and Thunderbolt Residential Gateway (NAT) services.
We found the 4GB QNAP TS-435Be on Span.com for £553.20 (inc VAT) HERE.
Pros

Compact Design.
PCIe expansion slot.
QTS OS
Tool-free drive trays.

Cons

No drive tray locks.

Lacks some features compared to the TS-453B.
KitGuru says:  Compact and powerful, the 4-bay QNAP TS-453Be would be equally at home in a small office or as the central hub in a home entertainment network.