So just how small is it. Well as we said in the introduction it does literally fit into the palm of your hand. It measures just 120 x 105 x 142 mm and weighs just 0.66kg without any drives installed.

The front bezel houses six LED indicators; one each for the two LAN connections and four displaying disk activity. Towards the bottom of the bezel is a single USB 3.0 port, very useful if you need to plug in an external drive to perform external backups etc without struggling to reach the other port built into the back panel if you have the unit hidden in a cupboard or on a shelf.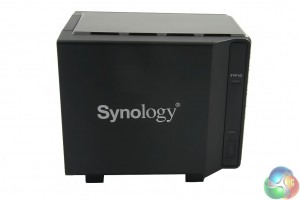 The power button and status LED are built into one side of the front bezel.
In the rear panel are the two LAN ports (which support Link Aggregation), another USB 3.0 port and the power in port from the small external power brick. Also housed in the rear panel are the reset button and a Kensington lock.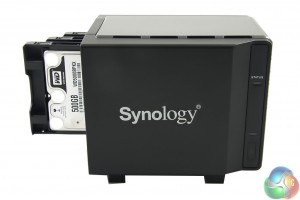 The DS416slim is a rear loading NAS with the drives mounted vertically. There are no drive bays as such, the drive trays slide along guide rails in the drive cage and slot into the ports on the back plate with a satisfying click and are hot swappable.
The drive trays themselves are constructed from good quality hard plastic so there's none of the flex that you sometimes associate with plastic drive trays. Drives can be fixed in place either through the holes in the tray sides or by holes in its base.
The Marvell Armada 385 SoC dominates one side of the diminutive (136 x 86mm) motherboard. The Armada 385 is based on dual-core Cortex A7 technology and is clocked at 1.0GHz. It also provides support for the two USB3.0 ports. Tucked up beside it on the motherboard is the single 512MB memory IC, an SK hynix DDR3-1600 chip (H5TC4G63AFR-P8A).
Sitting under the DS416slim V1.0 sticker is an Altera Max V (5M80Z) CPLD (Complex Programmable Logic Device) storing the unit's configuration. Also on this side of the motherboard are a pair of Marvell Alaska 88E1514 IC's that look after the two LAN ports.
The rear of the motherboard is home to the Marvell 88SE9215 chip which controls the four SATA 6Gb/s ports on the backplane.
Keeping the DiskStation 416slim cool is an Evercool EC6010L12ER 60mm sleeve bearing fan in the base of the chassis spinning at up to 3,600rpm. Synology has put some thought into the problem of dust accumulation because of the fan location so they've housed it on a removable panel so it can be easily removed for cleaning.
Physical Specifications
Processor Marvell Armada 385 1.0GHz.
Memory 512GB DDR3-1600.
Gigabit Ethernet Ports x 2
Front panel connectors 1 x SuperSpeed USB 3.0
Rear panel connectors 1 x SuperSpeed USB 3.0.
RAID support  JBOD, RAID 0/1 /5 /6 /10, Synology Hybrid RAID
Maximum hard drive size supported 2TB
Maximum internal capacity 8TB.
Dimensions (D x W x H)  120 x 105 x 142 mm.
Weight 0.66kg