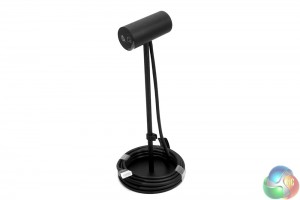 Before we get to the headset proper, let us take a look at some of the accessories that come with it. Here we have the Constellation tracking camera, which is what allows the Rift to be tracked positionally, allowing you to move forward, backwards, left and right and have those movements translated into the game or experience.
Unlike the DK2 camera which had a small monitor clip, this IR camera comes with its own stand, though it can be screwed free an inch from the top. It is just shy of 10 inches tall and allows for more freedom of camera placement, as well as potentially offering better coverage due to the height increase.

The camera hooks up to your PC via a single USB cable, which is at default attached to the base through a plastic strip – like most of the Rift's cabling. It has a small blue sticker to denote which way to plug-in the USB header and there is a small clip at the base of the stand to keep the cable tucked in if needed.
For more serene experiences that do not require a lot of controller input, Oculus has included a small remote control. It features a touchpad, as well as a few clickable buttons for adjusting volume, bringing up the Oculus Home menu and for selections. It fits neatly in the palm of your hand and has a wrist strap to prevent you losing it or throwing it into something by mistake.
The main input method in Rift games, is the Xbox One controller. This is the wireless version so comes with a wireless receiver – a surprisingly large USB stick – and a pair of rechargeable AA batteries for power. There is also a huge number of multi-lingual leaflets for its operation. Clearly Oculus did not fancy packaging its Rifts by region.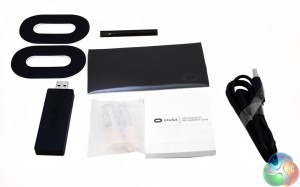 Along with the aforementioned Xbox One accessories, there is also a USB extender, to give your camera some more range if needed, a pair of Oculus stickers, a manual and a micro-fibre cloth. That small bit of plastic that looks like a screwdriver head, is designed as such. It is the "audio tool", which lets you unscrew the Rift's built-in headphones.