In 2019 I moved away from Intel HEDT and built myself a PC workstation powered by AMD Ryzen Threadripper, housed in the superb Phanteks Evolv X case. The hardware has been tweaked and upgraded since then, including a move from 1st Gen Threadripper 1920X to 2nd Gen 2920X. The PC has performed impressively well but even so the time has come for an upgrade to Ryzen 9 5950X which brings more cores, higher clock speeds and improved efficiency. 
The (Old) Threadripper 2920X System
As you will have seen in the video my Threadripper PC was due an overhaul and the cooling system required some care and attention. The graphics card had to be removed as a donor part for the new PC, which required rather more work than was first expected.
Processor: AMD Ryzen Threadripper 2920X (12 cores/24 threads)
Motherboard: Gigabyte X399 Aorus Extreme
Memory: 32GB G.Skill TridentZ DDR4-3200
Graphics card: EVGA RTX 2080 8GB
Case: Phanteks Enthoo Evolv X Glass
Power supply: Seasonic Prime Platinum 1300W
Main SSD: 2TB Adata IM2P33E8 M.2 NVMe
OS: Windows 11 Pro
Custom Loop Cooling:
Reservoir: Singularity Protium 200mm D5
Pump: EK D5 PWM
CPU Block: Watercool Heatkiller IV Pro
GPU Block: EK Quantum Vector Nickel and backplate
Radiators:

Alphacool NexXxos ST30 240mm
HardwareLabs Black Ice GTS 360mm

Case fans:

5x Phanteks F120MP 120mm
1x Noiseblocker eLoop 120mm

Fittings: Thermaltake Pacific C-Pro 16mm
Coolant: Alphacool Tec Protect Clear
The (New) Ryzen 9 5950X System
The case used for the new build is the Lian Li O11 Dynamic EVO which stormed through a recent review here at KitGuru.  The motherboard is an MSI MPG X570S Carbon EK X that appeared in this recent video where we took an in-depth look at custom loop cooling in the Lian Li.
Processor: AMD Ryzen 9 5950X (16 cores/32 threads)
Motherboard: MSI MPG X570S Carbon EK X
Memory: 32GB G.Skill TridentZ Neo DDR4-3600
Graphics card: EVGA RTX 2080 8GB
Case: Lian Li O11D EVO
Power supply: Seasonic Prime Titanium 1300W
SSD: 2TB Sabrent Rocket 4 Plus M.2 NVMe
OS: Windows 11
Custom Loop Cooling
Pump/Reservoir: EK Quantum Kinetic FLT 240 D5 PWM
CPU Block: EK Quantum Momentum X570S Carbon EK X
GPU Block: EK Quantum Vector Nickel and backplate
Radiators: Alphacool NexXxos ST30 240mm and 360mm
Case fans: 10x Noctua NF-A12x25 PWM chromax.black.swap
Fan and RGB controller: EK Loop Connect
Fittings: Alphacool
Soft Tube: EK Tube ZMT 16mm/10mm
Coolant: EKWB Cryofuel Solid White
Cooling Performance
Cooling Performance Overview
We walk through these charts in great detail in our video so this is just a quick summary of the facts. The two points to take away are that you can clearly see that changing the fan speed has a direct effect on the temperature of the CPU, and to a smaller extent on the GPU. The other thing is that we observed no benefit from 'upgrading' from dual 240mm radiators to a combination of 240mm and 360mm. The finished PC looks really good however the work involved in moving the radiators around was fruitless.
Closing Thoughts
We have gone to town with our coverage of the Lian Li O11 Dynamic EVO and consider it to be a superb case. The accessory mesh front panel is very good and we much prefer having the front I/O on the top of the case, rather than down at the bottom.
When it comes to the graphics  mount and riser things are a bit more nuanced.  While I love the way the new PC looks I would be perfectly happy with a horizontal graphics card which makes assembly easier and also saves you buying another accessory. This is very much a matter of personal taste and you are welcome to your own view on this point.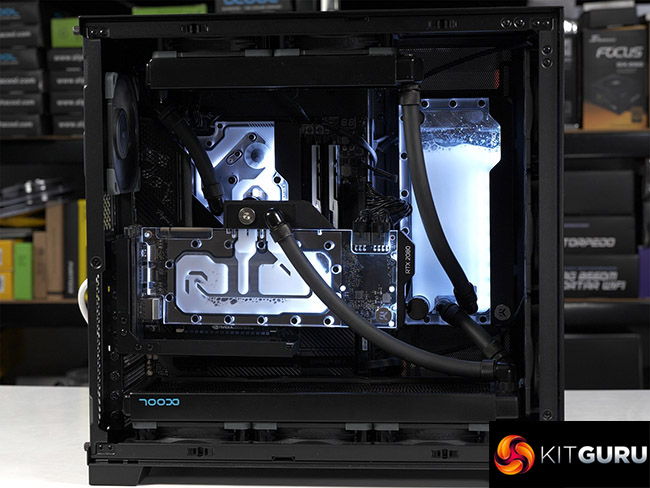 My new PC has to deliver on the performance front, but the way I see it is that you can also have stylish good looks, then why not aim to aim to have the best of both worlds. The MSI MPG X570S Carbon EK X sits neatly at the heart of the system and we have a high end cooling system to keep the Ryzen 9 5950X and RTX 2080 graphics under control.
There is no denying the ZMT black tubing is the least pretty part of the system and some runs of 16mm hard tube would add an extra touch of class. You have to remember this is a working PC that is likely to evolve over time so we're looking at a work in progress rather than the finished item, and that evolution may well continue when EK delivers their Quantum radiators next month.
Discuss on our Facebook page HERE.
KitGuru Says: It's a New Year and I have a new PC however you will not I carried over my old graphics card. Deep down we really are all in this together.