To properly test these kind of headphones you need to ensure that you are using capable equipment. Of course not every headphone will create perfect synergy with every amplifier as i have explained in one of my previous articles over HERE. To try and negate this as much as possible I have built a universal high end setup which I feel works very well with every headphone I have tested (Electrostatics are not included obviously).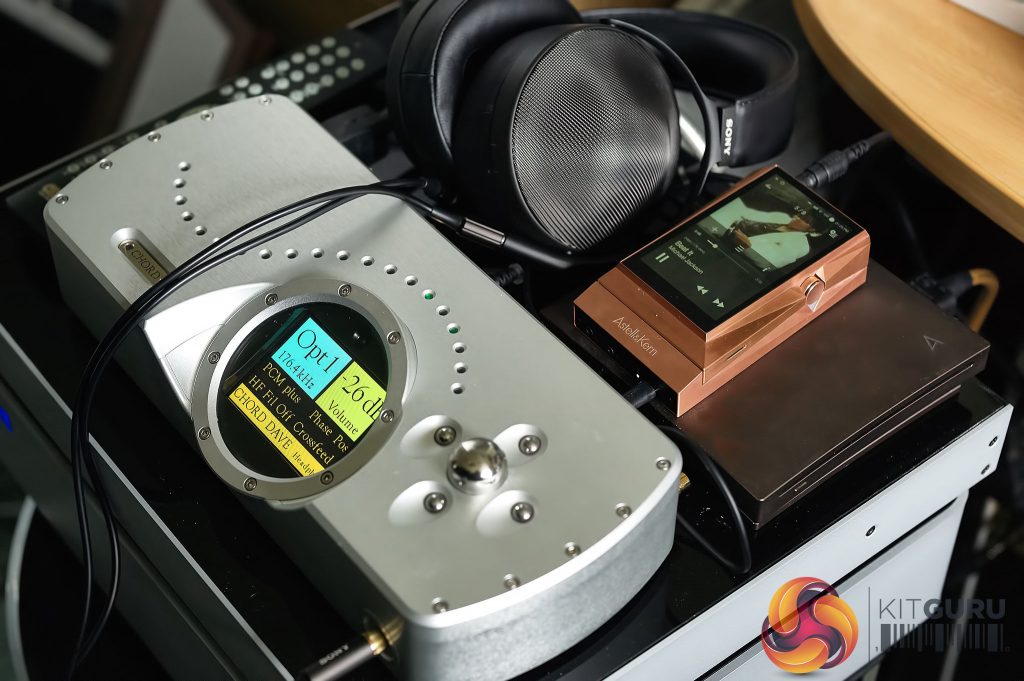 Chord Dave DAC £8,500 inc VAT – available HERE.
Astell and Kern AK380 (Limited Edition Copper Version) – £3,199 inc VAT – available HERE.
Astell and Kern CD ripper £400 inc VAT.
PS Audio DecTet Power Centre – £450 inc VAT – available HERE.
PS Audio PerfectWave PowerBase – £999 inc VAT – available HERE.
PS Audio P3 Power Plant Mains Regeneration – £2,300 inc VAT – available HERE.
PS Audio Perfect Wave AC 10 power cables x 3 £499 inc VAT per cable – available HERE.
Total cost of KitGuru headphone test bed – £17,350.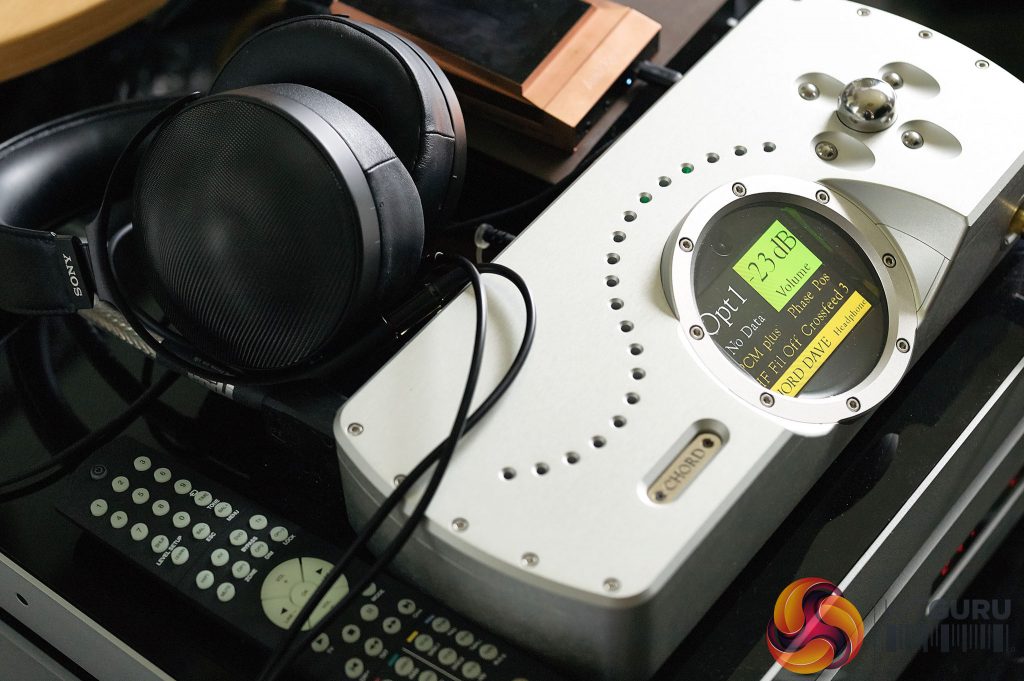 The Chord DAVE DAC is without question one of the most incredible pieces of audio equipment you can buy. It is the high end DAC in their current line up, created by audio genius Rob Watts.
Many of Chords competitors buy in DAC chips from the likes of Burr Brown or Wolfson and then they would create their digital to analogue sections around these. Chord have rewritten the rule book by creating a FPGA (Field Programmable Gate Array) with proprietary software. No other manufacturer will sound like Chord as they aren't using an 'off the shelf DAC'.
The DAVE is based on the Spartan 6 field programmable gate array which has been utilised in other products by Chord. The new design however incorporates a massive version of the Spartan 6. This high end FPGA is the LX 75 version of Xilinx's Spartan 6 – a new chip with 10 times the power of the previous flagship model, which is called the QBD76.
Rob Watts has also developed a WTA interpolation filter which utilises 166 separate DSP cores with an incredible 164,000 taps.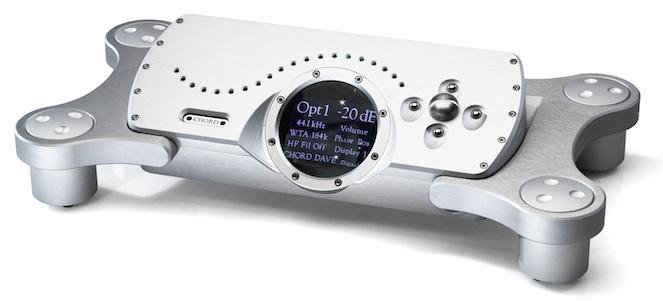 The build quality of the Chord DAVE is unmatched in my opinion. It is built like a proverbial tank and is available in silver or black. All of the controls feel as if they would last for decades, even if they aren't labelled! It has a quarter inch headphone socket with built in headphone amplifier, four BNC based coaxial digital inputs, USB, two toslink connectors and a AES/EBU balanced input as well. There are also four more DX digital connectors using BNC ports which will cater for upcoming products from Chord.
The Chord DAC literally transforms any setup I have at home, adding another layer of detail, transparency, dynamics – with huge depth of field acoustics. When a headphone is plugged into the front port, you also get three options for crossfeed which works remarkably well. So much so, that I tend to use many of my headphones at the maximum '3' setting.
I don't often buy into these 'gimmicky' options that many manufacturers use to generate sales, but The DAVE implementation for Crossfeed is truly remarkable. I had a quick chat with Rob Watts and he said when he uses headphones via the DAVE he has it set to '3' and I would tend to agree. The higher setting adds a lot to the overall presentation – as it attempts to recreate the acoustic overlap you would get from listening to floor standing speakers. With it off, you can immediately notice how incredibly flat the side ways projection can be between your ears.
The headphone amplifier in the Chord Dave is very powerful. It manages to handle the tricky Abyss 1266 without any problems, reaching the same levels as I get with the Cavalli Liquid Gold. So much so, I no longer even have the Cavalli amplifier in the mix. The biggest upgrade with the Abyss 1266 is investing some money into a set of third party cables to quell the rough edges around 1kHz-2kHz.
Investing in a PS Audio P3 Power Plant Mains Regenerator was one of the greatest moves I ever made. I wouldn't say my mains at home was particularly dirty, but like many people in the UK my feed would often move between 241v and 230v – getting worse in the evening. Adding the PS Audio P3 noticeably enhanced the black space on tracks. It also improved dynamics and 'openness' and just to prove a friend wrong, I did a blind test one evening and noticed every time it was disabled. I always find it removes a fine layer of 'haze' when listening to some of my favourite tracks.
Basically it takes the AC power, rebuilds it from scratch, feeds it into 3 separate regenerated zones with a 4th high current unfiltered zone. In real world terms this removes any kind of noise and mains fluctuation before it reaches the audio equipment – to give you pure, smooth power. It really is not a gimmick, I can hear it with my own ears. You can even adjust the output voltage if you wish.
PS Audio do more expensive models all the way up to £5,000 (for the P10 flagship), but I find their P3 £2,000 model (recently increased to £2,300 due to Brexit) is more than up to the task of powering a wide cross section of amplifier (with a 750 VA output capacity). I won't bore you with how it works, but if you are interested, check out the information HERE – and you can buy a UK version directly from Gary Penska at Analogue Seduction in the UK HERE.
I also use a PS Audio PerfectWave PowerBase in this setup as it combines an isolation base with a power condition. When paired up with the Mains Regeneration unit, it is a powerful combination. You can buy this from Analogue Seduction for £999.00 HERE.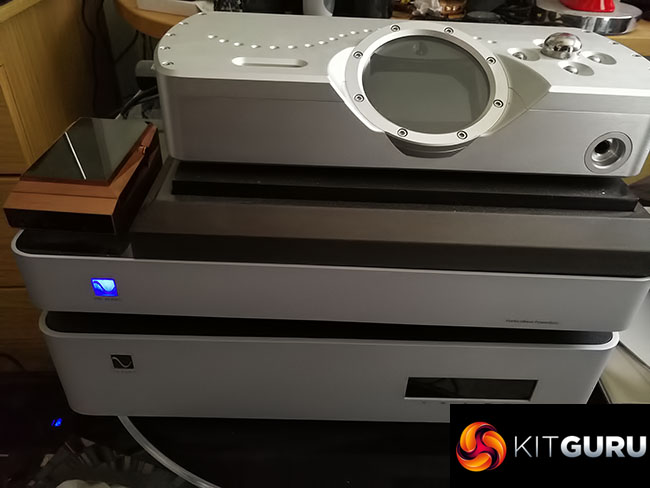 I still buy CD's so the Astell and Kern CD ripper is a very useful device – you get a perfect WAV copy of the album straight to the internal storage on the AK380 device – and if you are connected to the internet via WI-FI it also snags the artwork and track names without any intervention.
The GH2 Heritage had been bedded in for 100 hours before my review took place.