The Grado GH2 Heritage Limited Edition Headphones have impressed me greatly, especially when factoring in their somewhat modest pricing. Yes I am aware £650 is still a lot of money, but some of the headphones I have reviewed and used for comparison today are well in excess of £2,000.
I haven't always been a big fan of the John Grado sound signature, as it can tend to sound a little accentuated in the higher frequency register with specific tracks – its a common side effect of the 'V' shaped signature they tend to favour. The Grado GH2 Heritage are a much more refined headphone with focus given to the overall presentation of the track with a flatter EQ. In the real world this means that often you are spending less time focusing on the setup, and are actually just enjoying the sonic palette as it hits the ear drums.

For most people the Grado GH2 will be very comfortable. They are very light headphones, and while Grado build quality can tend to exhibit some 'rough edges', the overall build quality is very high indeed. We aren't sure you will want to wear them outdoors as they will attract a lot of attention due to the design, but they will also leak a lot of sound because of the open back design.
The sound signature errs on the warm side of neutral which immediately appeals to me. I decided to give them plenty of time to bed in, as before the 50 hour mark I noticed a little harshness to the driver under higher load. After 100 hours, all signs of this was removed from the driver and I found listening to music with these headphones a thoroughly enjoyable experience.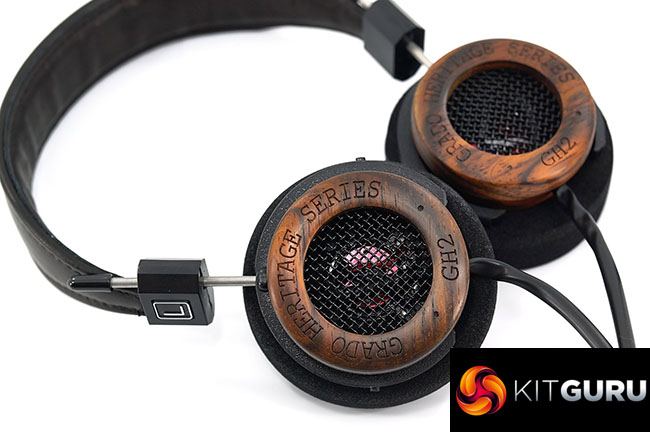 Some people may laugh at Grado's use of 'Cocobolo' Wood – after all there are cynics out there who beieve that most of this high end audio reproduction is 'snake oil' anyway – we get it everytime we post a review like this on our Facebook page. I would argue that different woods like KOA or Cocobolo can alter the sound greatly – anyone who has listened to an acoustic guitar hand crafted by Taylor using KOA tonewoods for instance will say that the warmth and depth of the sound reproduction is massively enhanced.
While KitGuru used a £17,000 partnering system for testing today, The Grado GH2 Heritage Limited Edition can be powered very successfully from the headphone jack of a phone or mobile music player. A 32 ohm load with a SPL 1mW of 99.8 dB is relatively easy on any partnering equipment so these are easy enough to carry around with you as you travel. Just be aware they are an open back design and they will leak a lot of sound.
The Grado GH2 Heritage are to my ears, one of the best sub £1,000 Grado headphones available on the market today. They are what I would consider a 'grown up' headphone from John Grado. After many years of the company chasing accentuated V shape curves, they have realised that dialing the driver EQ down a little combined with a tonally warm wood surround is just the sound characteristic that a lot of people long to experience.
All things considered, if you have just invested in a new FLAC or MP3 player and have £650 left to spend on headphones, I don't think there is a better alternative on the market today. Just be aware, these are not ideal for buses, planes or trains, as they are open back and leak a lot of sound. Think about taking the Grado GH2 with you to a 'hotel room on vacation' and I have no doubt you would be blissfully happy.
Pros:
Beautiful wood finish.
Sound drivers are very finely tuned – to the warm side of neutral.
FIts both 3.5mm and 1/4 inch connectors.
You can change over the ear pads with other sizes available on Amazon to change the sound signature.
Cons:
Poor packaging for such an exclusive headset.
The looks will not appeal to everyone.
Leak a lot of noise, annoying everyone in close vicinity.
Do need around 50 hours for the sound to 'fill' in and for minor glare to vanish.
KitGuru says: The Grado GH2 Heritage Limited Edition are a bargain in the high end hifi sector. They perform at a level well above their modest asking price. Only 1,200 were made, so stock is limited and once they sell out, its unlikely you will see them ever again.