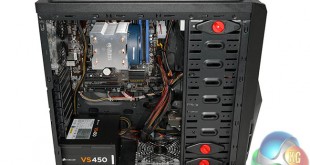 We review many high end gaming systems on KitGuru but what if you only have a budget of £500 and need an 'all round workhorse' capable of dealing with office duties and casual gaming at 720p? AMD's Kaveri is the sensible choice when budget is a primary concern, so today we look at PCSPECIALIST's £500 Infinity 7850K System.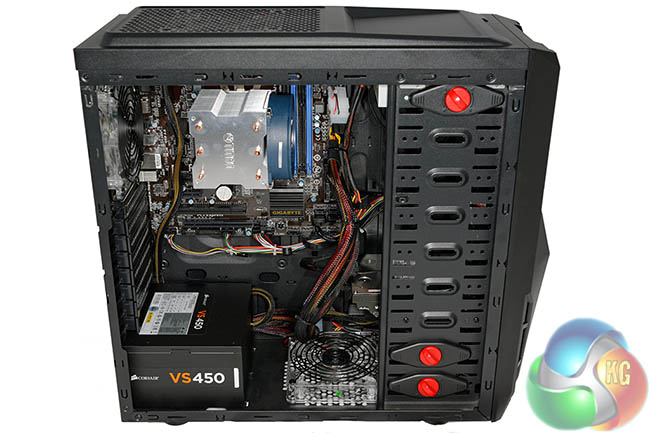 At the heart of the system is the AMD A10-7850K APU, designed to deliver modest gaming capabilities without a need for an expensive discrete graphics card. The A10 7850K is currently priced around the £130 inc vat mark in the UK today.
If you need more graphics power, then the PCS Infinity is fully expandable … meaning you could add a discrete graphics card at a later date – when funds permit.

PCSpecialist have consistently scored well in our lab reviews in the last year, thanks to a combination of clever hardware component selection, excellent build quality and competitive pricing.
PC Specialist Infinity 7850K
Case PCS ALPHA TRION 7622B BLACK CASE
Processor (CPU) AMD A10-7850K Quad Core APU (4.0GHz) & Radeon™ R7 Series Graphics
Motherboard Gigabyte F2A88XM-D3H FM2+ (M-ATX, DDR3, USB 3.0, 6Gb/s)
Memory (RAM) 8GB KINGSTON HYPER-X GENESIS DUAL-DDR3 1600MHz, X.M.P (2 x 4GB KIT)
Graphics Card Integrated AMD Radeon HD 8000 Series Graphics
Memory – 1st Hard Disk 2TB 3.5″ SATA-III 6GB/s HDD 7200RPM 64MB CACHE
1st DVD/BLU-RAY Drive 24x DUAL LAYER DVD WRITER ±R/±RW/RAM
Power Supply CORSAIR 450W VS SERIES™ VS-450 POWER SUPPLY
Processor Cooling Super Quiet 22dBA Triple Copper Heatpipe AMD CPU Cooler
Sound Card ONBOARD 8 CHANNEL (7.1) HIGH DEF AUDIO (AS STANDARD)
Wireless/Wired Networking 10/100/1000 GIGABIT LAN PORT – AS STANDARD ON ALL PCs
USB Options 6 x USB 2.0 PORTS @ BACK PANEL (MIN 2 FRONT PORTS) AS STANDARD
Power Cable 1 x 2 Metre UK Power Cable (Kettle Lead)
Operating System Genuine Windows 8.1 64 Bit – inc DVD & Licence
DVD Recovery Media Windows 8.1 (64-bit) DVD with paper sleeve
Office Software FREE 30 Day Trial of Microsoft® Office® 365
Anti-Virus BULLGUARD INTERNET SECURITY – FREE 90 DAY TRIAL
Warranty 3 Year Standard Warranty (1 Month Collect & Return, 1 Year Parts, 3 Year Labour)
Delivery STANDARD INSURED DELIVERY TO UK MAINLAND (MON-FRI)
Build Time Standard Build – Approximately 9 to 11 working days
Price £499.00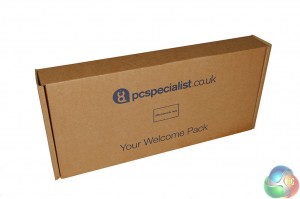 The PC Specialist Infinity 7850K is well protected, securely sealed inside a very thick brown box. Inside the main shipping container is a flat brown box containing the peripherals.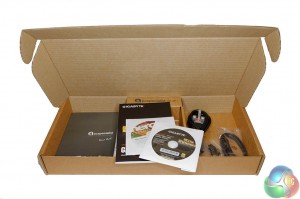 Inside the box are all the driver discs, a power cable and some literature on how to set the system up.
You will need to open the Infinity case to remove some blue protective shipping foam. PC Specialist stick a warning label to the side of the case so you won't forget.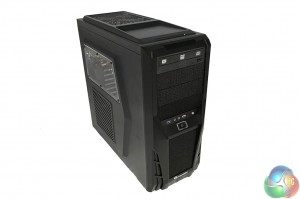 PC Specialist are using one of their own branded cases – called the ALPHA TRION 7622B. This case is designed to keep the price of the system down as much as possible. We wouldn't say it was the most beautiful design, but it looks functional.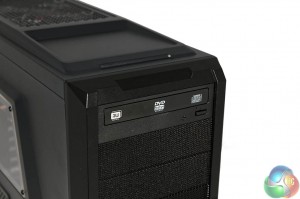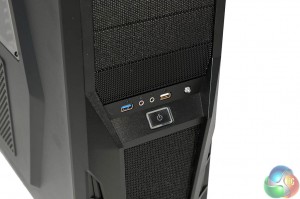 The I/O ports are not at the top of this case, they are fitted into the center point of the chassis. There is a headphone, microphone jack here, alongside a USB 2.0 and USB 3.0 port. On the far right is a reset button.
Below this is a power button which glows blue when the system is on. This light also doubles up as a hard drive activity light – changing colour on the right side from blue to red.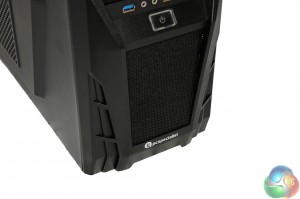 Along the bottom is a cooling vent, and a PC Specialist company badge.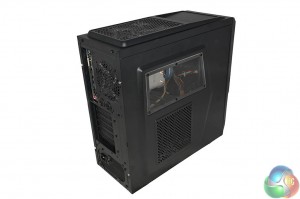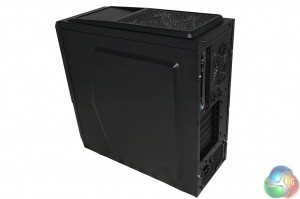 The left side of the case as a little window – exposing the CPU cooler. There is no window on the other side of the chassis. Sadly neither of these panels use thumbscrews, you will need a screwdriver to remove them.
Both panels flex a little, but given the budget nature of the build, we can accept this. We noticed that both panel screws didn't lock firmly in place, they spin endlessly after you tighten to a specific tension.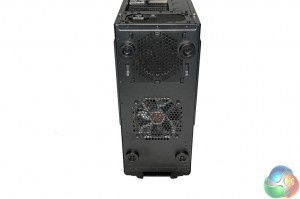 Underneath the case is a cooling fan fitted in the middle, just in front of the power supply.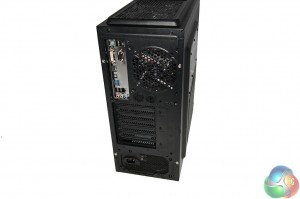 PC Specialist are using a Gigabyte F2A88XM-D3H FM2+ motherboard which offers plenty of connectivity.
1 x PS/2 keyboard/mouse port
1 x D-Sub port
1 x DVI-D port
1 x HDMI port
2 x USB 3.0/2.0 ports
4 x USB 2.0/1.1 ports
1 x RJ-45 port
1 x optical S/PDIF Out connector
3 x audio jacks (Line In, Line Out, Mic In)
As there is no discrete graphics card installed, all of the expansion slots underneath are available. The power supply is mounted at the bottom of the case.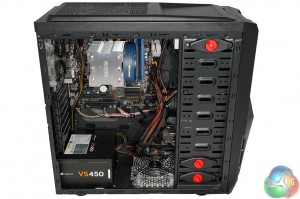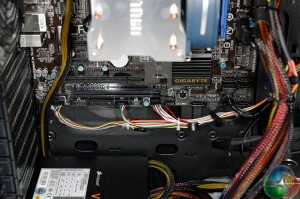 The internal build is clean although there are not a lot of cable routing holes in the motherboard panel. This has forced a lot of the cables to be in plain view, just above the bottom mounted case fan and behind the hard drive.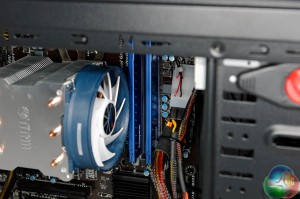 PC Specialist have opted for a fairly large CPU cooler for this build -a triple heatpipe design. It will be more than adequate to cool an A10 7850K processor. It is reassuring to see PC Specialist have not opted for a cheap 'no name' memory brand – Kingston HyperX 1600mhz memory is installed. We are quite surprised that PC Specialist haven't installed 2,133mhz memory as it makes a huge performance difference to an AMD A10 build.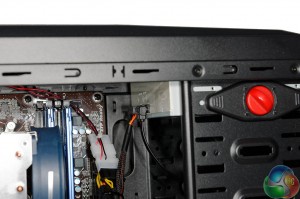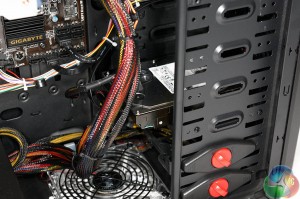 PC Specialist have fitted a no frills Bluray/Dual Layer DVD writer and a 2TB 7,200 rpm mechanical hard drive. No Solid State drive unfortunately, but we are sure PC Specialist would fit a small one as the boot drive, if you paid a small premium over the base unit price.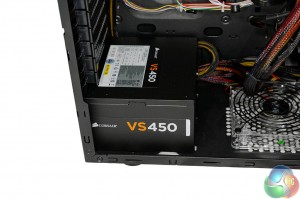 PC Specialist have fitted a quality Corsair VS450 power supply – which will be more than enough to power this modest system.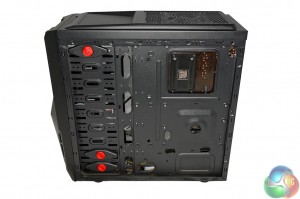 As we mentioned earlier, the budget ALPHA TRION 7622B chassis has very little space for routing cables behind the motherboard tray, so the other side of the system is 'cable free'.
On this page we present some super high resolution images of the product taken with the 24.5MP Nikon D3X camera and 24-70mm ED lens. These will take much longer to open due to the dimensions, especially on slower connections. If you use these pictures on another site or publication, please credit Kitguru.net as the owner/source.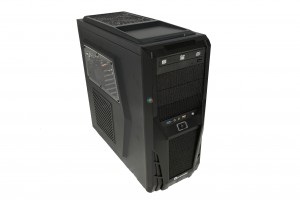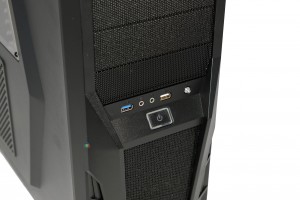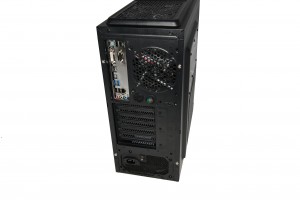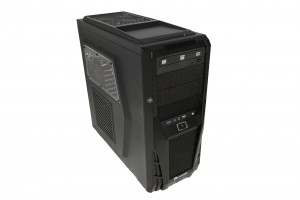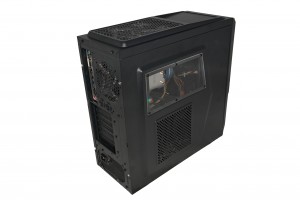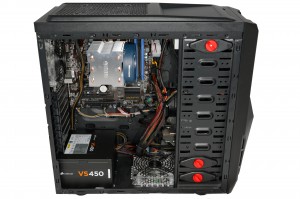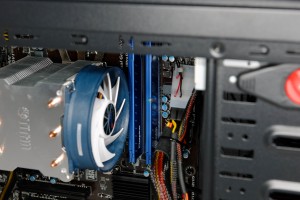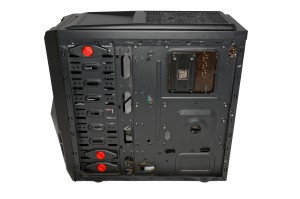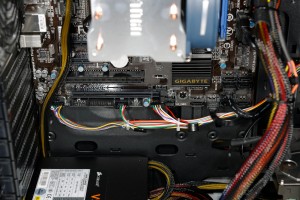 As mentioned earlier in the review, this system is based around the new AMD A10 7850K APU. This processor has 4 Streamroller X86 computing cores with support for the latest ISA instructions, including FMA4/3, AVX, AES, XOP. There is up to 2MB L2 cache per dual core module. This PC Specialist system does not ship with a discrete graphics card, the A10 7805K itself has the graphics embedded.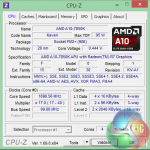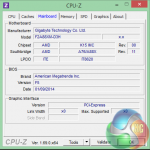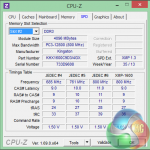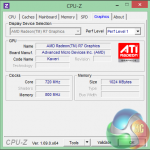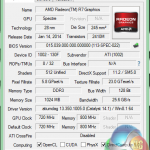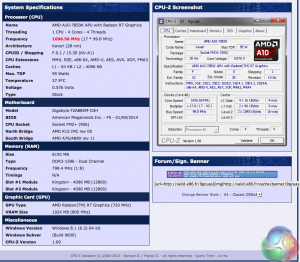 CPU Validation is available over here.
An overview of the system. The R7 graphics is clocked at 720mhz, with 8 ROPs, 32 TMU's and 512 shaders. The 1GB of 800mhz GDDR3 memory is connected via a 128 bit interface. The 8GB of DDR3 system memory is clocked at 1,600mhz and runs at 9-9-9-27 timings.
Comparison Systems (for specific synthetic test compares):
Mesh Elite Mini Gamer Plus:
Power Supply: 750W Cooler Master GX RS-750, 85% Eff', 80 PLUS Bronze, SLI/CrossFire.
Motherboard: MSI Z87I WIFI – Mini-ITX Motherboard Socket 1150.
Processor:  i7-4770K Quad Core Processor (3.5GHz, 8MB Cache) @ 4.2ghz.
Memory: 16GB DDR3 1866MHz Memory (2x8GB) Kit.
Graphics: 4GB AMD Radeon™ R9 290 – 4GD5 Gaming Series Graphics.
SSD: 240GB SSD – Solid State Drive.
HDD: 2TB SATA III 6Gb/s, 7200rpm, 64MB Cache, 8ms Hard Drive.
PCSpecialist Vanquish 230X:
Processor: Intel Core i5-4670K @ 4.2GHz
Memory: 16GB Kingston HyperX BEAST @ 2400MHz
Motherboard: ASUS Z87-A Motherboard
SSD: 120GB Kingston HyperX 3K SSD
HDD: 1TB SATA III 6Gb/s HDD
Graphics: 3GB AMD Radeon 280X Graphics
Cooler: CoolerMaster Seidon 120M Liquid Cooler
Power Supply: Corsair TX650M Modular PSU
Intel E5 2687W x 2
Motherboard: Asus Z9 PE-D8 WS
Coolers: Corsair H80 x2
Memory: 64GB Kingston Predator 1,600mhz 9-9-9-24 1T
Graphics Card: Sapphire HD7970 6GB Toxic Edition (1,200mhz core 1,600mhz memory).
Power Supply: Seasonic 1000W Platinum Modular
Optical Drive: Asus BluRay Drive
Chassis: Lian Li X2000FN
Monitors: Dell U3011, 3x Ilyama ProLite E2472HDD
Boot Drive: Corsair 240GB Neutron GTX SSD
Secondary Drive: Corsair 240GB Neutron SSD
Intel E5 2660
Motherboard: Gigabyte X79S-UP5-WIFI
Cooler: Corsair H100
Memory: 16GB G.Skill ARES 2,133mhz @ 9-11-10-28
Graphics Card: Sapphire HD7970 6GB Toxic Edition (1,200mhz core 1,600mhz memory).
Power Supply: Corsair AX1200
Optical Drive: Asus BluRay Drive
Chassis: Lian Li X2000a
Boot Drive: Intel 510 120GB
Secondary Drive: Patriot 240GB WildFire
Intel i7 3960X EE
Motherboard: Asus P9X79 WS WorkStation
Cooler: Corsair H100
Memory: 8GB Corsair Dominator GT8 2400mhz memory
Graphics Card: Sapphire HD7970 6GB Toxic Edition (1,200mhz core 1,600mhz memory).
Power Supply: ADATA 1200W
Optical Drive: Asus BluRay Drive
Chassis: Cooler Master Cosmos 2
Boot Drive: Crucial C300 128GB SSD
Secondary Drive: Patriot 240GB Pyro SE
Intel i7 3820
Motherboard: ASRock Extreme4-M
Cooler: Intel reference cooler
Memory: 8GB Corsair GTX8 @ 2133mhz
Power Supply: ADATA 1200W
Chassis: Lian Li PC60
Boot Drive: Crucial C300
Secondary Drive: Patriot Pyro SE 240GB
Intel i5 3570K @ 4.2 – OCUK Prodigy Arctic Gaming System
Motherboard: ASRock Z77E-ITX Intel Z77
Cooler: Coolit Liquid
Memory: Corsair Vengeance White 8GB (2x4GB) DDR3 PC3-12800C9 1600MHz Dual Channel Kit
Power Supply: OCZ ZS 750W PSU
Chassis: Bitfenix Prodigy Mini ITX Case – White
Boot Drive: OCZ Vertex 4 128GB
Secondary Drive: 1TB HDD
AMD FX 8150 Black Edition
Processor: AMD FX 8150 Black Edition
Motherboard: Gigabyte 990FXA-UD7
Cooler: Noctua NH D14
Memory: G-SKill Ripjaws 1600mhz 8GB (2x 4GB)
Power Supply: ADATA 1200W
Chassis: SilverStone Raven 3
Boot Drive: Intel 40GB SSD
Secondary Drive: Patriot 120GB WildFire
Intel Core i7 990X
Processor: Intel Core i7 990x
Cooler: Corsair H100
Motherboard: Gigabyte G1 Assassin
Memory: Kingston HyperX 6GB
Drives: Crucial RealSSD C300 256GB
Power Supply: Corsair AX1200
Chassis: Antec Twelve Hundred
Core i7 970 @ 4.6ghz
Graphics: Sapphire HD7970 6GB Toxic Edition (1,200mhz core 1,600mhz memory).
Cooling: Coolit Vantage
Motherboard: MSI X58A-GD65
Chassis: Thermaltake Level 10 GT
Power Supply: Corsair AX1200
Memory: 6GB ADATA @ 2133mhz 9-10-9-32
Storage: Kingston SSDNow V+ 512GB Gen 2 SSD (Storage) / Crucial RealSSD C300 256GB (OS boot)
Intel Core i7 2700k
Processor: Intel Core i7 2700k
Cooling: ThermalTake Frio OCK
Motherboard: Gigabyte GA-Z68AP-D3 Z68 Motherboard
Chassis: Silverstone Raven 3.
Power Supply: Corsair 850W.
Memory: Corsair 1600mhz memory
Storage: Intel 80GB SSD (boot) / Patriot Wildfire 120GB SSD.
Intel Core i7 2600k
Processor: Intel Core i7 2600k
Motherboard: ASRock Fatal1ty Z68 Professional Gen 3
Cooler: Intel XTS-100H
Memory: ADATA 1600mhz DDR3 8GB (2x4GB)
Power Supply: Thermaltake Toughpower 850W
Boot Drive: Intel 510 SSD 250GB
Intel Core i5 2500k
Processor: Intel Core i7 2500k
Motherboard: Gigabyte GA-Z68AP-D3 Z68 Motherboard
Cooler: Arctic Cooling Freezer Xtreme Rev.2 CPU Cooler
Memory: Corsair 1600mhz memory 8GB (2x4GB)
Power Supply: Corsair 850W.
Boot Drive: Patriot Pyro 120GB SSD.
AMD Phenom II X6 1100T
Processor: AMD Phenom II X6 1100T
Motherboard: Gigabyte 990FXA-UD7
Cooler: Noctua NH D14
Memory: G-SKill Ripjaws 1600mhz 8GB (2x 4GB)
Power Supply: ADATA 1200W
Chassis: SilverStone Raven 3
Boot Drive: Intel 40GB SSD
Secondary Drive: Patriot 120GB WildFire.
Software:
3DMark Vantage
3DMark 11
3DMark
PCMark 8
Cinebench R11.5 64 bit
Cinebench R15
FRAPS Professional
Unigine Heaven Benchmark
CrystalDiskMark
Cyberlink PowerDVD Ultra 11
Cyberlink MediaEspresso
Atto Disk Benchmark
CrystalDiskMark
SiSoft Sandra
Games:
Tomb Raider (Direct X 11)
Total War: Rome 2 (Direct X 11)
GRID 2 (Direct X 11)

Technical Monitoring and Test Equipment:
Asus USB BluRay Drive
Thermal Diodes
Raytek Laser Temp Gun 3i LSRC/MT4 Mini Temp
Extech digital sound level meter & SkyTronic DSL 2 Digital Sound Level Meter
Nikon D3X with R1C1 Kit (4 flashes), Nikon 24-70MM lens.
Game descriptions are edited with courtesy from Wikipedia.
PCMark 8 is the latest version in our series of popular PC benchmarking tools. It is designed to test the performance of all types of PC, from tablets to desktops. With five separate benchmark tests plus battery life testing, PCMark 8 helps you find the devices that offer the perfect combination of efficiency and performance. PCMark 8 is the complete PC benchmark for home and business.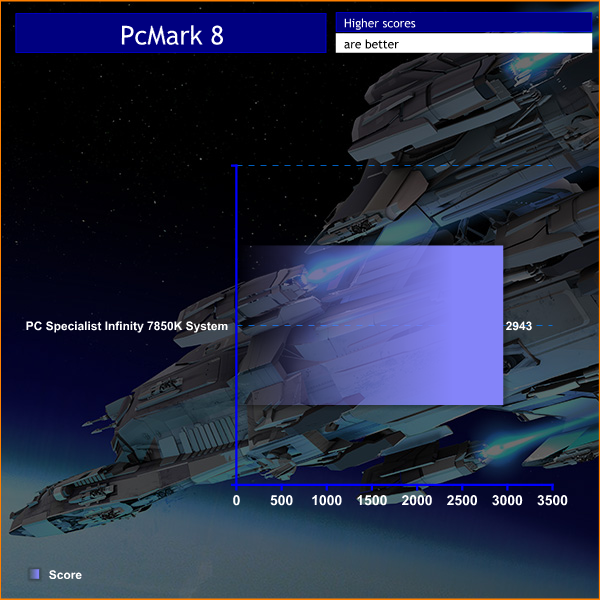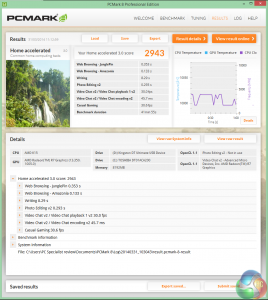 The lack of solid state drive hampers overall performance a little in PCMark 8. The results however are respectable.
Futuremark released 3DMark Vantage, on April 28, 2008. It is a benchmark based upon DirectX 10, and therefore will only run under Windows Vista (Service Pack 1 is stated as a requirement) and Windows 7. This is the first edition where the feature-restricted, free of charge version could not be used any number of times. 1280×1024 resolution was used with performance settings.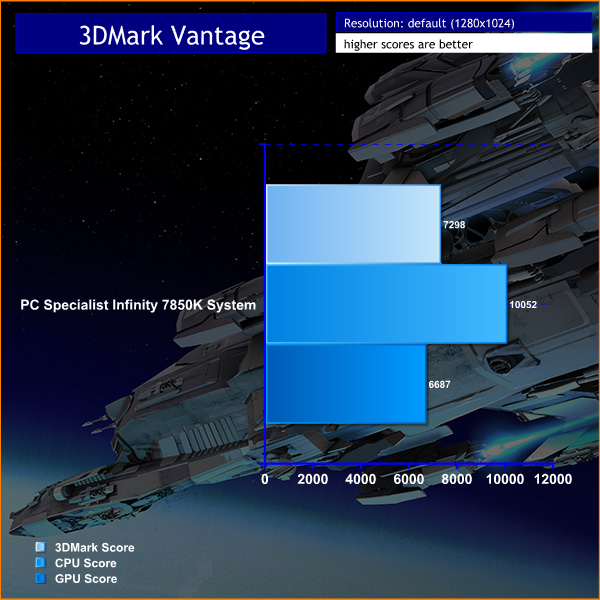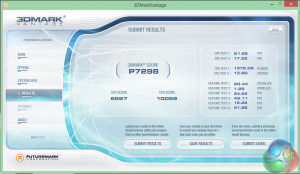 The A10 7850K is a capable 'all in one' solution and the score indicates decent performance with older Direct X 10 games.
3DMark 11 is designed for testing DirectX 11 hardware running on Windows 7 and Windows Vista the benchmark includes six all new benchmark tests that make extensive use of all the new features in DirectX 11 including tessellation, compute shaders and multi-threading. After running the tests 3DMark gives your system a score with larger numbers indicating better performance. Trusted by gamers worldwide to give accurate and unbiased results, 3DMark 11 is the best way to test DirectX 11 under game-like loads.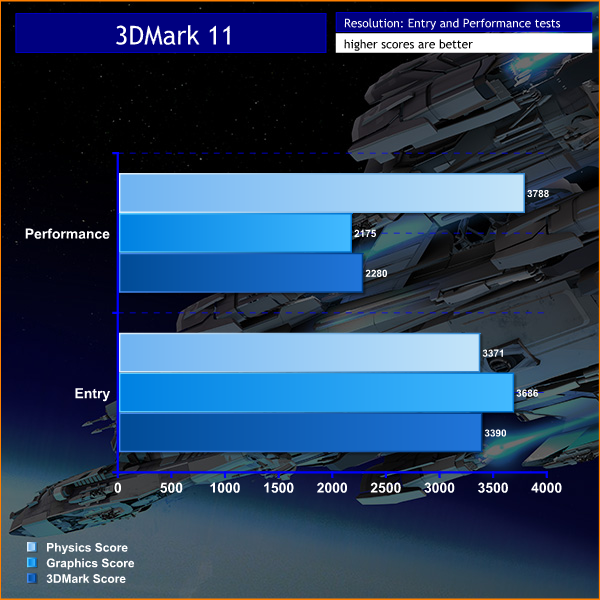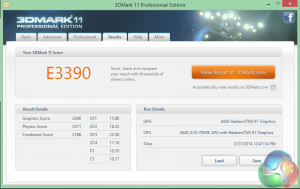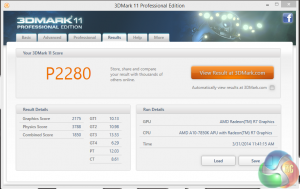 The scores are in line with what we would expect from the low cost, Kaveri powered system.
3DMark is an essential tool used by millions of gamers, hundreds of hardware review sites and many of the world's leading manufacturers to measure PC gaming performance.
Futuremark say "Use it to test your PC's limits and measure the impact of overclocking and tweaking your system. Search our massive results database and see how your PC compares or just admire the graphics and wonder why all PC games don't look this good.
To get more out of your PC, put 3DMark in your PC."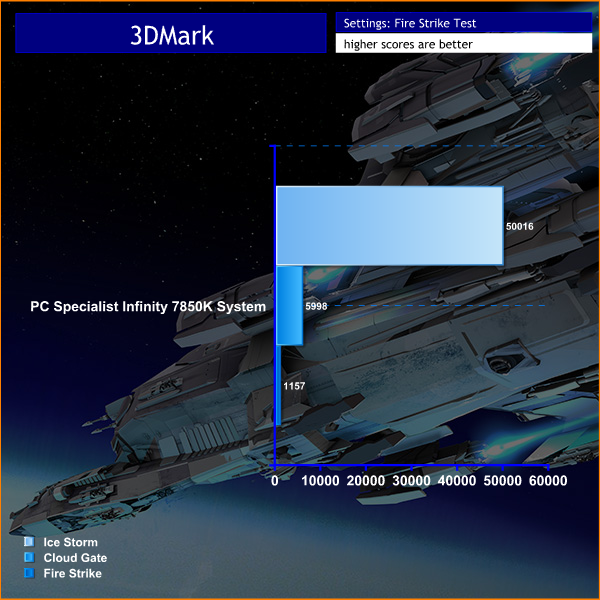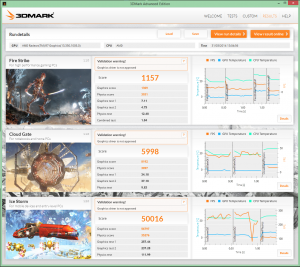 This is an incredibly difficult suite for a low cost system such as this. The results do point out that the Infinity 7850K system should be able to handle modest DirectX 11 game settings at 720p.
SiSoftware Sandra (the System ANalyser, Diagnostic and Reporting Assistant) is an information & diagnostic utility. It should provide most of the information (including undocumented) you need to know about your hardware, software and other devices whether hardware or software.
Sandra is a (girl's) name of Greek origin that means "defender", "helper of mankind". We think that's quite fitting.
It works along the lines of other Windows utilities, however it tries to go beyond them and show you more of what's really going on. Giving the user the ability to draw comparisons at both a high and low-level. You can get information about the CPU, chipset, video adapter, ports, printers, sound card, memory, network, Windows internals, AGP, PCI, PCI-X, PCIe (PCI Express), database, USB, USB2, 1394/Firewire, etc.
Native ports for all major operating systems are available:
Windows XP, 2003/R2, Vista, 7, 2008/R2 (x86)
Windows XP, 2003/R2, Vista, 7, 2008/R2 (x64)
Windows 2003/R2, 2008/R2* (IA64)
Windows Mobile 5.x (ARM CE 5.01)
Windows Mobile 6.x (ARM CE 5.02)
All major technologies are supported and taken advantage of:
SMP – Multi-Processor
MC – Multi-Core
SMT/HT – Hyper-Threading
MMX, SSE, SSE2, SSE3, SSSE3, SSE 4.1, SSE 4.2, AVX, FMA – Multi-Media instructions
GPGPU, DirectX, OpenGL – Graphics
NUMA – Non-Uniform Memory Access
AMD64/EM64T/x64 – 64-bit extensions to x86
IA64 – Intel* Itanium 64-bit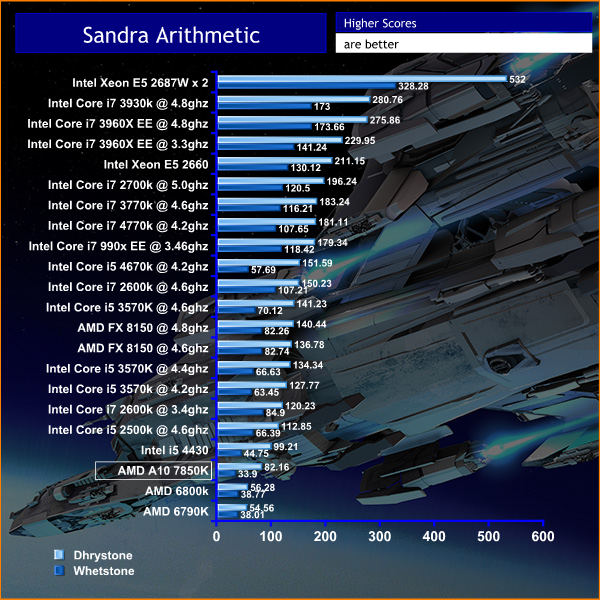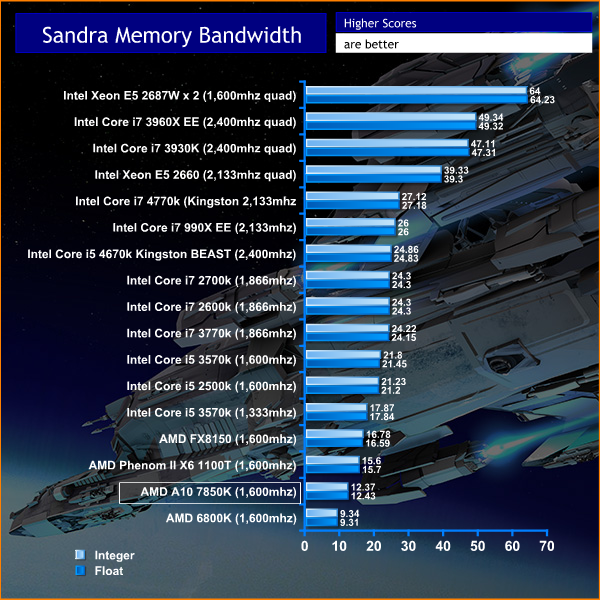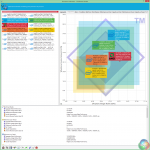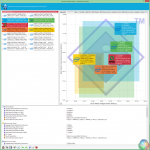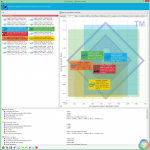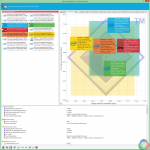 Performance is much as we would expect, close to the bottom of our overall charts.
CINEBENCH R11.5 64 Bit is a real-world cross platform test suite that evaluates your computer's performance capabilities. CINEBENCH is based on MAXON's award-winning animation software CINEMA 4D, which is used extensively by studios and production houses worldwide for 3D content creation. MAXON software has been used in blockbuster movies such as Spider-Man, Star Wars, The Chronicles of Narnia and many more. CINEBENCH is the perfect tool to compare CPU and graphics performance across various systems and platforms (Windows and Mac OS X). And best of all: It's completely free.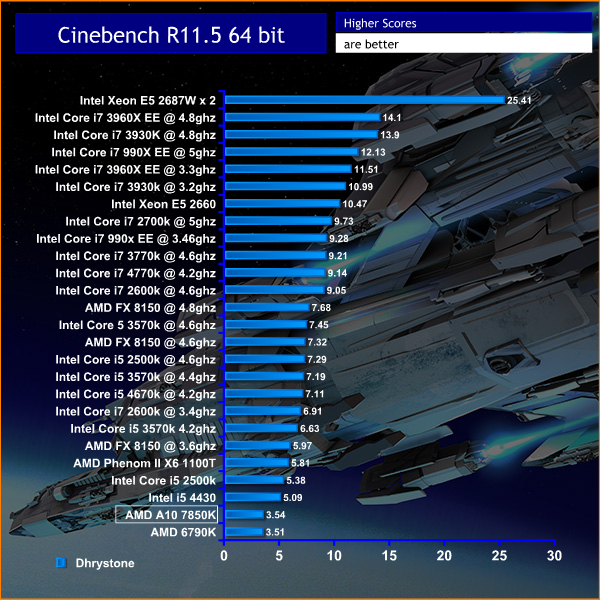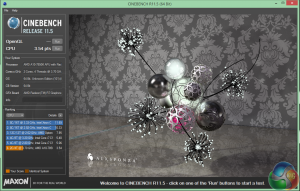 The A10 7850K is not an ideal processor for 3D rendering, although it could handle some light duties on an occasional basis.
CINEBENCH 15 is a cross-platform testing suite that measures hardware performance and is the de facto standard benchmarking tool for leading companies and trade journals for conducting real-world hardware performance tests. With the new Release 15, systems with up to 256 threads can be tested. CINEBENCH is available for both Windows and OS X and is used by almost all hardware manufacturers and trade journals for comparing CPUs and graphics cards.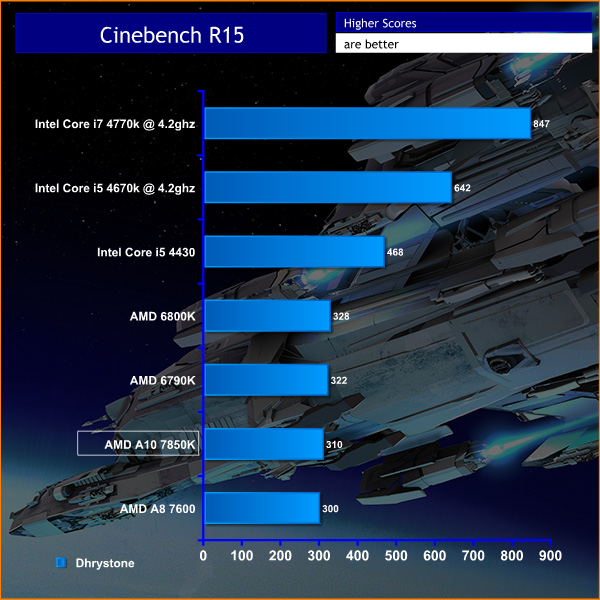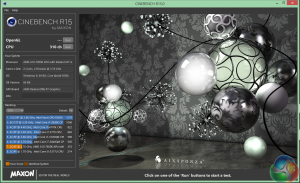 CPU performance is better than the A8 7600, but a little less than the 5790K, scoring 310 points.
CyberLink MediaEspresso 6 is the successor to CyberLink MediaShow Espresso 5.5. With its further optimized CPU/GPU-acceleration, MediaEspresso is an even faster way to convert not only your video but also your music and image files between a wide range of popular formats.
Now you can easily playback and display your favourite movies, songs and photos not just on your mobile phone, iPad, PSP, Xbox, or Youtube and Facebook channels but also on the newly launched iPhone 4. Compile, convert and enjoy images and songs on any of your computing devices and enhance your videos with CyberLink's built-in TrueTheater Technology.
New and Improved Features
Ultra Fast Media Conversion – With support from the Intel Core i-Series processor family, ATI Stream & NVIDIA CUDA, MediaEspresso's Batch-Conversion function enables multiple files to be transcoded simultaneously.
Smart Detect Technology – MediaEspresso 6 automatically detects the type of portable device connected to the PC and selects the best multimedia profile to begin the conversion without the need for user's intervention.
Direct Sync to Portable Devices – Video, audio and image files can be transferred in a few easy steps to mobile phones including those from Acer, BlackBerry, HTC, Samsung, LG, Nokia, Motorola, Sony Ericsson, and Palm, as well as Sony Walkman and PSP devices.
Enhanced Video Quality – CyberLink TrueTheater Denoise and Lighting enables the enhancement of video quality through optical noise filters and automatic brightness adjustment.
Video, Music and Image File Conversion – Convert not only videos to popular formats such as AVI, MPEG, MKV, H.264/AVC, and FLV at the click of a button, but also images such as JPEG and PNG and music files like WMA, MP3 and M4A.
Online Sharing – Conversion to video formats used by popular social networking websites and a direct upload feature means posting videos to Facebook and YouTube has never been easier.
For our testing today we are converting a 4.4GB 720p MKV file (1h:58mins) to Apple Mp4 format for playback on a portable device. This is a common procedure for many people and will give a good indication of system power.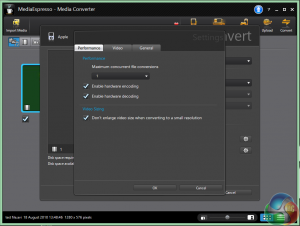 Hardware acceleration is enabled.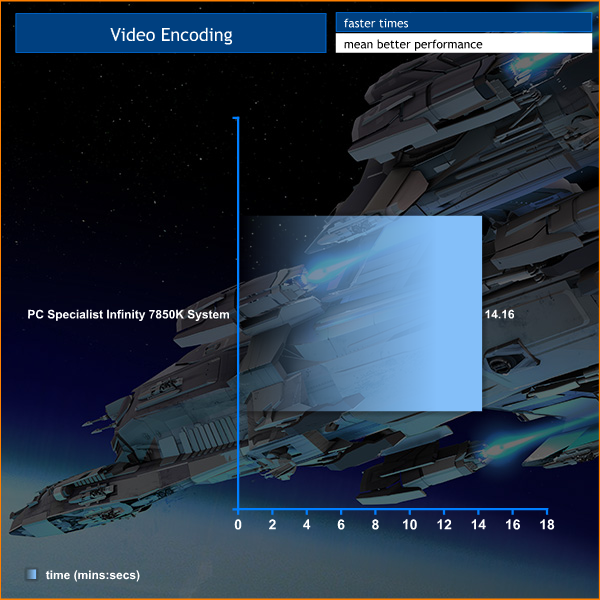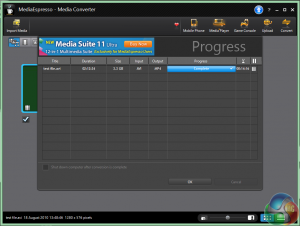 The system completed the encoding job in 14 minutes and 16 seconds. The fastest Core i7 systems will complete the same job in around 7 minutes, but the slowest Intel ATOM rigs have taken well over 1 hour. This is a good result for AMD and PCSpecialist.
Crystalmark is a useful benchmark to measure theoretical performance levels of hard drives and SSD's. We are using V3.0.1 x64. We test the internal 2TB mechanical hard drive.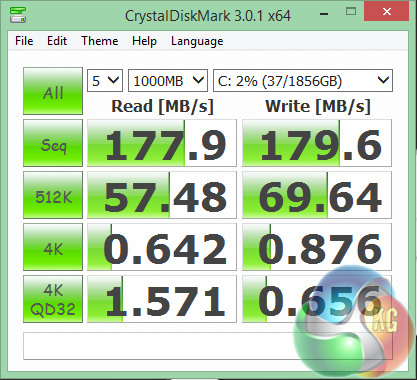 Performance of the mechanical hard drive is very good, scoring around 180 MB/s in the sequential read and write tests.
The ATTO Disk Benchmark performance measurement tool is compatible with Microsoft Windows. Measure your storage systems performance with various transfer sizes and test lengths for reads and writes. Several options are available to customize your performance measurement including queue depth, overlapped I/O and even a comparison mode with the option to run continuously. Use ATTO Disk Benchmark to test any manufacturers RAID controllers, storage controllers, host adapters, hard drives and SSD drives and notice that ATTO products will consistently provide the highest level of performance to your storage.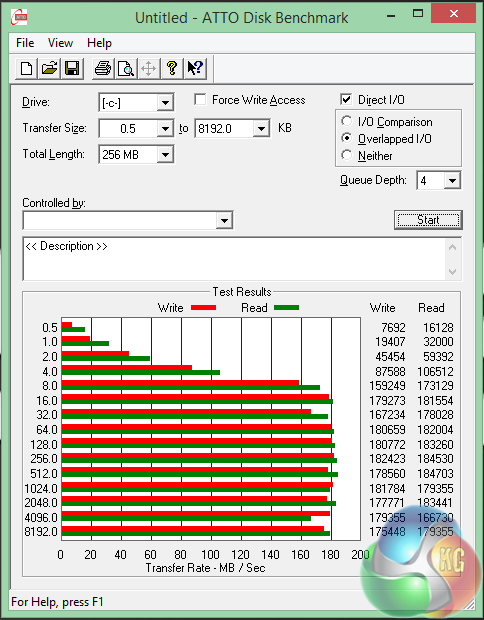 ATTO shows the same results as Crystaldiskmark, hitting around 180 MB/s.
To test the USB 3.0 capabilities of the Asus Z87-A motherboard, we use one of the fastest drives we have – the Patriot SuperSonic Magnum 256GB. We reviewed this way back in February last year.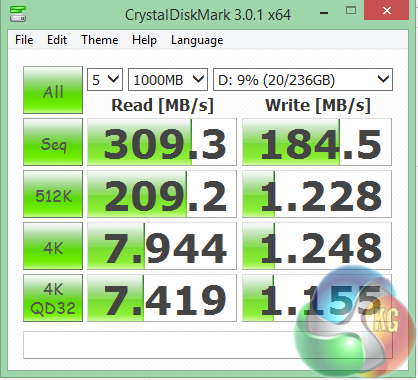 Performance from the onboard USB 3.0 ports of the Gigabyte F2A88XM-D3H FM2+ is as good as we have seen, peaking at 310 MB/s sequential read.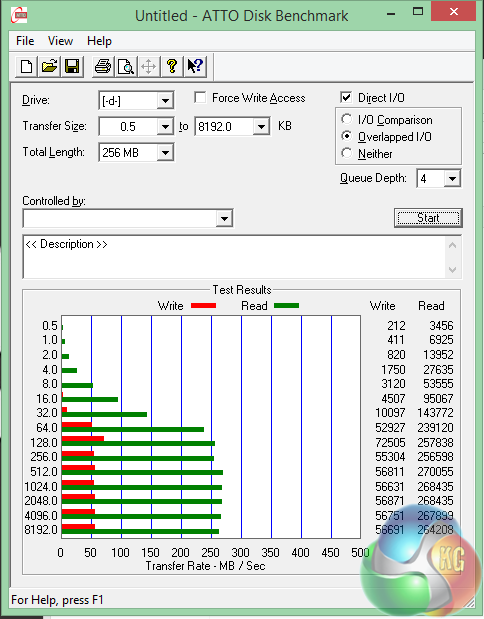 ATTO indicates maximum performance of 265MB/s read and around 60 MB/s write.
Tomb Raider received much acclaim from critics, who praised the graphics, the gameplay and Camilla Luddington's performance as Lara with many critics agreeing that the game is a solid and much needed reboot of the franchise. Much criticism went to the addition of the multiplayer which many felt was unnecessary.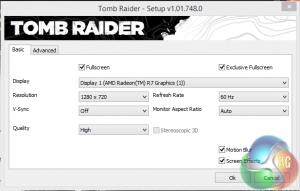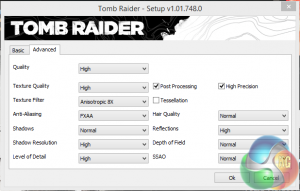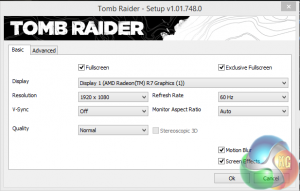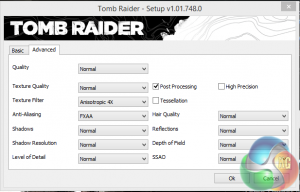 We test at both 720p and 1080p resolutions. At 1280×720 we select 'high' quality preset. To achieve playable frame rates at 1920×1080 we dropped the image quality settings to the 'normal' preset.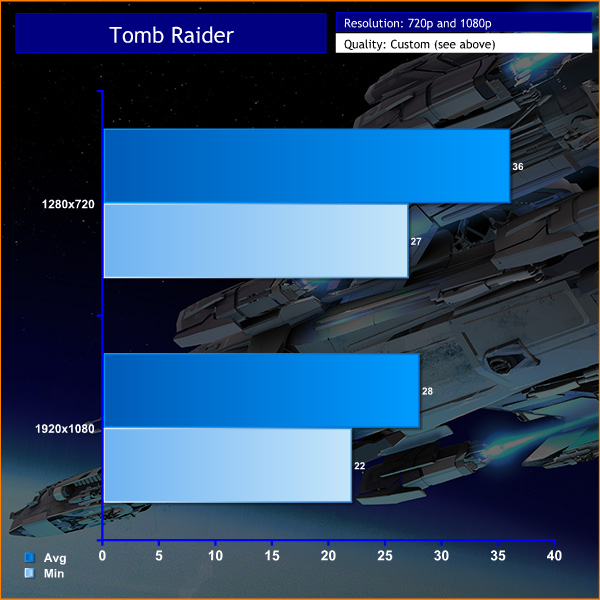 1080p proves a little too much, even at normal image quality settings, dropping below the sweet spot of 25 frames per second a couple of times during our run. 720p however is perfectly playable and looks quite good too.
Grid 2 is the sequel to the racing video game Race Driver: Grid. It was developed and published by Codemasters. The game includes numerous real world locations such as Paris, numerous United States locations, and many more, and also includes motor vehicles spanning four decades. In addition, it includes a new handling system that developer Codemasters has dubbed 'TrueFeel', which aims to hit a sweet spot between realism and accessibility.


We tested the GRID 2 engine at both 720p and 1080p. At both resolutions we selected the HIGH preset. At 1280×720 we enabled 2AA, but disabled anti aliasing completely at 1920×1080.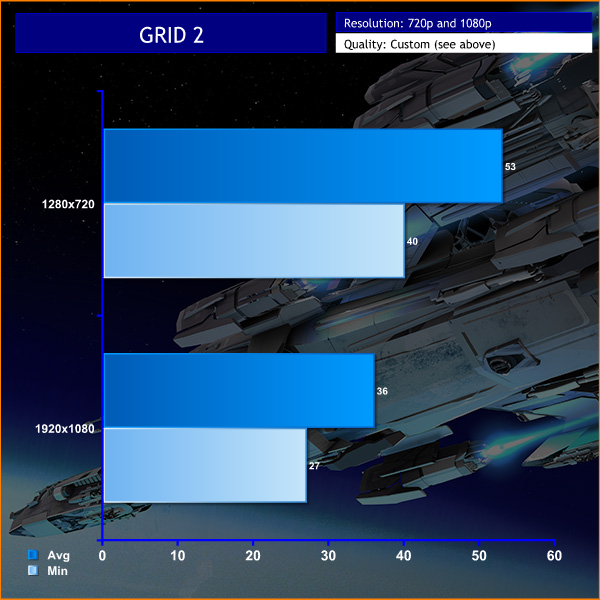 Fantastic results with GRID 2- maintaining smooth frame rates at both 720p and 1080p. Intel integrated graphics by comparison would never be able to power this engine at 1080p with the HIGH preset enabled.
Total War ROME 2 is the eighth stand alone game in the Total War series, it is the successor to the successful Rome: Total War title. The Warscape Engine powers the visuals of the game and the new unit cameras will allow players to focus on individual soldiers on the battlefield, which in itself may contain thousands of combatants at a time. Creative Assembly has stated that they wish to bring out the more human side of war this way, with soldiers reacting with horror as their comrades get killed around them and officers inspiring their men with heroic speeches before siege towers hit the walls of the enemy city. This will be realised using facial animations for individual units, adding a feel of horror and realism to the battles.


We selected 1280×720 resolution with the 'high' and 'very high' preset, shown above.


The 'Very High' preset is just too intensive for the PC Specialist Infinity 7850K system, dropping below 25 frames per second regularly. The 'High' preset is much better suited to the modest hardware, allowing for smooth frame rates at 720p.
The tests were performed in a controlled air conditioned room with temperatures maintained at a constant 23c – a comfortable environment for the majority of people reading this.Idle temperatures were measured after sitting at the desktop for 30 minutes. Load measurements were acquired by playing Tomb Raider 2014 for 60 minutes and measuring the peak temperature.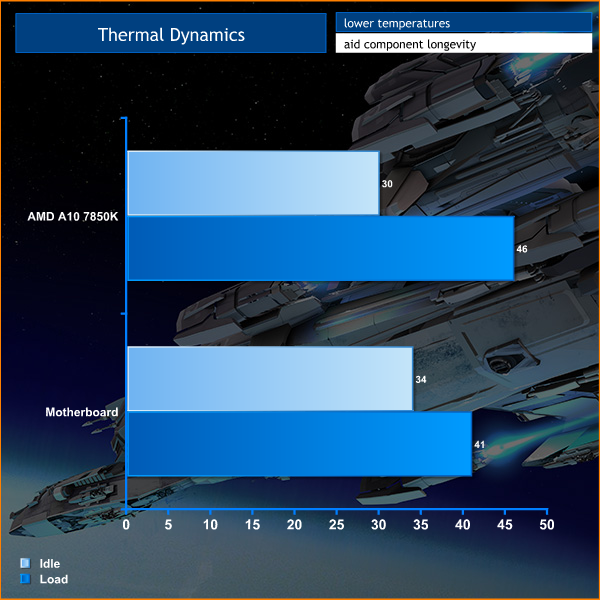 The system runs very cool under load. The low powered hardware doesn't get hot under load, and the large CPU cooler and decent chassis air flow help drive down the temperatures.
Ambient noise in the room is around 20-25dBa. We measure from a distance of around 1 meter from the closed chassis and 4 foot from the ground to mirror a real world situation.
Why do this? Well this means we can eliminate secondary noise pollution in the test room and concentrate on only the video card. It also brings us slightly closer to industry standards, such as DIN 45635.
KitGuru noise guide
10dBA – Normal Breathing/Rustling Leaves
20-25dBA – Whisper
30dBA – High Quality Computer fan
40dBA – A Bubbling Brook, or a Refridgerator
50dBA – Normal Conversation
60dBA – Laughter
70dBA – Vacuum Cleaner or Hairdryer
80dBA – City Traffic or a Garbage Disposal
90dBA – Motorcycle or Lawnmower
100dBA – MP3 player at maximum output
110dBA – Orchestra
120dBA – Front row rock concert/Jet Engine
130dBA – Threshold of Pain
140dBA – Military Jet takeoff/Gunshot (close range)
160dBA – Instant Perforation of eardrum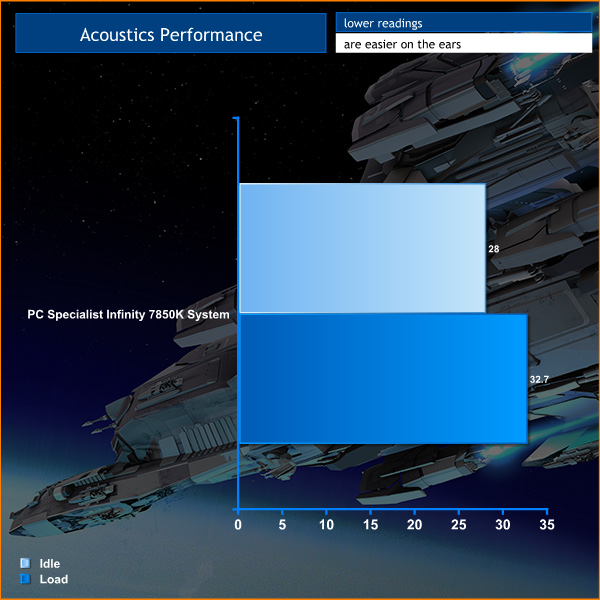 This is an extremely quiet system, and barely measures on our noise meter. At idle it would be classed as almost silent and when the CPU is under load the noise levels do not increase much at all. This is a perfect system for a bedroom or living room, when noise could be considered extremely annoying.
We measure the system power consumption at the wall – not factoring in the monitor. We test when idle – then when loading with Cinebench R15 and the 'combined' test in 3Dmark11.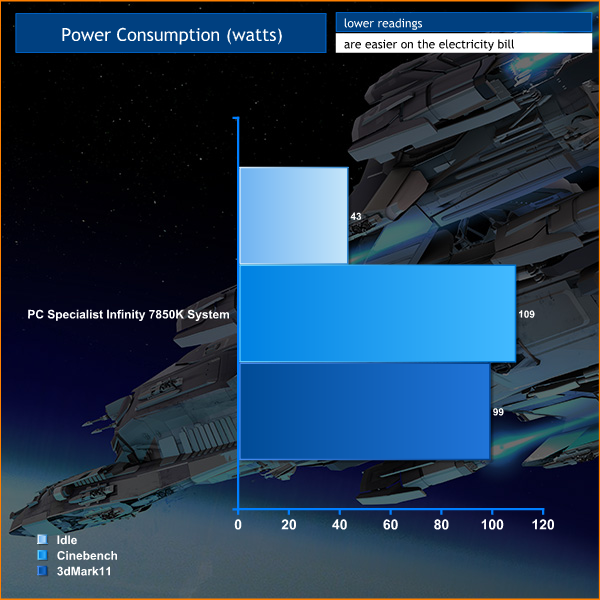 When idle, the system was consuming around 40 watts of power at the socket. When all the cores are loaded in Cinebench the power demand rises to 109 watts. When the last 'combined' test in 3DMark 11 is initiated, the power demand moves between 85 watts and 110 watts. We took the average over repeated runs – just under 100 watts.
So far we have only focused on gaming focused system builds from leading UK builder PC Specialist. Getting the chance to look at an AMD powered budget system designed for general duties and casual gaming has certainly been interesting.
The AMD A10 7850K APU is an excellent foundation for the system, and it works extremely well when partnered up with the Gigabyte F2A88XM-D3H FM2+motherboard. The A10 7850K is a significant improvement over the previous generation of APU models from AMD.
The A10 7850K can power some of the latest Direct X 11 titles at 1280×720 with detailed image quality settings. This should be more than enough for a gamer working with a very restrictive budget. Let's not forget that the 7850K was able to produce smooth frame rates in GRID 2 at 1920×1080, with the high preset – a remarkable achievement for an 'all in one' APU.
Overall performance from the system is commendable, and while likely to run out of steam when dealing with intensive 3D rendering duties, it will easily handle office tasks, accelerated web browsing and high definition media playback.
Working with a budget of £500 means that certain compromises have to be met. The Infinity 7850K system does not ship with any Solid State Drive. Unfortunately this does drag down the responsiveness of the system, although we are sure that PC Specialist would add a small SSD at minimal cost, if requested.
For the audience who have never used a Solid State drive, then the 2TB mechanical drive is likely to feel fast enough, and we appreciate that PC Specialist have opted for a quality 7,200 rpm unit, rather than saving a few pounds by incorporating a sluggish 5,400 rpm unit.
PC Specialist are using their custom ALPHA TRION 7622B case which is clearly designed to fit a specific budget price point. It is not the ugliest case we have seen, but it certainly won't be winning any beauty awards. The thin panels flex under pressure and are a little tricky to refit. Thumbscrews are not supplied, so a screwdriver is always needed to get inside the chassis. The screws don't lock in place – once a certain tension is met, they spin indefinitely. The insides are painted black however there is really no support for advanced cable routing.
While the ALPHA TRION 7622B case is a little 'rough around the edges' it is very quiet and more than up to the task of cooling the modest hardware components inside. Thanks to the inclusion of the quality Corsair 450W power supply and a modest power drain of 110W under load, there will no problem adding in a discrete graphics card at a later date, to improve gaming performance.
You can buy from PC Specialist, over HERE.
Discuss on our Facebook page, over HERE.
Pros:
Competitively priced.
Corsair and Kingston components.
good gaming performance at 720p.
extremely quiet under load.
low power drain at socket.
Cons:
7622B case is not attractive and feels cheap, poor cable routing capabilities.
If you want to game at 1080p then we recommend a discrete graphics card.
no SSD.
2,133mhz memory would have helped improve performance.
Kitguru says: A great little system for general duties, high definition media playback and casual gaming.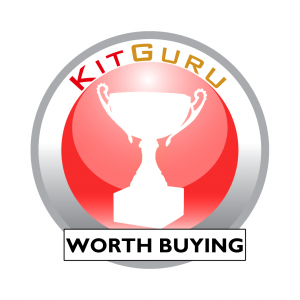 Kitguru says: Well priced and capable