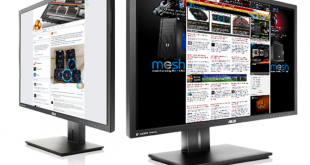 KitGuru was one of the first websites to regularly start using an Ultra HD 4K monitor in graphics card reviews, mid 2013. We adopted the wallet sapping Asus PQ321QE and have been mighty impressed with the gorgeous IGZO display. PQ321QE prices have dropped from £3,000 to £2,400 recently, but the price is still prohibitive for a massive audience. Enter the new Asus PB287Q model offering 10,000,000:1 contrast ratio, 1ms response time, on board speakers, and a 60hz refresh. At £599.99 inc vat, is this the new Ultra HD 4K screen that should make your final shortlist?
As graphics cards become more powerful the move to higher resolutions makes sense – after all, there is no point selecting the highest image quality settings at 1080p while pushing 200 frames per second. It is true that to get smooth frame rates in many games at 3,840 x 2,160 you will need at least a GTX780/Ti or R9 290/x graphics card. We are pretty confident that within 2 years time, even a mid range gaming card will be able to handle Ultra HD 4K gaming with ease.
The Asus PQ321QE is one of the finest monitors I have used, and at £2,400 it really should be. Colour reproduction is impeccable, viewing angles are wide and panel linearity is first rate. The £599 Asus PB287Q is obviously not designed to tackle the same demanding audience – aimed more at the general user, or gamer who wants to improve the visual quality of his or her experience.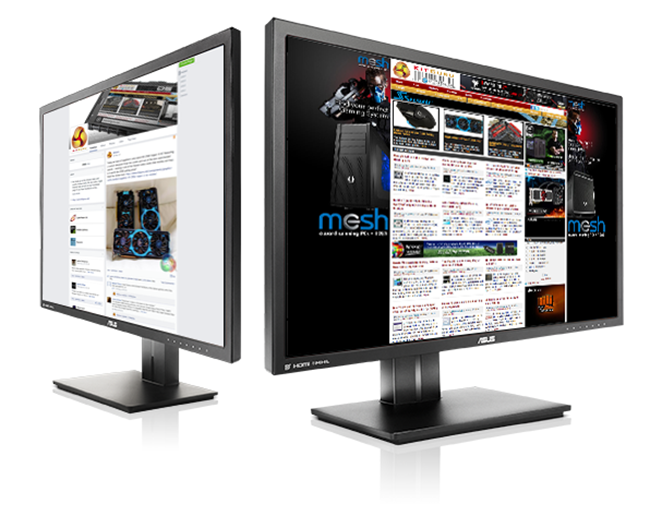 The Asus PB287Q runs natively at 3,840×2,160 resolution and has a 157 pixels per inch display. It is capable of displaying 1.07 billion colours in 10 bit – to help improve the colour gradations. It is rated at a 1ms (GTG) response time. It supports DisplayPort 1.2 to offer refresh rates at up to 60hz and has two HDMI ports, one of which supports MHL.

Asus PB287Q overview:
Panel Size: Wide Screen 28″(71.12cm) 16:9
True Resolution : 3840×2160 at 60Hz (DisplayPort) ,3840×2160 at 30Hz (HDMI)
Pixel Pitch : 0.16mm
Brightness(Max) : 300 cd/m2
ASUS Smart Contrast Ratio (ASCR) : 100000000:1
Viewing Angle (CR≧10) : 170°(H)/160°(V)
Response Time : 1ms (Gray to Gray)
Display Colors : 1073.7M (10bit)
LCD ZBD Warranty : Yes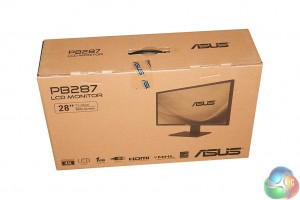 The Asus PB287Q ships in a large brown box with details of the product on all sides. By comparison Asus ProArt screens ship in full colour boxes. The box weighs 10.6kg, so it isn't too difficult to carry around.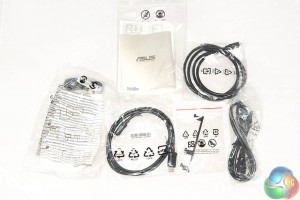 In the box are the following accessories:
Cable Clamp
Audio cable
Power cord
DisplayPort cable
Quick start guide
HDMI cable
Warranty Card
MHL cable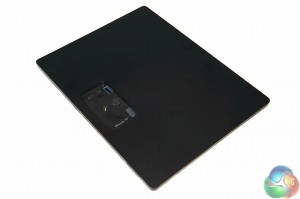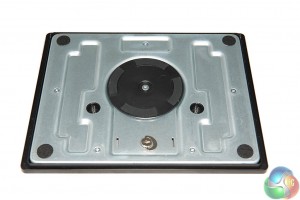 The PB287Q ships in the box with the stand already fitted, and rotated along the length of the screen. The base, shown above is a tool less fitting which proves popular with the public. After all, the less hassle during the set up phase, the better.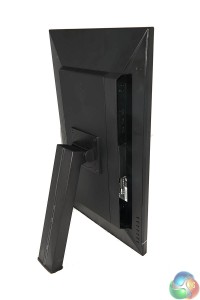 The main monitor ships with the stand arm rotated into a portrait position – it only takes a couple of seconds to fit the main stand to the base.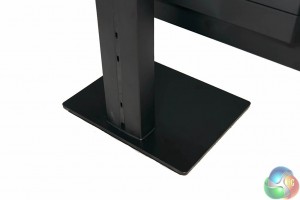 In operation the stand is very strong and offers portrait rotate, swivel tilt and pivot. When the base is fitted, the PB287Q weighs 8kg. It is worth pointing out that the monitor does not wobble at all, thanks to the weight and width of the base itself. Bonus points.
Mechanical design:
Chassis Colors : Black
Tilt : +20°~-5°
Swivel : Yes
Pivot : Yes
Height Adjustment : Yes
VESA Wall Mounting : 100x100mm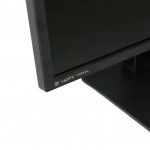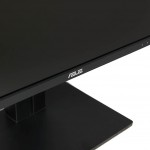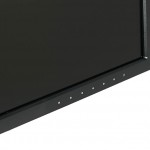 Above, close ups from left, center and right positions – along the bottom of the screen. The panel has two rather weak (2W RMS) speakers installed. In real world terms they are very bass light, and don't produce much volume – but still they may prove useful for some people and can be completely disabled if you don't want to use them.
The interface panel on the Asus PB287Q is a traditional style 'button' arrangement with the buttons actually behind the panel (see the image below).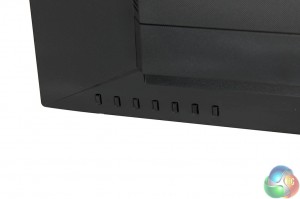 It can be tricky to configure various onscreen options as you need to fumble around the back of the screen with your fingers while watching the on screen menus. I found that accidentally pressing the power off button was pretty easy. The air was blue for the first couple of minutes until I adapted to the layout. Asus really should have moved the power button to a completely different position – it is quite an interface oversight by the team.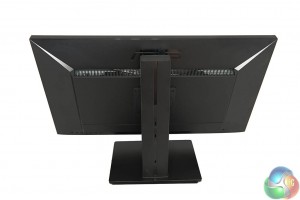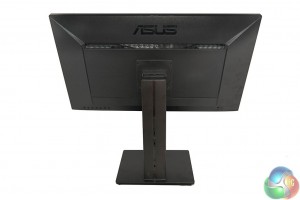 The screen is fully height adjustable – and by simply pushing down or pulling up on the screen, it will move position.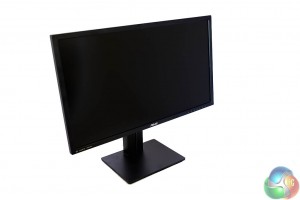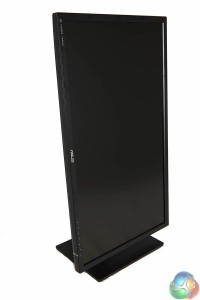 If you want to rotate the screen into a portrait position, then you need to pull it up to the full height.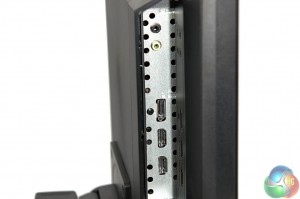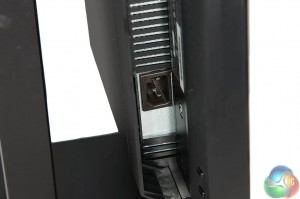 The rear of the PB287Q has connectors for HDMI, HDMI/MHL, DisplayPort alongside two 3.5mm mini jacks. One of these is for PC Audio Input and the other an Earphone jack (for HDMI & DisplayPort only). A straightforward PC power connector port is available the other side of the I/O panel.
One of the HDMI ports is MHL capable, meaning you can connect a supported smartphone for output.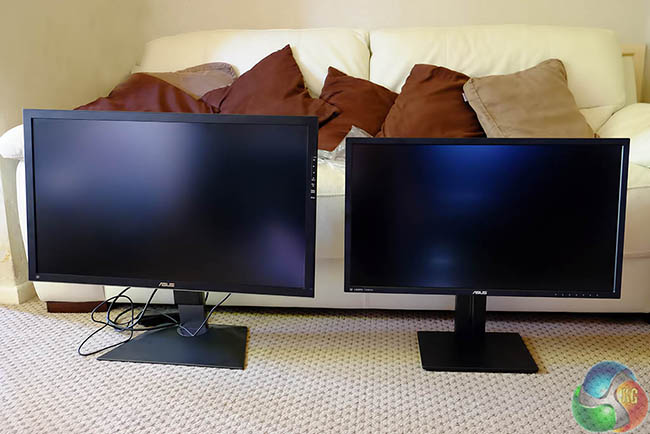 The image above shows the PB287Q (right), beside the more expensive 31.5 inch Asus PQ321QE.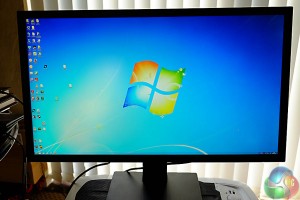 We tested the screen with both an Nvidia GTX Titan Black and the Sapphire R9 290X Vapor-X OC. The screen was initially recognised as a DisplayPort 1.1 capable system which enforces a 30hz refresh limit.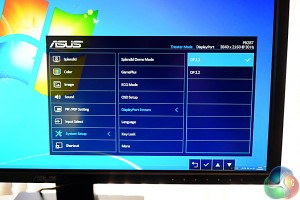 The settings for this are found in the 'System setup' submenu close to the bottom of the onscreen menu.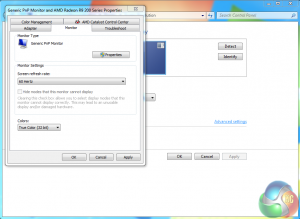 When this was changed to DisplayPort 1.2 we could change the screen refresh from 30hz to 60hz. If you buy the PB287Q then this is very important to note as on both fresh Nvidia and AMD installs the screen could be initially set up as DP 1.1 with the 30hz limit – not ideal for gaming!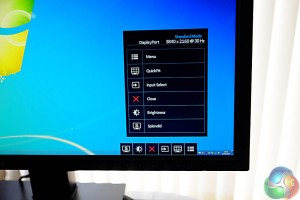 As I mentioned earlier in the review, it can be fiddly working with the onscreen menu buttons, especially as the power off button is not set aside from the other menu buttons. I accidentally turned the screen off quite a few times while fumbling with the buttons.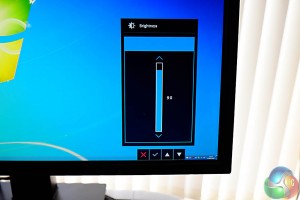 Brightness and contrast settings are available and the out of the box settings will need some minor adjustment for the best picture quality.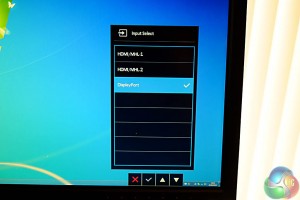 According to the onscreen menu, both HDMI boards are MHL capable, which contradicts the official specifications page on the ASUS website. I was unable to test MHL so can't verify either way.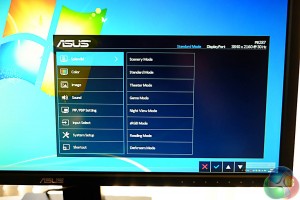 The main menu panel gives quick access to a series of submenus. The first submenu has a quick series of Asus configured presets such as 'Scenery mode' and 'sRGB mode'.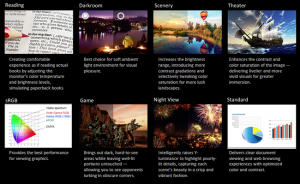 A description of all the modes, is detailed above.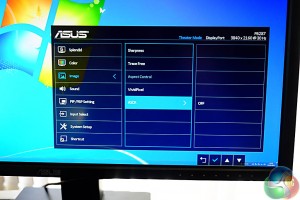 The image panel gives control over sharpness, tracefree settings, aspect control, vividpixel and ASCR.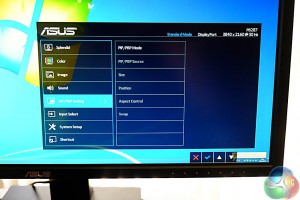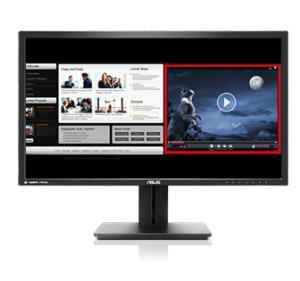 If you like to use Picture In Picture then you will be pleased to hear that the PB287Q has this feature.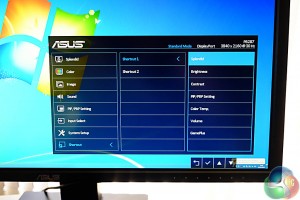 If you want quick access to two features you use regularly, then ASUS have included a 'shortcut' option – allowing you to assign functions, saving time.
Windows 7 still proves popular with our audience and many people have not moved to Windows 8/8.1 yet. There is no doubt however that Windows 8.1 offers better scaling options for Ultra HD 4K monitors.
Using the Windows desktop at the native 3,840 x 2,160 resolution on a 28 inch screen can put some strain on your eyes. We aren't going to go into a lot of detail in this review as many readers will already know about this but if you want a quick crash course on Windows 8.1 scaling, check out this page.
To test today we are using a LaCie calibration gun along with specific software to accurately measure the readings. We analyse the 2D elements of the monitor via this test system featuring a reference Nvidia GTX780 Ti graphics card.
We measured gamut out of the box and the PB287Q returned a reading of 2.18 which is very good. We manually adjusted the Gamma to 1.8 and the panel returned a 1.78 result.
The PB287Q is a TN panel, and as such the viewing angles are much reduced over an equivalent IPS panel. We found the viewing angles were very close to the 170°(H)/160°(V) rated specifications by ASUS.
The DisplayMate 64 step Grayscale test returned a very good result, although not perfect, a few steps were missing – although if this is important then you will be wanting to budget for an ASUS ProArt panel, such as the PA279Q or spend the extra money on the Asus 31.5 inch PQ321QE (The PQ321QE delivers a perfect result in this test).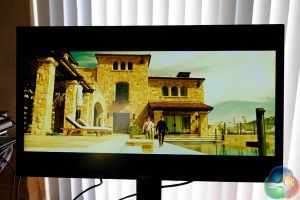 The 10 bit colour accuracy of the PB287Q is quite good although the screen doesn't ship calibrated from the factory, and our particular sample had a noticeable yellow bias – this is slightly noticeable to the naked eye but can be removed with a little calibration. After calibration, the images are vibrant, clean and reasonably sharp. Upscaling 1080p high definition content does look a little 'soft' overall, but playing back native Ultra HD 4K media files is very impressive (if you can find any).
Panel Linearity rated as very good, with minor deviation at the edges of the panel, commonplace with many screens in the mid to low end of the market. sRGB color gamut rated at around 97%. Gradients are reasonably smooth.
Asus rate the panel at 1ms Gray-to-Gray, targeting the screen at hardcore gamers. In the real world we noticed no artifacting or smearing when playing fast motion first person shooters such as Battlefield 4 and the latest Wolfenstein game.
High grade images look fantastic, with reasonably high contrast and better than average colour reproduction. I am not a hardcore gamer, so I did get the opinions of several other people who game in a local clan, and they were equally impressed with the refresh rate.
It is worth pointing out that gaming at the native resolution of 3,840 x 2,160 will place a huge demand on the graphics hardware in the system, so it is important to factor this into the total cost of ownership when buying a new Ultra HD 4K screen. We recommend a GTX780 Ti or R9 290/X to get a good overall experience (if you want a solid 60 fps at high image quality settings then you need to look at spending extra for an SLi or Crossfire setup). You can read some of our benchmarks at 4K in our latest Sapphire R9 290X Vapor-X OC review, with plenty of comparisons included.

Black Definition rates reasonably well, with some light leakage across the full width of the screen, rising to around 20% on the extreme corners. This is actually not that noticeable under most conditions, even when watching high definition bluray discs. If you increase the contrast and brightness to the highest levels and pause a movie on a predominately black image the naked eye will pick it up.
Contrast levels are adequate, and ASUS rate the screen at 100000000:1. It did fall a little short of these claims according to our equipment however there is plenty of 'punch' in the image, and you won't want to be running at close to 100% when gaming or video editing.
The pooling at the edges won't interfere with any work based duties, and susceptibility is only minor. If you use the screen at maximum brightness then the blacks in the three quarter midrange will be slightly more gray than some of the higher grade screens – we did notice the same issue however with the ProArt PA279Q. Brightness levels can be dropped however as the contrast levels are quite good overall.


White purity is above average, with the corners reading around -15%, extreme edges rate at close to -20%. There are a few areas in the center of the screen which read around 13%, although again this is barely noticeable and may vary a little from panel to panel.
In real world terms, this screen wouldn't be an ideal partner for a colour critical photographer, or designer who needs completely accurate reproduction. This is why ASUS sell the PQ321QE after all. The PB287Q is however perfect for a gamer, or general user who needs a lot of physical workspace.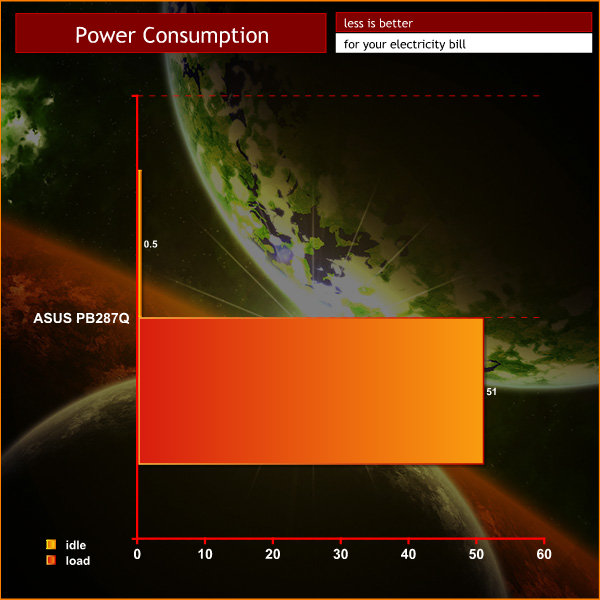 When idle, the PB287Q uses 0.5 watts. After our calibration it demanded 51 watts at the socket.
The beautiful IGZO Asus PQ321QE is a monitor that anyone would dream of owning – however at £2,400 it still proves too expensive for most. If you are editing colour critical files however and need the 4k resolution, it is one of the finest purchases you could make in 2014.
Asus appreciate the cost is prohibitive so are targeting a new 4K monitor for 'the masses'. The Asus PB287Q may be a less exotic twisted nematic panel, but it offers plenty and at one quarter the price of the 31.5 inch PQ321QE.
The Asus PB287Q produces great image quality and will suit gamers who are susceptible to lag … the quick 1ms refresh rate ensures this shouldn't be an issue.
The monitor stand deserves special mention as it is exceptionally flexible, offering height adjust, pivot and swivel – perfect for those people who like to rotate the screen easily into portrait mode when they aren't gaming. It may seem like a minor point to make, but the stand is broad and heavy enough to ensure the monitor remains grounded to the surface at all times.
Right now you can pre-order the Asus PB287Q on Overclockers UK for £599.99 inc vat. If you want to start gaming at Ultra HD 4K resolutions, then this should be right at the top of your shortlist. Just be sure that you have a powerful enough graphics card (or two) to deliver smooth frame rates.
Discuss on our Facebook page, over HERE.
Pros:
Competitively priced
stand is heavy, well made and can rotate into portrait mode.
1ms GTG refresh.
panel linearity is decent.
image quality is high.
Cons:
TN panel can't compete with a quality IPS or IGZO panel.
You may need to upgrade your graphics card for 4k gaming.
power button is in a bad location.
Kitguru says: The ASUS PB287Q isn't perfect, but for the price and the target audience, the many pros easily outweigh the cons.