The front panel of the Macube 310P is an understated and completely solid affair with just a small Gamer Storm logo etched into the black coating at the bottom. Around the edge of the front panel are 15mm airflow vents that extend around to the side of the top panel.

At the top of the Macube 310P is this updated panel with ventilation and a perforated metal mesh dust filter, the original Macube 310 had a solid top panel so the 310P my fair better with thermal performance. Underneath the vent you can just make out the dust filter below, so you could technically use this an air intake.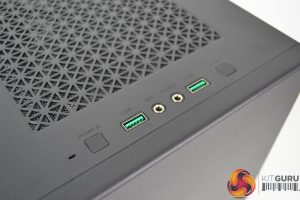 Along the front edge of the top panel is where the front I/O is located for convenience. There are two green USB 3.0 Type-A ports, 3.5mm HD Audio jacks for headphones and a microphone, as well as power and reset buttons and a power LED indicator.
The left-hand side of the case is made up of a large tempered glass window panel. The panel features a magnetic tool-free removal solution with metal pegs that locate the panel to the chassis frame. A handle at the top of the glass panel features a Gamer Storm logo and an additional magnet holds the panel in place at the bottom.
At the rear of the case is a 7+2 PCIe slot configuration which allows for the installation of graphics cards either horizontally or vertically. Below is the usual power supply cut out and above is the typical motherboard rear I/O cut out as well as a 120mm fan mounting with height adjustment.
On the right-hand side of the case is a plain black steel panel with magnetic mounting just like the tempered glass window, and on the underside are four feet with anti-vibration rubbers that raise the case up to allow airflow to the power supply vent. The power supply intake vent is also covered by a removable perforated metal dust filter.
Overall, the exterior of the Deepcool Macube 310P is very smart. I quite like the understated appearance and the tool-free side panels are a handy addition. One thing that is noticeable about the Macube 310P is the lack of RGB lighting, some users may see this as a disadvantage, however, you can always add RGB lighting components inside the case that will illuminate through the glass side window if you please.