Overall, the Deepcool Macube 310P is a very impressive compact mid-tower case and it offers some serious competition to other cases in this affordable price bracket. Deepcool has gone the extra mile with the Macube 310P by adding some handy little features that you may not get with other cases in this price range, such as the built-in VGA support bracket and the integrated fan hub.
During the system installation process, we didn't come up against any challenges or issues to hold us back and building a system inside the Macube 310P was an enjoyable experience. Due to the lack of 5.25-inch bays at the front of the case, the interior feels very spacious and allows for the installation of long, high-end graphics cards and a large front-mounted AIO to be fitted.
At the beginning of this review, we were slightly dubious about the thermal performance of the Macube 310P with its airflow restrictive looking solid front panel. However, during our thermal performance tests, both the CPU and GPU temperature were kept well under control, so it seems that the small air vents running along the side of the front panel produce adequate airflow for the system spec we chose.

The only minor gripe we had during installation was the lack of choice for AIO radiator positioning. Since Deepcool has added this vented top panel to improve airflow, we thought it would have been more beneficial to have the option to install an AIO in the roof. We did try to install the 240mm Deepcool Castle 240EX radiator in the roof, but it was simply not possible, the space up top was just too tight and only enough room for fan installation.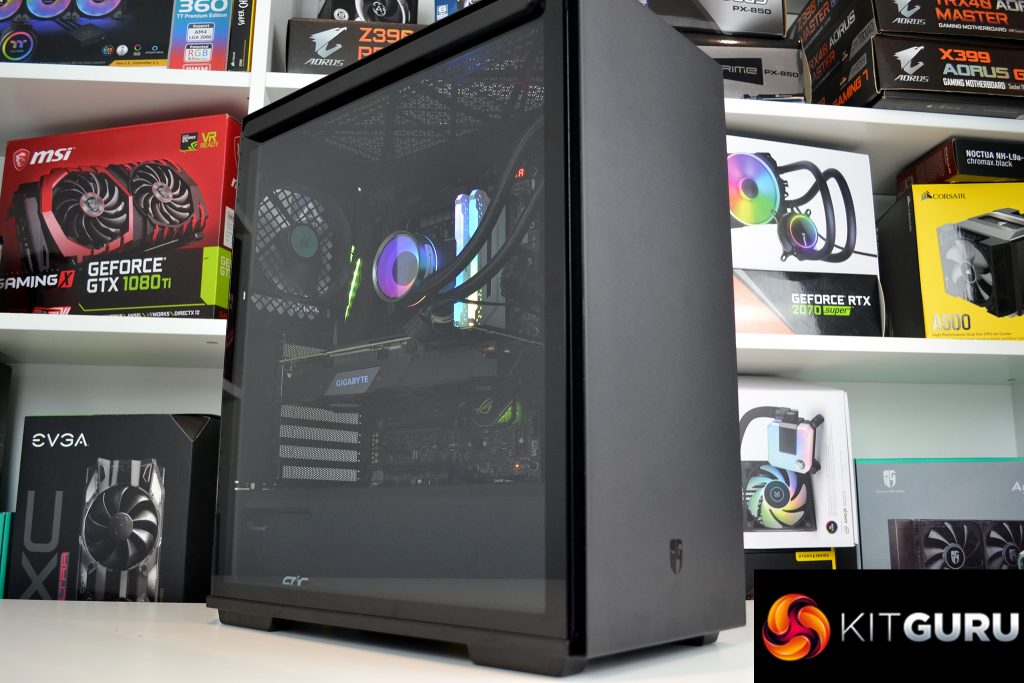 However, that didn't put us off this case at all, being able to install fans in the roof did give us marginally improved thermal performance and even without fans fitted, we could feel warm air naturally exhausting from the top panel, so this vented section is a welcomed addition. Another handy feature is the built-in VGA support bracket, a very simple solution to a problem we have encountered for a while, not only that, it actually works very well too!
Another area that impressed us was the less glamorous side of the chassis where all the cables are hidden. Case manufacturers often pay less attention to this area with budget cases, but not in this situation. Deepcool has put cable cut-outs in all the right places, there are plenty of eyelets to tie cables down and there is a generous 23mm gap for cable management which means hiding cables is easy and getting the side panel back on without bulge is no problem.
Build quality of the Macube 310P is also impressive for a case of this price range. It isn't built from extravagant materials but it does have a very sturdy feel to it, especially when all the panels are fitted it feels very sturdy indeed. The understated front panel design looks sleek and the matte black coating gives the case a premium appearance. Combine these features with the tempered glass windows and you are left with a pretty looking but stealthy end product which we like.
A lack of RGB lighting built into the case may not be to everyone's taste these days, it is sometimes nice to know it's there just in case you want to use it. However, the glass side window isn't too heavily tinted, so if you want some illumination without looking over the top, you can install RGB components inside the case which will give a subtle glow outside.
The Deepcool Macube 310 series is available to purchase from Amazon UK HERE in either black or white colour schemes, with prices starting around £65.
Pros:
Excellent build quality.
Vast component support.
Sleek understated appearance.
Handy built-in features.
Good value.
Great to build a system inside.
Cons:
Lack of support for top radiator mounting.
Restrictive front panel could hurt thermal performance on high-end CPUs.
KitGuru says: We were genuinely impressed with the Deepcool Macube 310P mid-tower chassis, it offers support for a wide range of components, has an understated but sleek looking appearance and is a joy to build a system inside. The lack of space for an AIO up top was not enough to put us off, it is definitely worth buying if you are in the market for a case in this price range.