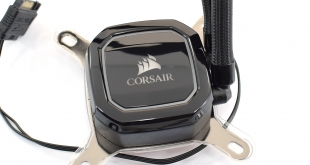 Over the last few years, Corsair has released a wave of 'smart' liquid coolers which give you control over things like pump speed, RGB lighting and fan profiles all via software. The H100x we are looking at today, however, is comparatively 'dumb' – there is no software control, no RGB lighting and nothing to play around with. In essence, it is a simple liquid cooler that 'just works'.
Watch the video below via Vimeo, or over on YouTube at 2160p HERE
Many enthusiasts will know that Corsair's most recent coolers – the likes of the H100i V2, the H115i Pro and the H150i Pro – are manufactured by Asetek, an OEM which also produces coolers for Fractal Design, ThermalTake, EVGA, NZXT and more. The Corsair H100x, however, is made by CoolIt which makes it more interesting than it might otherwise appear.
Corsair hasn't said anything about why the H100x is not made by Asetek, but given this cooler costs just £79.99 – which is practically bargain basement by Corsair's standards – an educated guess would be that by partnering with CoolIt for the H100x, Corsair can offer a 'simpler' product without the bells and whistles of its bigger brothers, for less money.
Specification
Coldplate Material: Copper
Tubing Material: Low Permeation Rubber
Radiator Material: Aluminum
Radiator Size: 275mm x 120mm x 27mm
Fans Included: 2 x SP120 PWM Fans
Fan Speed: 600rpm – 1700rpm
Fan Airflow: 57.2CFM
Fan Static Pressure: 2.08 mm H20
Fan Noise Level: 28.3 dBA
Warranty: 5 Years
Intel socket compatibility: Intel LGA 1151, Intel LGA 1150, Intel LGA 1155, Intel LGA 1156, Intel LGA 1366, Intel LGA 2011, Intel LGA 2011-3, Intel LGA 2066
AMD socket compatibility: AMD AM2, AMD AM3, AMD AM4, AMD FM1, AMD FM2
Just like any other Corsair product released over the last few years, the H100x ships in a black box with yellow accents. A large image of the cooler itself is visible from the front.
Inside, users are greeted by the installation manual and two warranty guides.
There's also all of the necessary installation hardware, however all the screws come jumbled up in a single bag which isn't ideal.
Given the H100x is a 240mm liquid cooler, we get 2x 120mm fans in the box. These are from Corsair's SP (static pressure) series and have the characteristic off-grey fan blades that we have come to expect from Corsair liquid coolers.
The cooler itself is pretty standard looking, though the first thing I noticed was the radiator sports the same rounded edges as some older designs, whereas the more recent H115i Pro and H150i Pro are much more square-looking. The radiator dimensions are as follows: 275mm x 120mm x 27mm.
Despite the fact that the cooler is manufactured by CoolIt, Corsair has still been able to keep the cosmetic pump housing design as those coolers mentioned above. It is worth noting, however, that the H100x is not an RGB cooler – the pump glows white and white only. Lastly, the pump is powered by a SATA connector, while there is also a 3-pin connector for measuring the pump's RPM.Here I will walk you through the installation process. It is worth noting we test using a Z97 motherboard – socket LGA 1150. The process below reflects that.
First of all, the backplate needs to be positioned behind the motherboard so the four small screws poke through the motherboard socket holes.
After that, four standoffs can be threaded onto the backplate.
Next, the pump can be mounted to the CPU (thermal paste is pre-applied with the H100x). Four thumbscrews secure the pump unit to the standoffs and backplate.
And that's it! It's the exact same installation method we've seen from other Corsair liquid coolers over the last few years, so installation is an absolute doddle.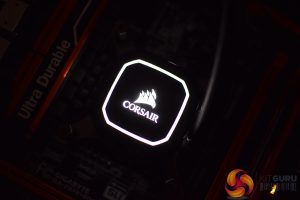 Lastly, once the unit is powered, the backlight turns on. As I mentioned, it is a static white-only light so it is not hugely exciting. However, the white light is unlikely to clash with a system's colour scheme and I think it looks quite clean and understated – a welcome relief from the 'RGB all the things' trend!To test all CPU coolers, we devised an easily repeatable test with no variables other than the coolers themselves. This ensures that figures from every cooler we test are comparable with each other.
Test rig
Using an open-air test bench, we deploy an Intel Core i7-4790K plugged into a Gigabyte Z97X-SOC Force motherboard. Alongside this is 16GB of 2400MHz Corsair Vengeance DDR3, as well as a 120GB OCZ Trion 150 SSD. Powering everything is a Corsair AX1500i PSU.
The test process
Testing coolers involves taking a total of 4 temperature readings per cooler. First, we measure the idle temperature of the i7-4790K at stock speeds (turbo boost disabled), before measuring its temperature under load at stock speeds. Next, we overclock the CPU to 4.5GHz using a 1.3 Vcore, ensuring greater heat output. In its overclocked state we then measure the idle and load temperatures of the CPU again. The figures we present are temperature deltas – meaning we take each temperature reading and minus the ambient temperature from it. This allows us to test in an environment that is not temperature-controlled.
To ward off potential comments or questions, we know 4.5GHz using a 1.3 Vcore is not the 'best' overclock – this particular CPU could reach that frequency at closer to 1.25 on the Vcore, which is more efficient. That is not the point, however. We are trying to stress the coolers to see how they deal with excess heat … hence the higher than necessary Vcore.
Where possible, each cooler's fans are plugged directly into the motherboard using the CPU_Fan or CPU_Opt headers. Some AIOs, however, ship with their own fan controllers or PWM hubs. If we are unable to plug the fans directly into the motherboard, it is specified in the performance section of the review.
An idle reading comes from leaving Windows on the desktop for 15 minutes. A load reading comes from running Prime95's (version 26.6) Small FFTs test for 15 minutes – enough time for temperatures to plateau. We use HWInfo64 v5.82 to measure temperatures.
Noise output
We measure noise levels with our sound meter positioned 1 foot away from the test bench. The peak noise level is presented. We have measured the noise floor (i.e. ambient noise levels of the room) to be 34 dBa, and when tested at stock clocks, the vast majority of coolers do not emit noise levels above this figure. Thus, we present one chart with noise levels taken during our overclocked CPU test run.Temperatures
All temperature charts are sorted with lowest load temperatures at the top.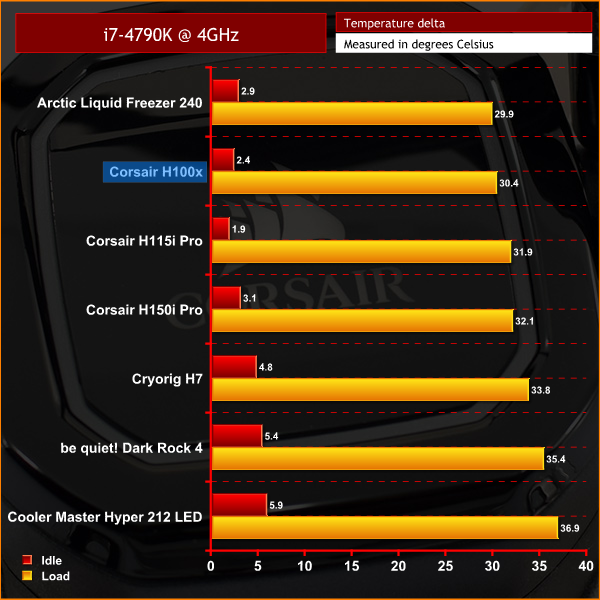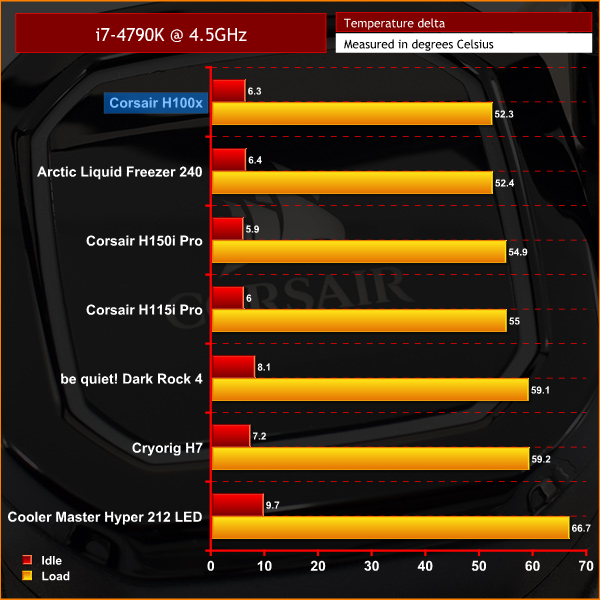 The H100x is a very impressive performer. It is very closely matched by the Arctic Liquid Freezer 240 but just pulls ahead in our overclocked test. The H100x also out-performs Corsair's high-end H115i Pro and H150i Pro, despite having a smaller radiator.
Noise levels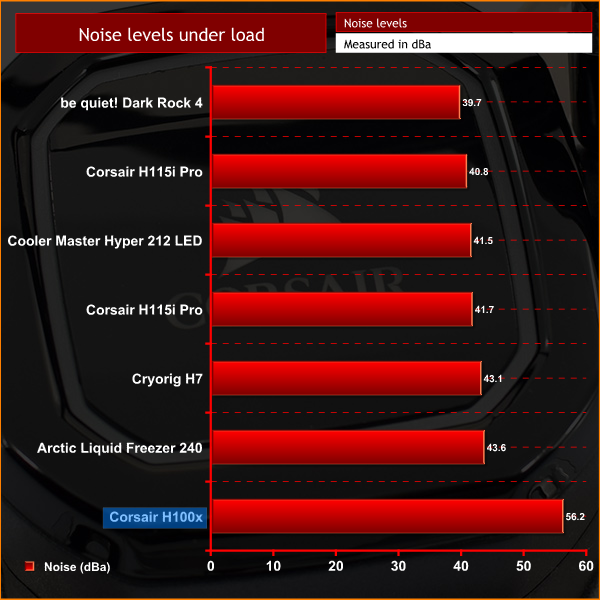 The cost of such impressive performance, however, is the noise emitted by the H100x. Admittedly, almost all of the comparison coolers make a feature of their 'silent operation', which makes the difference in noise output seem a bit more drastic. It is also worth pointing out we test using an open-air bench so the noise is not blocked by a case.
Still, the H100x is definitely more performance-oriented and does get quite loud. Obviously, in a case – and perhaps with a custom fan curve – this would be lessened, but using our standardised testing, the H100x is significantly louder than the other coolers on test today.Corsair's H100x is a very impressive liquid cooler, available for just £79.99.
Manufactured by CoolIt instead of Asetek – the latter company having produced all of Corsair's more recent coolers – it is likely this partnership has allowed Corsair to offer the H100x at its very competitive price. In fact, the H100x is Corsair's cheapest 240mm liquid cooler on the market right now.
Despite the different OEM, installation is exactly the same as the likes of the H100i V2, and that means it is dead easy – you will be up and running in no time.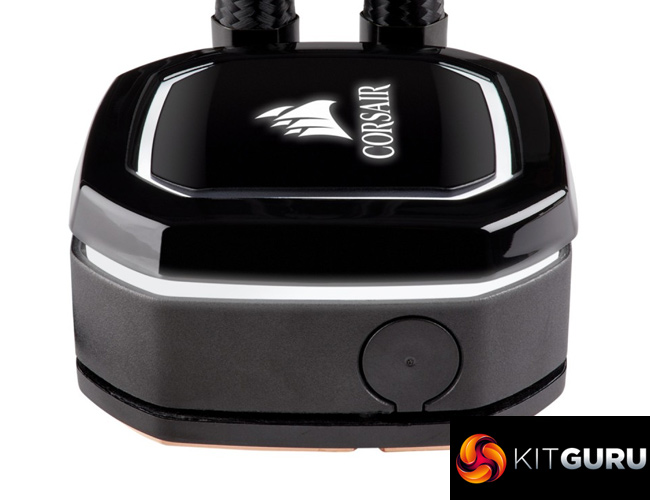 Performance is the most important thing for any cooler, and the H100x does not disappoint, despite its price. It currently sits top of our overclocked testing chart, while it is less than 1 degree Celsius behind top-spot for our stock-clocks test.
The cost of such impressive performance is noise output, though – the SP series fans that come bundled with the cooler are rather loud.
That does mean the H100x won't be for everyone – you will have to choose if you prefer top thermal performance or lower noise levels. At this price, though, the impressive performance just cannot be ignored, and we have to say the Corsair H100x is well worth buying.

While pricing is usually £79.99, there is currently a deal on to get this cooler for just £69.95 from Overclockers UK.
Pros
Impressive performance.
Simple, understated design.
Very easy to install.
Corsair's cheapest 240mm liquid cooler.
Cons
Gets quite loud under load.
KitGuru says: The Corsair H100x is a very impressive cooler considering the price. It does get quite loud, but it still makes for a fantastic entry into the world of liquid cooling.
Be sure to check out our sponsors store EKWB here