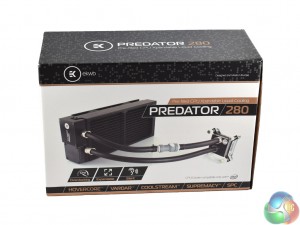 The EKWB Predator 280 ships in a classy-looking box with gold accents.
Inside, you get a proper manual which is very clear about how you install the AIO.
Along with that, all the necessary screws and mounting brackets are included.
Here we get a look at the Predator 280 itself. It is quite a large AIO, with the radiator measuring 43mm thick – and you need to add another 25mm to that to account for the fans. I would recommend you check your case's specifications before ordering one to make sure it will fit.
Speaking of fans, the Predator 280 uses EK's premium Vardar fans. These are designed specifically to push air through radiators – so they should be perfect here. They are also rated to spin at 1600rpm.
The CPU block is EK's Supremacy MX – not quite the top-of-the-line Supremacy EVO, but it should do the job just fine.
Also pictured above is the QDC fitting (on the right). For those who do not know, EK's QDC fittings allow you to add other components to the loop without having to drain the whole loop. To operate the QDC fitting, simply push down the white button on the fitting and pull the tubing apart.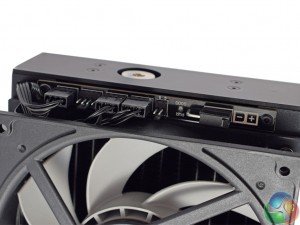 Lastly, the bottom of the radiator features an integrated PWM hub, with one spare fan header. This hub requires one SATA power connector, and also needs to be connected to a 4-pin fan header on the motherboard.