While we will not be outlining how to install the optional GPU waterblock – primarily because the method varies from card-to-card, but also because the process is too complex to convey in a review – the included instructional booklet for the GPU block is very clear and does a great job of explaining what to do.
On this page, though, we will walk you through installation of the Predator 280 itself – as if you were using it as a conventional AIO liquid cooler.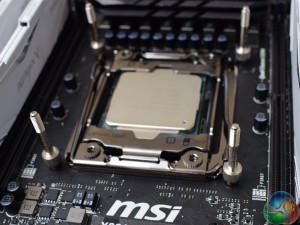 As we are using a X99 motherboard to test the Predator 280, we do not have to install a backplate so can jump ahead and just install the 4 standoffs for the LGA 2011-3 socket.
If you are using a LGA 115x system, you will need to first mount the required backplate, and then install the 4 standoffs required for the LGA 115x socket.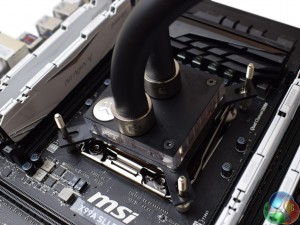 Once the standoffs are screwed in, apply a small amount of thermal paste to your CPU and mount the CPU block on top.
After that, go ahead and place the 4 springs on top of the standoffs.
To finish the process, simply use the four thumbscrews to secure the CPU block in place.
If you have installed only the Predator 280, the installation process is now complete and you should have something which looks like the image above and on the left.
The image on the right shows the GPU block installed, with the tubing reconnected to ensure liquid is passed throughout the entire system. There is quite a lot of excess tubing, though – it would be ideal if you are using a large case, but those using smaller mid-towers, for example, may find the tubing a bit cumbersome.