The Predator 280 is an all-in-one cooler from watercooling gurus EKWB. It is not an AIO in the conventional sense, however, as it can be expanded to incorporate another radiator or, as was the case here, a GPU block.
It also uses premium EKWB components, including Vardar fans, some beautiful nickel-plated fittings as well as the Supremacy MX CPU block.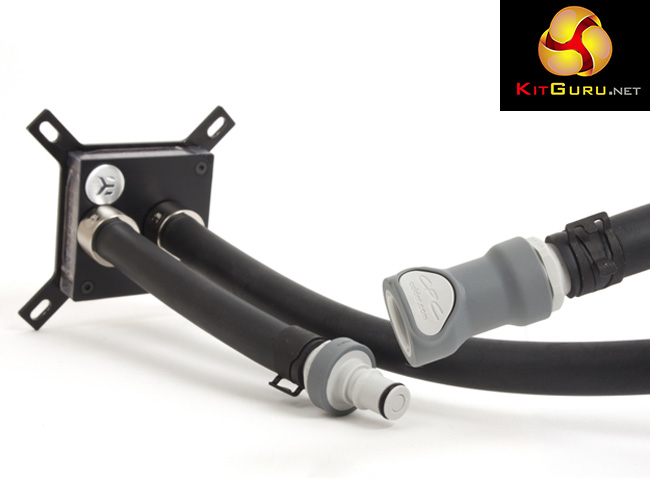 In our initial testing, we found it kept our i7-5820K to a maximum temperature of 46 degrees when the Predator 280 was only cooling the CPU. This makes it a compelling option if you want an AIO now, but still want the flexibility to expand the loop down-the-line.
We also found the Predator 280 markedly reduced our GPU temperatures when we added the GTX 1080 FTW into the loop. At default fan speeds, the temperature fell from 73 degrees to 53 degrees. Crank the fan speed to 100%, and the maximum GPU temperature recorded was 35 degrees. Of course, this comes at the cost of noise – but it allows the end-user to tweak the fan curve to suit their desired balance of thermals and noise.
It is worth stating clearly we did not overclock the components – which would significantly increase the amount of heat produced by the system – but even so, these results are still fantastic. The performance alone makes it easy to recommend the EKWB Predator 280, a great entry-point to the world of custom watercooling.

You can pick up a stand-alone unit from Overclockers UK for £194.99 inc. VAT HERE. However, you can also get the Predator 280 with a pre-filled GPU block of your choice (select models only) for £303.94 inc. VAT HERE. The latter option offers surprisingly good value for money when you consider you are essentially getting a full EKWB waterloop for £300.
Discuss on our Facebook page, over HERE.
Pros
Attractive.
Excellent cooling ability.
Can be used as a stand-alone AIO or as a complete loop.
Premium EKWB components used throughout.
Cons
There is some excess cabling when the GPU block is added to the loop.
KitGuru says: For those looking for an easy entry into the world of custom watercooling, the EKWB Predator 280 is an excellent option. It offers great cooling, good looks and easy expandability in a very reasonably-priced package.